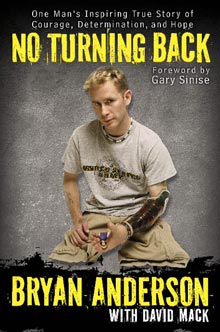 Bryan Anderson, author of "No Turning Back", will address those attending the Healing Heroes Golf Week banquet at the Hampton Hall Clubhouse on April 24
th
. During his recovery as the Iraq War's fourth triple amputee caused by a roadside IED, Bryan transformed his life from tragedy to personal fulfillment. This amazing veteran will talk about the obstacles he overcame through hard work, perseverance, and hope for a better life—in whatever form it takes. Gary Sinise (CSI-NY star, award-winning Lt. Dan actor in the movie Forrest Gump, and leader of the military-supportive Lt. Dan Band) was honored to write the forward for Bryan's book and said, "…
positive attitude of living each moment of one's life for everything it's worth is at the core of who Bryan Anderson is …
"
Over two dozen severely wounded veterans from the wars in Iraq and Afghanistan will participate in the inaugural Healing Heroes Golf Week (April 23-27) and attend the banquet on April 24th. During their stay in the Lowcountry, the award-winning Palm Key Resort www.palmkey.com will serve as their host. This outstanding wellness community http://independencewellnesscenter.wordpress.com/mission/ has become a sanctuary for hundreds of wounded service members and their families during the annual Lt. Dan Weekend.
Also speaking at the Hampton Hall banquet on April 24th, Nancy Vineburgh (Assistant Professor, Department of Psychiatry, Uniformed Services University of Health Services) will discuss The Invisible Injuries of War: Helping Heroes Heal.
The banquet will start with a silent auction during cocktail hour (6:00 PM to 7:00 PM) followed by dinner. Rounds of golf at premier Lowcountry courses, golf clubs, and other golfing items will be available to the highest bidder. The banquet costs $60 per person. An additional $30 will sponsor a HHGW veteran. To reserve banquet space, contact one of these Independence Fund volunteers: Judy Ferguson at judy4099@gmail.com or (973) 919-1362; Judy Larkin at Judydlarkin1@aol.com or (843) 689-3685; Donna Frankoski at dfrankos@hargray.com or (843) 757-7494
To play a round of golf during HHGW, contact Robert de Treville at redetreville@sprintmail.com or 843-379-8877.
Reservations for HHGW and the Hampton Hall banquet can also be made at www.ldw3.com by clicking on the GOLF WEEK tab. General donations for our severely wounded veterans can be made by check payable to The Independence Fund and sent to Donnie Beer, PO Box 1117, Beaufort, SC 29901.
HHGW proceeds will be used to purchase a $17,000 ParaMobile, a stand up and play mobility device, for a wounded veteran. Remaining funds will be used to provide direct support and the tools, therapies, and guidance that those veterans severely injured in the War on Terror are otherwise not receiving. The Independence Fund is an all-volunteer, non-profit 501(c) 3 organization run by combat veterans. Event organizers or participants are not financially compensated and all proceeds benefit our wounded troops. To learn more, visit www.independencefund.org or www.ldw3.com.
To watch a video featuring Bryan Anderson's recovery, go to http://www.youtube.com/watch?v=qTGuP6KfwjM&feature=related
Visit Bryan Anderson's website at http://www.andersonactive.com/bio.asp