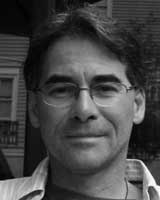 The Backyard Tourist Explores Cumberland Island and St. Mary's, Georgia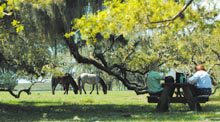 (Editor's note: The Myth of Wild Horses: Part One, centered around a day hike on the south end of the island in search of horses on the spectacular beaches. Read it here.)
LANDS & LEGACY ON INTERSTATE ZERO
The main road that runs nearly the length of Cumberland Island is unpaved and rutted. In some places the term "road" seems a lavish compliment as the van rattles along the washboard surface. Locals and National Park Service employees call it "Interstate Zero." Its official designation under federal jurisdiction is not surprisingly "Main Road." We bump along Main Road in one of two plain white passenger vans – "the good one," according to our guide and driver Audrey Bohl. These vehicles constitute the transportation basis of Cumberland's new Lands and Legacy Tour and one of the toughest tickets in the entire National Park system. Public access to Cumberland Island National Seashore is limited to 300 people per day and so far – with two vans in service – there are just 20 seats available on the L&L. You'll also need a ferry ticket and the park service recommends booking well in advance.
The L&L departs the Ranger Station at Sea Camp for a six hour tour to the north, returning to Sea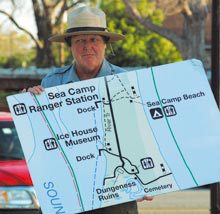 Camp for the last boat to St. Mary's. You're on your own when it comes to food and beverages. Unless you're staying at Greyfield, the island's only private inn, you'll need to pack in what you need and pack out the remains. If you're staying at one of St. Mary's excellent B&B's (see below) they'll be happy to prepare an excellent box lunch for your trip. There are a limited number of restroom breaks along the route and water is available at several stops. The high point is a tour of Plum Orchard mansion and a picnic on the grounds, often in the company of some of the island's famous feral horses.
Robert Stafford owned a considerable chunk of the island long before steel magnate Thomas Carnegie bought up most of it as a family retreat in the 1880's. Our first stop is the tiny walled Stafford family cemetery near The Quarters, one of two documented slave communities on the island. Stafford was born in 1790 not far from where he died 87 years later. Stafford Plantation once claimed more than 8100 acres with a pre-Civil War population of nearly 350 slaves, making Stafford one of the major slaveholders in the region. He was however not of the usual sort. He paid wages, provided medical care and encouraged open commerce to the point of allowing individuals to sell goods and produce off the island. Archeological evidence indicates these slave communities were extremely and unusually well supplied. Stafford's slaves also apparently even possessed firearms, liquor and tobacco. Recent discoveries offer up evidence that reading and writing were encouraged – highly illegal in the day. Stafford never married but fathered six children with Zabette Bernardey, a mulatto slave nurse. Their descendents still gather on the island for family reunions.
Back in the van Audrey discusses some of the inner workings of the park, including various challenges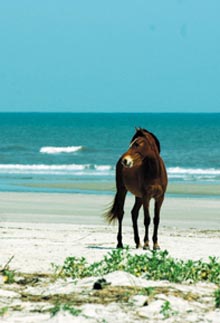 with the local wildlife (see part one) and Alternate Spring Break. Instead of the usual debauchery in Cancun or Lauderdale, students from around the country spend a week camping out on the island as a cheap source of manual labor. They camp and work while trying to avoid confrontation with some of the park's nastier year-round residents. Right on cue we get an example as we pass a clutch of tents pitched among the oaks and saw palmettos. A group of about a dozen kids are scattered in various directions as a pair of horses wander through camp. Cameras and cell phones snap away as the horses leisurely stroll past. One kid, apparently surprised mid-shower, still clutches a towel around his waist.
PLUM ORCHARD
As we continue north the terrain begins to change. The tangle of wind gnarled oak and saw palmetto gives way to pine forest. After bumping through miles of nothing, the first glimpse of Plum Orchard nearly comes as a shock – as though someone dropped a gargantuan wedding cake from the heavens.
Lucy Carnegie (Thomas' widow) gave parcels of the island to all nine of her children and commissioned estates for five of them. The Plum was built in 1898 as a wedding present for George Carnegie and his wife, Margaret, the daughter of a railroad tycoon who requested "a modest seaside cottage." At 22,000 square feet the term "modest" is relative. Today the home belongs to the park service, just one of two Carnegie mansions which survive intact on Cumberland. The other is Greyfield and is still family owned. Dungeness, the original Carnegie mansion burned in 1959. Family members at Plum Orchard watched the flames lick the night sky some eight miles away.
Plum Orchard was in bad shape by the time the Park service took over and began a massive
restoration process. Most of the original furnishings were sold off after George's death, but Margaret overlooked a pair of treasures. Today Plum Orchard's matching loggerhead lamps hang in what would have been the gentlemen's salon. The amber stained glass is – as the name implies – designed to mimic turtle shell and are said to be handmade by L.C. Tiffany himself.
In its hey day Plum Orchard was a beacon of modern enlightenment in the midst of an isolated wilderness. The house featured modern conveniences decades ahead of the rest of the country: electricity, a sophisticated plumbing system and refrigeration – including one of the first icemakers on record. The major occupations of its entitled residents (none worked) were sport and leisure indoors as well as out. The basement level houses an indoor swimming pool and squash court.
Once Audrey concludes the tour we split up to picnic in the shade of the giant live oaks that sprawl around the grounds. Wild turkeys sound off in the thicket next to the house. Small bands of horses graze across the lawn while gators sink beneath the thick green surface of a nearby pond.
THE SETTLEMENT
First African Baptist Church is the apex of the Lands and Legacy tour, about 17 miles north of Sea Camp Dock in The Settlement, an African American community formed in the late 19th Century. John F. Kennedy, Jr. and Carolyn Bessette exchanged vows here during a candlelight ceremony in September, 1996. The top-secret nuptials eluded the press and paparazzi and were largely engineered by Janet "Gogo" Ferguson, a jewelry designer and Carnegie descendant whose great grandmother Margaret built Greyfield in 1901. Ferguson remains attached to her Cumberland roots, still a key figure in the inner workings of the island's complicated environmental and political intrigues.
This tiny church and the crumbling remnants of The Settlement are stark monuments to the people
who toiled anonymously in the shadow of spectacular wealth, privilege and entitlement.
Not far from this place, the Candlers of Coca Cola still maintain secluded estates at High Point, an area many consider to be the most beautiful part of Cumberland Island. Time is running out on the retained rights agreements negotiated with the government some 40 years ago. But the Candlers – and others who remain – have deep pockets, and park officials are ready for a long, expensive series of legal battles.
On the long bumpy ride back to the south end of the island, we stop and yield the right of way to another horse. He is unaware of the politically charged air he breathes, or that grazing down sea oats on the beach is bad for the environment. He's not even aware that the federal government considers him a non-native species and designates he and his kin "feral." He is ignorant of semantics. But as we pass by, craning for a last glimpse, I am certain each one of us believes in the myth of wild horses.
IF YOU GO…
Cumberland Island is not the kind of place to just show up and expect a seat or two on the ferry. Make reservations well in advance. Cumberland Island's daily visitors cap breaks down to 120 campers and 180 day-trippers. Campers can stay on the island for seven days and many of them do just that. Ferry reservations may be made six months in advance and if you plan to take the Lands and Legacy Tour its best to book them together. Once on the island pay attention to the time. The ferries run like clockwork and they do not wait around for stragglers. Miss the last boat and you can either tough it out on your own overnight among the critters or cough up about $250 for a charter back to St. Mary's.
Bring whatever you need, including your own food and water. There are no stores on the island, although drinking water is available at several locations on the south end and at a couple of stops on the L&L. The island rule is pack it in and pack it out. Fires are permitted only at the "civilized" campground at Sea Camp Beach (it has bathrooms and cold showers). No campfires are allowed in designated backcountry camping areas and the well water must be treated to be potable.
The island's famous for its fishing, but you'll need a Georgia state license to wet a line. Interacting with the local wildlife – particularly Cumberland's famous horses – is strictly forbidden, illegal and above all, dangerous. Stallions are territorial and mares with foals are extremely protective. Under no circumstances should they be approached. The island is also home to several species of poisonous snakes (diamondback rattlers are common) as well as alligators, coyotes and a large population of feral pigs and more than 300 species of birds.
For more information, ferry reservations and camping permits call 877-860-6787 or go online at www.nps.gov/cuis.
THE INNS OF ST. MARY'S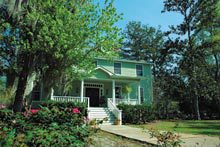 The historic district of St. Mary's is an intimate waterfront village with much more to offer than a ferry ride to Cumberland. St. Mary's is also convenient to the Folkston entrance of the Okefenokee National Wildlife Refuge. And the natural beauty of the region's islands, marshes and waterways make the town a destination for kayakers and sport fishermen.
The heart of this charming river town is a working waterfront, where the catch offloaded at Lang's seafood on one end of St. Mary's Street is served up at the family's popular restaurant a few blocks away. Stop in at the Welcome Center run by the St. Mary's Convention & Visitors Bureau. It's just a block off the waterfront on Osborne Stre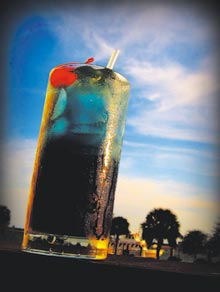 et, next to the landmark Riverview Hotel. The staff is happy to answer your questions, offer suggestions and provide you with maps and brochures. Learn about the area's rich history aboard a one hour narrated trolley tour or cruise through a few of the local museums. The St. Mary's Submarine Museum chronicles the history of undersea warfare from World War I to the present day (Kings Bay Naval Submarine Base is close by). Orange Hall House and Museum is the architectural "Grand Dame" of St. Mary's. The Greek revival mansion dates to 1838 and offers a glimpse back into the Antebellum South.
There are plenty of cafes, restaurants, shops and bars to explore. Be prepared for a wait at Lang's Marina Restaurant. We liked the crab cakes, fried shrimp and cocktails at Shark Bites and if you're looking for takeout to enjoy on the porch of your B&B, the Riverside Café is terrific.
St. Mary's has also become a destination for its picturesque inns. We sampled the hospitality (and spectacular breakfasts) at two B&B's. Each offers its own unique experience and amenities. Both are family run and come highly recommended.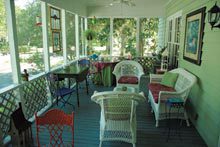 Emma's Bed & Breakfast sits in the midst of four tranquil acres just a few blocks from the Cumberland Island ferry. The grounds are certified by the National Wildlife Federation as a Backyard Wildlife Habitat. Innkeepers Angie and Jimmy Mock have crafted a casually intimate atmosphere that feels as comfortable as a favorite pair of jeans. The inn is named for the wife of Sam Bealey who was a superintendent for Dungeness on Cumberland Island. "Miss Emma," as she became known in St. Mary's, married Sam and came to live in a house on the property in 1911. That house no longer stands, but Angie says the B&B captures the essence of Miss Emma's home.
The main house features pine floors, working fireplaces with antique mantles and four uniquely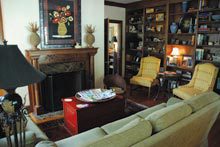 decorated guest rooms. Five more distinctive rooms are available in the adjacent cottage, some with private decks and porches offering spectacular views of the night sky. The common rooms are cozy and the screened back porch is the perfect spot for a breakfast serenaded with birdsong. Angie says the one simple goal at Emma's is to make guests happy.
"I'm a pleaser," she says. "I want people to be happy here, and I think if you're going to be successful as a bed and breakfast you have to have that personality."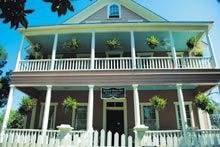 Angie's mother was part of a group that restored an historic old 1872 hotel into the Spencer House Inn. Mary and Mike Neff bought the place 17 years ago and have been collecting accolades ever since. Today Spencer House is known as one of the nation's premier B&B's listed in the Select Registry. The inn is an elegant ramble – all three stories of it – an antique furnished time capsule with high ceilings, big airy common rooms and long hallways. The covered porches offer fine vantage points to sip a glass of wine and watch the doings on Osborne Street, two blocks from the water. The inn also features an elevator for guests who have difficulty with stairs and each room has a flat screen TV.
In the last decades of the 19th century this was the epicenter of the town, according to Mary. "It
would have all been about the Spencer House," she says. Local customs agent, William Tobias Spencer, built the hotel. He and his family lived there, as well.
Both Angie and Mary agree that a good mix of historical atmosphere with modern convenience is absolutely necessary, particularly in this age of constant connectivity. "It's like the wi-fi," says Mary. "People do ask if we have it. Once they're here they may never use it, but they still want to know it's available."
The innkeepers at both Emma's B&B and Spencer House also put out a fine spread for breakfast, with
Jimmy and Mike pulling most of the kitchen duty. You'll need a day of hiking to work off Jimmy's secret recipe quiche and grits or Mike's excellent southwest soufflé. In a word, both were wow. And if you are headed to Cumberland or planning a day on the water, both are happy to provide convenient gourmet box lunches.
"We want everyone to come back," says Angie. Mary agrees. "Our guests are our best promoters," she says. Indeed, it took all of our will power to decamp for the ferry with such inviting quarters beckoning us to stay.
MORE INFO:
Go online at HYPERLINK "http://www.lcweekly.com"
Emma's Bed & Breakfast
(912) 882-4199
HYPERLINK "http://www.emmasbedandbreakfast.com"
Spencer House Inn
(912) 882-1872
HYPERLINK "http://www.spencerhouseinn.com"
SPECIAL THANKS
Angela Wigger, Director of Tourism, St. Mary's CVB (www.stmaryswelcome.com)
Emma's Bed & Breakfast (www.emmasbedandbreakfast.com)
Spencer House Inn (www.spencerhouseinn.com)
Cumberland Island National Seashore & Park Superintendent Fred Boyles (www.nps.gov/cuis)
Email Mark Shaffer at backyardtourist@gmail.com