The Backyard Tourist chills at two new hot spots in downtown Beaufort

We're a mile from the sun…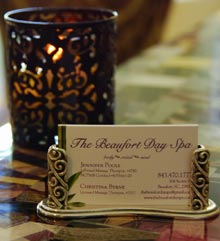 It's hot. It's screen-door-to-hell hot. It's so hot that we've received unsubstantiated reports of tourists from northern climes spontaneously combusting on beaches, golf courses and in outlet mall parking lots. Even hardboiled Lowcountry natives – fired in the kilns of brutal southern summers – have all but abandoned porch swings, picnic tables, softball fields and sandbars to cower indoors with the shades drawn. Some actually take refuge in a kind of hermetically sealed, climate-controlled hibernation not to be seen again until mid October, or – at the earliest – the inaugural home football game.
Regardless of where you stand on the topic of Global Warming, we're pretty sure summers are getting hotter and our resolve to brave these Armageddon-like temperatures has melted away like ice cream on hot asphalt. Here in the state-of-the-art offices of The Backyard Tourist, we've cranked the AC down so low that, if the humidity's just right, the occasional snowflake wafts through the air until it makes contact with a window pane and disappears in a tiny, agonizing puff of steam.
Let's face it: heat indices like those we've experienced this summer usually occur in places like, well, Mars. Apart from visiting the Red Planet, in order to prepare oneself for heat like this it would be necessary to spend about 10 hours a day leisurely strolling through burning buildings draped from head to toe in sopping burlap. Venturing out in such heat to actually do Backyard Touristy things seemed foolhardy and intensely sweaty with a high probability of chafing. However, we are nothing if not dedicated to you, dear reader. This proved motivation enough (along with a nagging need for a paycheck) to brave possible immolation in search of – what else? – places of cool refuge. Or cool places of refuge. Either way these first two choices in downtown Beaufort each involve a pair of partners with a unique plan and an old building in need of massive renovation.

Q on Bay
822 Bay Street, Beaufort
843.524.7771
Check out the hours and menu online at www.qonbay.com

Low and slow with a waterfront view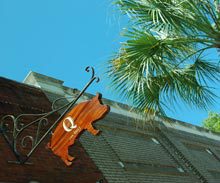 Enter the former Kathleen's from Bay Street and there's an instantaneous throwback sensibility to Q on Bay – a bit like stepping back into a bygone era, plucked from the past and newly polished for the present. Partners Jason Bailey and Chris Johnson had their work cut out for them during a long and arduous restoration process.
"A few days into the project," says Bailey, "we both looked at each other and said, whose idea was this, yours or mine?"
"Including the two of us," says Johnson, "it was just four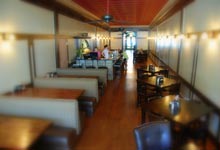 guys doing the major renovation and all of the grunt work."
He shakes his head at the memory.
"It wasn't exactly fun," says Bailey, "but it made things a lot more rewarding once we opened."
"You've literally poured your own blood, sweat and tears into this place. Hopefully not so much blood."
"More than you'd think," Bailey deadpans.
While Bailey, Johnson & Crew ripped the restaurant apart and rebuilt it behind papered windows; they also kept a smoker going out on the patio permeating the waterfront with the mouth-watering promise of things to come.
"That was part of the plan," Bailey confesses, "to get those smells in the air as we tweaked the different recipes."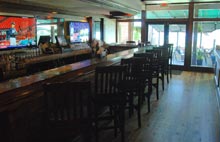 It worked. Any doubts about how a barbecue joint might play on Bay were quickly smothered beneath the enticing aroma of slow cooking meats. Carnivore ambrosia.
"So what sets Q apart in a region where barbecue is practically a religion?"
"It's a mix of different regions," says Johnson.
Bailey and Johnson have incorporated their own preferences in southeastern style barbecue (primarily Alabama and North Carolina) with a bit of western flavor in their lone star style brisket.
"We had a guy from Texas who said it was some of the best brisket he's had," says Bailey, "which is good."
Johnson, whose family once farmed hogs in North Carolina, also spent a lot of time sampling Texas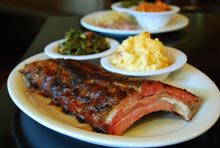 brisket over the years.
"We're glad to bring it here," he says, "because it's hard to find in South Carolina and it's hard to do. You're talking about making a tough piece of beef real tender. It's a tricky process."
That process is commonly referred to in these circles as "low and slow."
"You have to be patient with brisket," says Johnson. "It has to be done at a low temperature for 12, 14 hours or more."
All of Q's meats and poultry get their own special secret rub before doing plenty of time in "Big Red," the restaurant's custom rotisserie smoker. As for that other barbecue staple – hash – Johnson & Bailey say you're in for an unexpected treat, not the runny grey mystery goo so often slopped on plates across the south.
"We use a lot of meat in ours," says Johnson. "It's pretty hearty stuff."
"It's got the brisket, the pork, the chicken," says Bailey. "It's all in there."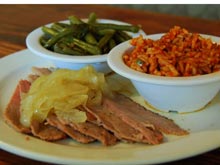 There's much more to Q on Bay than just the 'cue. The current renovation finally realizes the building's full potential with three distinctly different spaces and an atmosphere the partners characterize as "upscale rustic." The dining room off of Bay Street is relaxed, casual and family friendly while the patio offers the largest covered outdoor seating on the waterfront park. And for those who recall the prior incarnation of the bar, well, things have changed a bit. Q features live music on the weekends (with an emphasis on acoustic) and sports all year 'round on the abundant flat screens.
"We're hoping that it's big for football with all the college and NFL games," says Bailey. "We've got 16 taps with a good mix of staples, craft beers and microbrews."
Johnson is quick to point out that all are available by the pitcher.
"You can't find that anywhere else downtown," he says.
There are plans in the works to add beer pairings to certain menu items and host special tasting events (bourbon and barbecue, anyone?) in the bar.
"It's all a work in progress," says Johnson.
The Beaufort Day Spa
304 Scott Street, Beaufort
843.470.1777
Check out all the ways to indulge the inner and outer you at www.thebeaufortdayspa.com
Pampered body, mind and soul
Jennifer Poole and Christina Byrne first discussed their potential partnership about a year ago. The two friends were en route to a belly dance class when Poole mentioned she had a business meeting afterward.
"She said she was thinking about opening up a spa," Byrne recalls. Poole instructed Byrne at the South Carolina Massage and Esthetics Institute. The timing couldn't have been more perfect for the newly licensed Byrne who was looking to start her own practice. "I asked her if she needed a partner."
Poole asked her along to the meeting with the owner of the Beaufort Inn.
"Beaufort didn't have anything like this," says Poole. "But by the end of that day we knew we were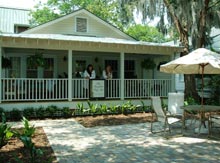 going to do it."
The end result took months of painstaking, often frustrating, renovation of a historic cottage on the grounds of the inn. The 1900 era building once housed the practice of a local physician who is said to have delivered hundreds of babies on the premises. Most recently the property was used as a storage annex for the inn.
"When we first opened the door we were greeted by a big Christmas tree," says Byrne.
"And a lot of old dishes," adds Poole.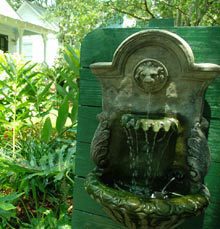 In addition to the usual headaches involved with such a massive renovation, Poole and Byrne also had to deal with limitations imposed by the city's Historic Review Board. They were able to add a front porch facing Scott Street, but were prohibited from screening it in against the indigenous blood-sucking pests. This would make it "too Florida," something this storied entity appears to have frequently overlooked on prior occasion in the vicinity.
Inside was the real challenge. Old walls came down and new walls went up as the cottage was completely reconfigured to house the needs of a proper state-of-the-art spa designed to pamper "body, mind and soul." Poole and Byrne are also finalists for Main Street Beaufort's annual award for Excellence in Interior Renovation. "We decorated it ourselves," says Byrne. "Jennifer likes the greens, I like the purples and thankfully it all seems to go together." The interior design also features the work of local artists and photographers. The result is an atmosphere that works on so
many levels, perhaps best described as a functional tranquility.
"The whole experience is about relaxation, serenity and calmness," says Byrne.
"But there's a reason we have 'Body, Mind and Soul' beneath our name," says Poole. "We want our clients to have a complete, well-rounded experience. Relaxation is not just part of the body, it's everything you take in."
"Relax, rejuvenate and renew" is also part of The Beaufort Day Spa's mantra and the menu includes an astonishing list of massages, facials, manicures & pedicures, skin treatments, special indulgences and even special pampering tailored for the mom-to-be.
All of this comes with the option of other indulgences available by the plate and glass from the special spa menu by the inn's Southern Graces Bistro. Why not sip a refreshing cucumber, mint & blueberry smoothie while enjoying a Fijian Island Bliss Ritual? It's simply demanded.
"We have a very special relationship with Southern Graces
and the Beaufort Inn," says Poole who notes that special spa packages are available through the inn.
But apart from all the luxury, rejuvenation, wraps, peels and treatments the spa has to offer one major source of relaxation comes from something clients will not find here: tipping.
"We are a non-tipping spa," explains Byrne.
"Most spas and salons encourage tipping," says Poole. "We're licensed professionals. There's no tipping. The price you see is the price you pay, stress free."
"It adds to the relaxation," says Byrne. "We want people to feel they've been transported to a different place so when they leave they'll go wow, this is right downtown!"
Coming soon:
What's in a name: The Tooting Egret tells all, plus the "lofty" ambitions of some local artists and what Art Lofts could mean for Beaufort.
Email comments and story ideas to Mark Shaffer at backyardtourist@gmail.com