How SILO may reinvent the way we shop for food.
Friday is Market Day in Habersham, the award-winning master plan community on the bluffs of the Broad River. The streets running through the Marketplace – the quaint, village-like epicenter – are blocked off. The Farmers Market takes shape as tents, tables, booths and vendors appear beneath the sprawling branches of live oaks. Musicians set up amplifiers and microphones next to the tiny post office. The shops and restaurants flow with a rising tide of customers and patrons well into the evening. The sound of playing children mixes with music, conversation, laughter and competing aromas drifting from the local kitchens.
The heat index is well into triple digit territory this particular Market Friday. I've taken refuge at the big farmhouse table in the Sea Islands Local Outlet, the physical beachhead, if you will, for SILO. Shop owners David and Faith Hislop visit with customers, friends and family as they take turns at the cash register and in the back room stuffing bags full of goods for pick up. Their young daughter, Raquel, naps on a cot in the storeroom. This simple rustic storefront represents a unique form of synergy – a virtual online farmers market grafted to an old-fashioned neighborhood grocer. Like the products listed on the store's ever-changing blackboards, SILO is locally grown, a sustainable marketing concept that just might change the way we shop for food.
HOW IT WORKS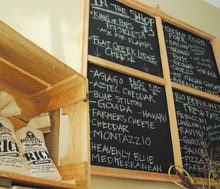 SILO is the brainchild of a trio of individuals all committed to the concept of building a locally driven, sustainable food economy. Garrett Budds* is Conservation Director for the Beaufort County Open Land Trust. Patrick Kelly is Project Manager for Habersham Land Company (he also runs the Farmers Market) and his wife, Lauren, is an urban designer with the City of Beaufort. At first glance it would appear that SILO and Sea Islands Local Outlet are one and the same. Not so, says Lauren Kelly.
"SILO is the whole online market/website/branding component. Garrett, Patrick and myself are founding partners," she explains. "Sea Islands Local Outlet is the shopfront component and a separate business owned by David and Faith Hislop."
Essentially, these two components form a hybrid concept that just might serve as a template for the Green Grocer, Version 2.0. SILO is built around the concept of an online farmers market driven by what's local, fresh, in season and available. Budds and the Kellys looked at a lot of models; dissected a lot websites and wandered the area's markets, identifying strengths and weaknesses. And they talked to the growers.
"We worked with different farmers to get the system streamlined for them," says Lauren. "I am a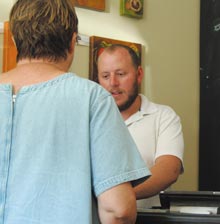 huge proponent for local food but it has to integrate into a market structure that allows it to succeed and be competitive with conventional food systems."
For example, the problem with a conventional farmers market is consistency. There's almost no telling who will show up from week to week and with what. And even though buying directly from the producer is the whole point, with more and more markets springing up producers are spread thin. The solution was simple: create a virtual market place where customers can find the staples they need on a regular basis and seasonal and specialty goods when available, all at the tip of their fingers.
"We also wanted to create an experience," says Patrick Kelly. "That's where the shopfront idea came in, something along the lines of a co-op, but very much a hybrid – a farmers market, co-op and CSA (community supported agriculture) all rolled together."
According to SILO Shopfront owner, David Hislop, the process is smooth and simple. SILO farmers and vendors log onto the website each week and update their inventory. Once that process is complete the online market – www.silo-beaufort – is opened for members to sign in and start shopping.
"We keep the online market open for three days then it closes so the growers and producers have a day and a half to pick and package their stuff to bring to the shopfront on Market Day," he says.
Members get an email receipt of their order and no one pays until the goods are in hand. This allows for unforeseen changes and quality control, says David.
"For instance a few weeks ago we had a Swiss chard the heat got to and it just wasn't up to the grower's high standards. He said that he wouldn't serve it to our customers. So he pulled it and we were able to adjust much easier than if everyone had pre-paid online."
The Hislops take the deliveries and assemble each individual order in customized, insulated bags for
members to pick up each Friday afternoon. With each bag comes a commitment. "We want to have the most local and most natural products possible," says David. In this case "local" means right next door. In addition to running the SILO store, the Hislops also manage The Farm at Habersham and hope to have their own pastured chickens and eggs available one day soon.
This hands-on approach is a throwback to a time fewer and fewer of us are able to recall: a time without supermarkets, the era of the family grocer.
"We call it The New Economy Corner Store," says Patrick, "because it's really hard right now if you're not part of a big chain to be able to set up a local retail food store and not lose so much in waste. This completely minimizes the risk of waste because you're working with the growers to provide only what is ordered that week. Everything else sold separately in the store is either non-perishable or frozen."
"I think this has a lot more potential than the standard neighborhood grocer," says David.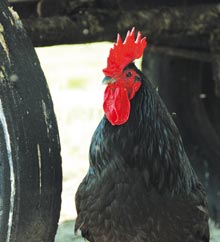 Part of that potential is built on fostering a relationship between consumer and producer. The Habersham shop hosts regular member events like tastings, seminars and farm tours featuring one-on-one interaction between the people who grow the food and the people who buy and eat the food. Communication is key. Feedback is essential.
"Whether it's good or bad we always share it with the grower," says Faith Hislop. "We had a customer who complained that some carrots weren't good. We passed that on and the farmer sent along some free produce to compensate for those carrots." The feedback also helps to shape the in-store inventory and cut down on possible waste.
SILO member, Valerie Kischler, says the non-pasturized milk with the cream on top is "just marvelous." Today as she picks up her order she asks Faith to see if the dairy might be interested in producing some Greek style yogurt. Faith promises to pass along the inquiry.
"SILO is a union between consumers and farmers on a purely local level," says Richard Wilson. The Owner/Chef of Maggie's Pub & Eatery in Habersham has only to cross the Marketplace to pick up his order.
A longtime evangelist in the farm-to-table movement, he's among a growing list of restaurateurs with a SILO account. "Go to their website, create an account and pick up your choices on Friday. What could be easier?" Wilson's endorsement also includes a special weekly "SILO on the menu" flyer. Today's list includes assorted cheeses, berries and mushrooms from Flat Creek Lodge, fresh picked herbs from Kachina Farms, Palmetto Farms' famous rice and grits with milk and cream compliments of the cows at Southern Swiss Dairy.
He's also quick to point out that meeting the farmer is just a click away anytime you place an order. "SILO gives locals an opportunity to really know their farmers and their products and in return the farmers have a better chance of selling their local products. We use SILO at Maggie's and I can tell you with great conviction our customers appreciate it."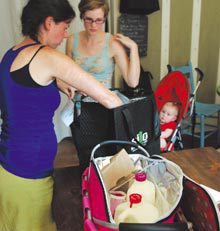 The SILO model also makes more sense as spiking fuel prices drive up food costs. A return to a locally based economy not only makes sense, according to Lauren Kelly, it may be essential. "If SILO can begin to offer locally grown, high quality food at the most reasonable prices possible, we help create a framework for a sustainable local food economy," she says.
"We hope to be able to take the business concept of SILO and locate it in other places," says Patrick Kelly. "Hopefully SILO-Beaufort is the first of many."
*Garrett Budds comments were unavailable at press time.
SILO-Beaufort is located in the Habersham Marketplace. Phone 843.597.3465 or email manager@silo-beaufort.com
RESOURCES:
Check out what SILO has to offer and sign up for a free trial membership at www.silo-beaufort.com
Explore the award-wining New Urbanism of Habersham at www.habershamsc.com
Find out what Chef Wilson has on the menu at www.maggiespub.net
Email comments and story ideas to Mark Shaffer at backyardtourist@gmail.com