Previewing the 2011 Beaufort International Film Festival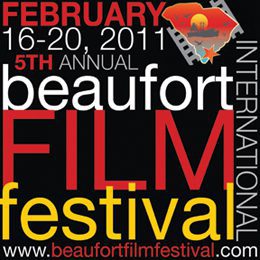 This year's edition of the Beaufort International Film Festival kicks off February 16th with a gala opening at Beaufort's historic and (very cinematic) Arsenal. Once again filmmakers from around the nation and the world will gather in the Lowcountry to celebrate their art, do a little schmoozing and make connections. Each entry, from student projects and animated shorts to documentaries and full-length features, marks an exclusive South Carolina premier. The festival's also attracted a good bit of repeat business, according to Executive Director Ron Tucker.
"Producer John Schwab won the Feature Film category last year with The Hide," says Tucker. "He's got another film in competition this year which makes it his third BIFF in a row."
The fact that Schwab's flying in from England is indicative of the festival's growing international appeal and the kind of low key attraction it offers to filmmakers. This year's entries offer a number of high profile projects. We've chosen to preview this edition of BIFF with a quartet of interviews spotlighting entrants in the Documentary, Features and Screenplay categories. Two of these are homegrown.
Lowcountry Weekly will provide extensive coverage of the entire festival in both the print and online editions. Pick up the February 16th issue for a complete schedule of screenings and events plus more interviews with filmmakers and festival organizers. We'll also be blogging live from the festival. Look for the FilmFix blog on our website at www.lcweekly.com. Meanwhile, buy tickets and check out the films at www.beaufortfilmfestival.com and we'll see you at the movies.
IN THIS ISSUE…
Exclusive Interviews with BIFF filmmakers:

Kevin Breslin: Director of BIFF-nominated Documentary Living for 32.
Maria Cuomo-Cole:  Producer of Living for 32. (A web exclusive!)

Michael Givens: Beaufort director nominated for his Feature Film Angel Camouflaged
Teresa Bruce: Local writer nominated for her Original Screenplay The Scarlet Registry
Look for more exclusive interviews in our February 16th issue!