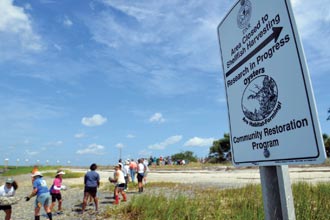 South Carolina Oyster Restoration and Enhancement proves habitat forming

Story & Photos by Mark Shaffer
It's a perfectly beautiful June morning on the edge of Hunting Island's Russ Point. A steady stream of boaters stream by from the nearby landing to get a look at this curious group of people working in a line that stretches from the road to a strip of mud and sand at the shoreline. These volunteers – about 50 in all – heave sacks of recycled oyster shells out of a trailer and down the line where experts from the Department of Natural Resources' SCORE program put them in place.
With the inception of the SCORE program in 2001 the South Carolina Department of Natural Resources (SCDNR) has had remarkable success in increasing the state's crucial oyster habitat. Oysters are absolutely essential for a healthy estuarine system filtering out impurities while providing habitat and food for countless creatures in and out of the water. Nine years ago when the first SCORE volunteers showed up at Russ Point the inlet side of this spit of land was mostly barren, eroded beach. Today's extension nears the end of the project with healthy, lush marsh stretching the length of nearly three football fields back toward the Fripp Island Bridge. Low tide exposes the reef itself all built on bags of recycled oyster shells.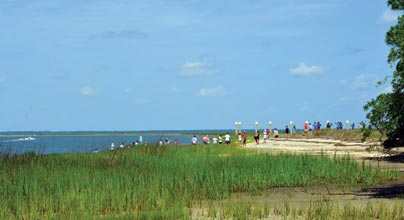 "We can put out a lot more shell in different ways with fewer people," says the DNR's Jared Hulteen, "but that doesn't educate people or engage the community. This way everyone is involved and hands-on. "
That's a key component of SCORE – to get the public informed and involved in the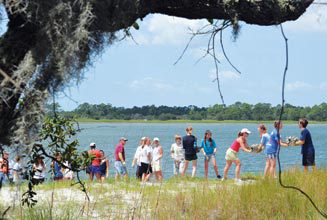 restoration of our marshes and wetlands. This build took about an hour and the volunteers included locals from the Friends of Hunting Island and a church youth group from Tennessee.
"There's really been a surge in service groups of all sorts over the last five years," says Hulteen. "We get all kinds right down to the alternate spring breakers."
Once the last sack's in place everyone gathers for a group photo and to share some cold local watermelon in the salty breeze.
The SCORE Card: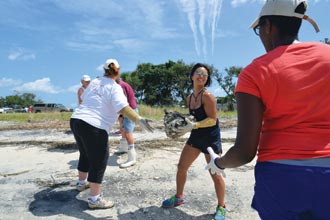 As of October 2014, more than 25,000 volunteers have used more than 1,100 tons of shell to build 225 reefs at 69 reef sites along the SC coast.
In the nine-year Russ Point project nearly 900 linear feet of reef have been built, supporting something in the neighborhood of 4,152,000 oysters. Oysters can filter up to 2.5 gallons of water per hour. If the Russ Point reef filters at that level it works out to 10,380,000 gallons per hour, 124,560,000 per day and an astonishing 45,464,400,000 per year.
Get more info and get involved at http://score.dnr.sc.gov and http://friendsofhuntingisland.org