The Filmmakers Have the Last Word on Why BIFF is Buff
Days after the curtain falls on the 2011 edition of the Beaufort International Film Festival the buzz still hangs in the air, crackling like some unseen static charge.  The energy is palpable. The conversation is ongoing in the bars and restaurants and cafes. The filmmakers are gone, audiences dispersed, all evidence of the after-party is long since wiped away. For festival organizers/show-runners, Ron Tucker and Rebecca Berry, the eighteen-hour days and late night suppers at Huddle House are finally over – until next year.
Once again the festival numbers set a high watermark:  BIFF garnered 204 entries from 24 countries.
33 filmmakers attended the festival along with more than 5,000 of their newest friends. All records. This year's festival expanded by a day, saw record sell-outs and added behind-the-scenes workshops like the Screenwriter's Table Read. If the trend continues, next year should be something special indeed.
Lowcountry Weekly is proud to have been a part of the BIFF experience with extensive coverage in print and online at www.lcweekly.com . Hats off to our Film Fix bloggers: Duncan Pitttman, Teresa Bruce, and Margaret Evans.
A few days after the fact I'm sitting with a still weary Tucker and Berry at a local watering hole, conducting the obligatory post-op interview (look for it online). Rebecca reports that her dental hygienist has friends from out of town who can't wait to come back. Ron says the reaction from the attending filmmakers has been "off the board." Meanwhile a local news report on the festival and its effort to bring film production back to the Lowcountry has gone viral, making news as far away as Oregon.
Film festivals like BIFF are about passion. This is not the feeding frenzy of Sundance, the fleshpot of
Cannes or the sprawling urban hydra of Seattle. This is all about passionate people traveling from near and far to show their passion projects to an audience who will hopefully appreciate the effort. And it all takes place under one roof, in one theater with a one-on-one formula. The idea is simple: come to BIFF, see the movies, and meet the filmmakers. Hang out. The problem with trying to wrap up something like this is finding the proper words to do the thing justice.
As I began to cull through the three days of interviews I'd managed to grab with the various filmmakers, it hit me: let them tell the story. This seems appropriately cinematic – not so much a collection of comments as a sort of print documentary in their own words…
ON THE FESTIVAL EXPERIENCE:
Seth Boggess (Director, Left Alone): It's been amazing.
Jonathan Flora (Director, Lt. Dan Band: For the Common Good): Our experience has been incredible. Talk about genuine Southern hospitality. It's been all about the filmmaker and the vision
Beaufort has about infusing the arts and supporting the arts right here in the community.
Deborah Flora (Producer, Lt. Dan Band): We've been to a lot of different film festivals in a lot of different capacities and this one is run so excellently. It's very organized. It's on time.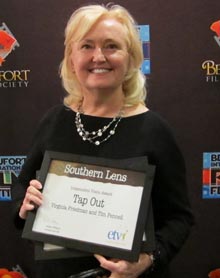 Virginia Friedman (Director, Tap Out): Beaufort and film is like love and marriage; they go together.  BIFF has a growing reputation in the film community. Filmmakers kiss and tell. It's an occupational hazard, and the buzz around BIFF has been terrific.
Dr. Chester DePratter (Archeologist/Producer, Sea Island Secrets): Oh, it's wonderful. I had no idea of what to expect.  I'd never been to [a film festival] and it's very welcoming.  It's a beautiful Saturday afternoon and I still have people coming up to me and telling me how much they enjoyed the film and they're glad we're here.
Benjamin Busch (Writer/Director/Actor, BRIGHT): What I love most is that you have a lot of loyalists. Talking to viewers after my screening many of them would say that it was their fourth year or third year. You have to be doing something wonderful in order to get people to come back. [As independent filmmakers] we're poor already. I drove to Beaufort (from Michigan). So when we make the effort to come, the reward for our expense is that we have a full house.
Natasha Warloe (Producer/Actor, Left Alone): The crowds here are absolutely unbelievable.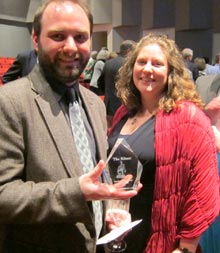 Seth Boggess: They love movies.
Natasha Warloe: Yes! They're really, really passionate about what they're coming to see here and that's what every filmmaker wants.  It was hard to get out of the theater [after our screening]. People kept pulling us aside and giving their encouragement.  You couldn't ask for a better situation.
Ned Farr (Director, A Marine Story): There were a lot of former Marines at [my screening] and when the lights came back up and they said, "You did it right, kid. That's how it is." That made me proud, really proud.  It doesn't get much better.
Adam Sumner (Writer, 180 Proof): The festival has totally blown my mind. It's way beyond my expectations.  I've learned some things about myself and gotten some amazing feedback. It's made me a better screenwriter.
Margaret Rogers (Co-writer, The Grey Man): We won the inaugural screenplay competition at the very first festival. Coming back five years later has been exciting. The festival has evolved and it's attracted so many more people and the quality of the films has been superb.
Marcia Rhea (Co-writer, The Grey Man): The films have
been phenomenal. They've really raised the bar.
Margaret Rogers: They've attracted great filmmakers.
LW: And once again they've attracted you.
Margaret Rogers: Well, we're cheap dates.
(Laughter)
LW: You've taken your film to big festivals like Berlin and Dallas. How does this compare?
Ken Wyatt (Writer/Director, Pray for Eric): I didn't know what to expect, but man, the organization is top notch. When the filmmakers feel respected it's a great thing, because it's a lot of work to make films. Don't do it if you don't love it.
LW: How does the single venue work from a filmmaker's perspective?
Benjamin Busch: I like that you don't have several screens running all at once. No one's being torn
away to go see something they think might be more interesting at another location. As a filmmaker I don't want to compete for what could be a relatively sparse audience. In offering the films that BIFF does – lined up the way they are – those who are interested in seeing the films will see the films that are there.
Jonathan Flora: The idea that everything's in one place is such an advantage  to all the filmmakers, we can pop in and out, we can get to know one another and we're all here for the same thing.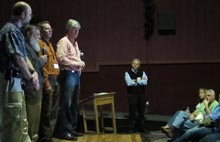 Mike Hudson (Director, Sea Island Secrets): There's such a variety of film all under one roof – something for everybody. This is the fifth year I've worked with the festival and it's a real privilege to have a film selected as a finalist in the hometown film festival. Although I think Ron's right, next year we're going to need a bigger boat.
LW: This single venue affords an opportunity for the filmmakers to mingle and make connections, an important aspect of the festival.
Seth Boggess: It's great to get together with other artists – people who know what we go through  in our process – and it could lead to future collaborations, you never know. When you make a connection it's great. That's what this business thrives on. It's a collaborative process. The more talented people you meet, the better.
Benjamin Busch: We get to have a moment of mutual admiration sometimes. When we see good
work, it's rewarding to a filmmaker as well because this is the place where we go to see independent films. Our screening room is a film festival where we get to be invited in to the work of other artists. And because of those meetings collaborations are often born.
Adam Sumner: I've had a few people come up and ask to read my script. There seems to be some interest there. And it's a South Carolina story so we could end up making it here.
LW: What will you bring from this experience heading into the next project?
Seth Boggess: I think the main thing is that we want to entertain people, touch the audience. I think we did that [with Left Alone] and I'm happy about that.
Natasha Warloe: We're talking right after seeing Jonathan Flora's piece and I'm just so moved that I want to take action and that's an incredible achievement for a filmmaker, something we hope to embrace on our next project.
ON MAKING MOVIES IN THE LOWCOUNTRY:
Jonathan Flora: Let's see how we can make the state competitive with other states. You have such a long, rich history of making great films here with Forrest Gump and The Big Chill, and on and on. It's time people come back here and realize the beauty of this place and tell some stories that are
indigenous to right here. Let's tell some South Carolina stories.
Deborah Flora: When you see the environment here which is so unique and the heritage that's been preserved – unlike a lot of areas – it becomes like another character.  So there are a lot of stories that have to be shot here. We're open to finding some of those and perhaps coming back and supporting Beaufort in that way.
Jonathan Flora: So use us.
LW: Okay. Will you go to Columbia and talk to the Governor?
Jonathan Flora: Absolutely! Let's see what we can do.
Natasha Warloe: We hope to be able to do a film here some day. It's such a beautiful area and so are the people. It's been glorious.
Seth Boggess: Everyone's so nice.
LW: They're all faking it. We're known for our nasty dispositions.
(Laughter)
Seth Boggess: I don't think so.
LW: That was a test. You passed.
(Laughter)
Natasha Warloe: Well, everyone has been very nice and the festival is so well run, we're just happy to be here.
Ned Farr: I actually have a script that I hope to shoot this year. Part of it takes place on a beach and I've been to the beaches here. I know Hunting Island. I've been there a lot. As an independent filmmaker you write for places you know you can go, so I'll come here. However,  it would help if the new Governor could make that a little easier. It's all about jobs. I'll bring some jobs if you make it easier to for me to come here and film instead of going to Mexico or all these other places who've figured it out. Attract us. We will come.
LW: And – most importantly – spend money.
Ned Farr: We will spend money.
Benjamin Busch: What you don't know is that while you were all sitting around drinking wine I was filling my trunk with Spanish moss. I'm going to start a Spanish moss farm in Michigan and I'm going to shoot for Beaufort [there].
(Laughter)
LW: Well, good luck with that.
Benjamin Busch: No, I love the location. It has me thinking about stories that could be applied to
that kind of environment: the marshes, the unspoiled primeval forests. I was quite impressed by that and by the preservation of an early American settlement. This is a place that can be isolated to an entirely different time without much doctoring, which is really rare.
Take a few signs down and it's 1870 again.
Jonathan Flora: When I look at this landscape all I'm thinking is framing and composition and what great scenery that can't be duplicated anywhere else. Movies need to be shot here again.
Deborah Flora: Beaufort has two things going for it: People who love film – who really love it and love supporting the filmmakers – and it has this beautiful environment that people really want to see. It has been a true joy to be here.
LW: Will you be back next year?
Ken Wyatt: I'd love to be here next year. I am truly amazed by this festival. It feels really good to be here.
Jonathan Flora: I hope you see us back as often as possible. Because of the spirit you guys bring to the festival we plan to be friends of the Beaufort Film Society in any way we can.
Benjamin Busch: [Independent filmmakers] don't have much money, but we make more movies than anyone else and when we establish a relationship of trust we go back to it all the time. And that's what Beaufort felt like. You really embraced all of us. Seth [Boggess] and I are talking about that. We didn't know any of you. You took us around and opened up your doors. I hope I have any reason at all to come back to Beaufort, but especially to the Beaufort International Film Festival.
AND THE WINNERS ARE…
Best Screenplay, 180 Proof, Adam Sumner, Los Angeles, CA
Best Animated Film, Fully Poseable, Austin Taylor, Winston-Salem, NC
Best Student Film, Perspective, Jon Byron, Orange, CA
Best Short Film, Left Alone, Seth Boggess, Chicago, IL
Best Documentary, Lt. Dan Band, For the Common Good, Jonathan Flora, Northridge, CA
Best Feature Film, A Marine Story, Ned Farr, Los Angeles, CA.
Tom Berenger, Academy Award nominee for Platoon, presented the inaugural Santini Patriot Spirit Award to filmmaker Jonathan Flora for his documentary Lt. Dan Band: For the Common Good. The Jean Ribaut Award for Excellence in Music was given to the very talented composer Charles Denler.
BIFF returns February 15-19, 2012
FILM FIX
Find out more about the Beaufort Film Society at www.beaufortfilmsociety.org and check out at this year's entries at www.beaufortfilmfestival.com . Keep up with the filmmakers and the issues on the Film Fix Blog at www.lcweekly.com . Mark Shaffer's email is backyardtourist@gmail.com