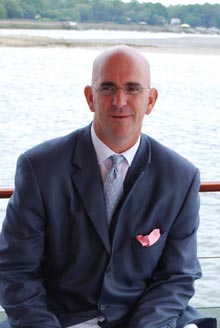 Beaufort Resident Christopher Conefry, a former equities trader who lost 17 friends on September 11, 2001, tells his story.
September 11, 2001. It was a day we will never forget. Most Americans seem to remember each and every detail about that day; I was on an airplane en route to Costa Rica when I heard the news from a passenger in front of me. My two-day old husband and I were two of 60,000 people who were grounded at Miami International Airport, where T.V. monitors were intentionally disconnected. It wasn't until 5:30 that afternoon when I saw the towers fall. My eyes filled with tears, and my body became numb as I watched coverage of the sequence of events that took place that awful Tuesday.
Today, as I write this piece, the tears flow again as I recall the range of emotions I felt that day. It's been 10 years since the attacks in New York City, Pennsylvania and Washington D.C. Do you remember that day? Of course you do, and so does Christopher Conefry, a former equities trader on Wall Street who now calls Beaufort home. This is his story.
Conefry worked at Salomon Smith Barney as a NASDAQ trader. From 1995 until 2001, he was a successful bachelor enjoying the lavish lifestyle of fine dinners at the best restaurants and golf outings all over the country. He had an upscale condo with a skyline view in trendy Hoboken, New Jersey at the height of the market in March of 2000. As he knew it then, life was good.
"It was like Candyland, probably not unlike Beaufort. Everyone was making money if you were aggressive and capable," says Conefry.
That was before September 11, when priorities were askew and values were trumped by climbing an ambitious ladder to desired wealth. Things were about to change.
"That Tuesday was a perfect day," explains Conefry. It was 85 degrees and no cloud in the sky. When I got off the ferry, I walked 6 blocks to work at 390 Greenwich Avenue. I met with a customer, who now happens to be my partner, Tommy Marich. I went back to my desk when I got the news."
A colleague walked into Conefry's office and announced that a plane had just hit one of the towers. Assuming it was an accident involving an inexperienced pilot flying a Cessna, the young traders turned on CNBC and watched as Mark Haines calmy described the incident of American Airlines Flight 11 crashing into the North Tower of the World Trade Center at 8:46am.
It wasn't registering. Conefry thought of his friend's father, Jeff LeVeen, Sr. who was a senior vice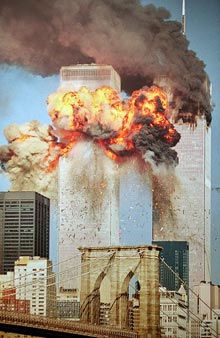 president at Cantor Fitzgerald, located between the 101st and 105th floors of the World Trade Center. He wondered if everything was all right over there.
The traders at Salomon Smith Barney continued to watch CNBC, and over 1000 traders collectively witnessed United Airlines Flight 175 crash into the South Tower of the World Trade Center at 9:02am.
Within 10 minutes, their building on Greenwich Avenue was ordered to evacuate. Conefry immediately called his parents' home and left a message. They were vacationing in Ireland. He simply said, "I'm okay, and I'm leaving the city."
Chris' friend, Jeff LeVeen, Jr. evacuated the building with Conefry and Tommy Marich. He split from Conefry and Marich and headed toward the towers, knowing his dad was in there.
Conefry and Marich walked toward the Holland Tunnel when they reconsidered. They thought they were in the midst of World War III. Not knowing what to do or where to go, they ditched the Holland Tunnel route in fear that terrorists were plotting to blow it up.
Conefry went to the ATM and withdrew $1000 in cash. He and Tommy walked to the marina, hoping to find a boat to take them across the Hudson to New Jersey. They saw the towers on fire for the first time with their own eyes.
No one could pay for the ferry to Hoboken. Everyone left wallets and purses behind when they evacuated; thankfully, the operator realized that and continued with his route after Conefry insisted. Conefry was on the ferry watching the towers burn when he first started crying.
"There was a girl next to me in hysterics. She was the first person to tell me she saw bodies jumping out of windows."
The ferry brought the passengers to Weehawken, just north of Hoboken. As Conefry walked the two miles to his apartment, he watched as the two towers fell. The physical effects began. Conefry threw up and was so wired with adrenaline. He couldn't call anyone, because the phone lines were jammed.
There are 120 bars in one square mile in Hoboken. Every one was packed with people watching the coverage on all major networks. The stereo of the news echoed out of every house. That's when Conefry saw his girlfriend, Stacy. Stacy, who worked south of the towers, was covered in soot. They went back to her place, but Conefry couldn't sit still. He walked around Hoboken three times.
There was a thunderstorm that night. Along with the bang of thunder, sirens resonated throughout the streets. And, on this night, Conefry would have his first panic attack, the first of many to come in the next several years.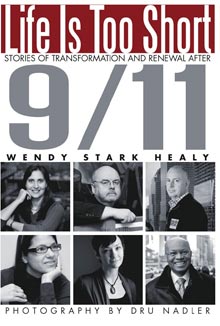 Conefry woke and began his trek around Hoboken again, when he ran into his buddy, Jeff LeVeen, Jr. and his sister, Betsy. He was so thankful that LeVeen, Jr. had decided to return to New Jersey, knowing there was nothing he could do around the World Trade Center.
Conefry had friends in Boston. They invited him to come to Newport, RI to get away from the chaos. Upon his arrival, he began feeling guilty for leaving New York City. He had another breakdown in the shower and drove back to New Jersey the next day.
On September 17, the Stock Market reopened. There were ferry stations set up all over the place, since the subway was closed. At 6:30am, when thousands of people boarded the ferry in New Jersey, there wasn't a single smile in sight. Everyone carried the same, blank look on their faces. But, the first genuine smile that came across Conefry's face in over a week came when he saw the ferry that was to take him across the Hudson for the first time in six days. It was a lobster boat.
Conefry got to his office at Salomon Smith Barney after walking through blocks of debris. At this point, people were still hanging on to hope. Hundreds of people were buried under the rubble of the World Trade Center, and family and friends were looking every day for any sort of proof of survival of their loved ones.
In the weeks that followed September 11, Conefry would learn that he lost a total of seventeen friends in the World Trade Center attacks, including Jeff Leveen, Sr. He had to miss memorial services in order to attend others. He was devastated and powerless, and physically depressed for years.
He once compared his experience on September 11 to that of his dad's in Vietnam. He asked his dad how he coped with losing so many friends. His dad simply said, "Son, I had 6 months to psychologically prepare for War. You just got up and went to work one day and lost seventeen friends. It's not the same"
Conefry toured Ground Zero about a month following the attacks. "There was nothing but steel
everywhere, and the American flag."
He began to realize, as did most of his colleagues, that each day was another opportunity to tell someone how much you loved them or how much they were appreciated. Relationships, no matter what level of love or respect was entailed, were priority now.
"We weren't asking where you went to dinner last night anymore. We were asking about your son's soccer game. Conversation was much more family oriented," says Conefry.
In the years that followed, Conefry began to reflect on each friend who perished, one memory at a time. Therapy helped him confront his fears and also allowed him to comfort friends, like Jeff LeVeen, Jr., who lost loved ones in the attacks.
He reconnected with his college sweetheart shortly after September 11. They married, and in 2008, she agreed to a slower pace of life in Beaufort. Erika and Chris have a son, Cole, and live in Habersham.
Conefry is a member at Secession Golf Club. His association with the Club is what brought him to Beaufort and the laid back lifestyle of the South Carolina coast.
In 2002, members of Secession Golf Club started a college Scholarship in the name of the late Jeff LeVeen, Sr. and Steve Roach, a brother of a friend who also perished on September 11. In conjunction with the golf club, over $1 million has been raised for the LeVeen-Roach Scholarship Fund for local Beaufort students who might not otherwise have the means to attend college. So far, 25 young men and women have graduated.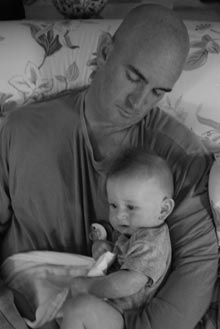 Conefry is featured in a new book, written by Wendy Healy, titled Life is Too Short, Stories of Transformation and Renewal After 9/11. It tells the story of people—pastors, disaster response staff, mental health counselors, case managers, and those who worked in and around the Wall Street area—who survived horrific events and have gone on to change their lives after 9/11 for the better. Today many, including Conefry, are working in new careers, living in new locations, and being guided by new mindsets and philosophies. As they look back on their lives since 9/11, they see how God was at work.
Christopher Conefry now calls Beaufort home, but the New York native will always keep a special place in his heart for the city that is and always will be America's favorite destination. It is the home of our Statue of Liberty, where hundreds of thousands of immigrants set foot on U.S. soil for the first time seeking freedom and love of country.
We will never forget September 11, 2001. We will always remember those who died. And, on the 10th Anniversary of the attacks, we will hold hands, united as one as we did on that Tuesday; because, each and every one of us are Americans in these United States. May God bless us all.