A few minutes with Oscar nominee Michael O'Keefe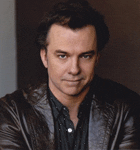 For more than three decades Michael O'Keefe has moved effortlessly from the little screen to the big screen to the boards and 'round again. His television resume spans M*A*S*H*, Roseanne (as Fred) and a recent recurring role on Brothers and Sisters. His Broadway work includes Side Man (Tony Award winner for best play) and Reckless with Mary Louise Parker. His eclectic list of films include Ironweed, The Pledge (both with Jack Nicholson), George Clooney's Oscar winning Michael Clayton, and the role of Danny Noonan in a little comedy called Caddyshack.
O'Keefe has a special connection to Beaufort. His 1979 performance as Pat Conroy's semi-autobiographical  Ben Meechum in The Great Santini launched his film career while the movie put Beaufort on Hollywood's radar. O'Keefe and Santini co-star, Blythe Danner, return to the Lowcountry this month for the fourth annual Beaufort International Film Festival.  The interview was conducted via email.
Mark Shaffer: When you think back on The Great Santini experience, what springs to mind?
Michael O'Keefe: Working with Robert Duvall.  His performance in Apocalypse Now was getting a great deal of attention.
M.S. Aside from the actual film making process, what was that time in Beaufort like for you as a young actor and a native New Yorker coming to the Deep South; any culture shock?
M.O. I went to a Lowcountry boil and didn't know you were supposed to peel the shrimp.  I ate one whole.  There was a soul food place called "Mother's" we went to a fair amount.  Other than that I worked most of the time.
M.S. What (if any) sort of direct influence did Pat Conroy have on your portrayal of his alter ego, Ben Meechum?
M.O. I didn't know Pat when we started filming and met him for the first time in Charleston where he took me to meet The Boo at the Citadel.  Pat and I came to find out that we had a great deal in common.  We were both the oldest of seven kids in an Irish Catholic family with a charismatic, over bearing, and arguably dangerous father.
M.S. This was "the little movie that could," a film that didn't have much of a budget or big box office success and yet you and Duvall were both nominated for Oscars. Was there a sense of catching lightning in a bottle on set or did all of this come as a complete surprise?
M.O. I was twenty-three at the time.  At that age I was not exactly humble.  It was only years later that the true significance of the film was evident to me.
M.S. You've been back to Beaufort recently, does it still have a special appeal?
M.O. I hadn't been to Beaufort since we made the film in 1978.  I was there last year to see it and Pat.  He was signing books at Bay Street Trading Company.  The town itself seemed unchanged except for the waterfront.  There is something magical about the place.
M.S. At some point during BIFF you'll be back in the Santini house, Tidalholm, with – among others – the author of the book and the woman who played your mom – nearly 31 years to the day the film wrapped. What are your thoughts on that?
M.O. I saw the house last year.  It remains exactly as it was when we filmed in it.  Without Pat Conroy I wouldn't have a film career.  Without Blythe Danner I wouldn't have had such a compassionate, gifted colleague with whom to share the film.  To be with them both in Tidalholm will be like coming home for the holidays I'm sure.
M.S. And finally, how important is something like the Beaufort Int'l Film Fest to this community and the spirit of independent film?
M.O. I don't think I can comment on BIFF's importance to the community.  I can I say I am grateful they asked to me come down and look forward to every minute of it.
Check out his website: www.michaelokeefe.com