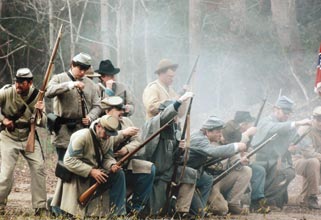 The Blue and Grey Clash Once More in Point South
Text and Photos by Mark Shaffer
In December 2012, re-enactors converged on Frampton Plantation (now called Point South) for a Sesquicentennial reenactment like no other.
The first recreation of The Battle of Pocataligo would take place on the actual site of the original fight, making it an extremely rare event for all involved.
The actual battle took place on October 21, 1862 as 4400 Union troops sailed out of Hilton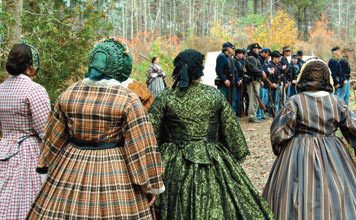 Head and up the Broad River with orders to destroy the tracks and bridges of the Charleston to Savannah Railroad. Such a hammer stroke would severely cripple the Confederate war effort, cutting key supply lines. The next morning a force of 675 Confederates engaged the Federals and held them off until reinforcements arrived to drive them back.
The 2015 re-enactment takes place over January 24th & 25th and is open to the public. The event is hosted by the Charles Jones Colcock Camp #2100 Sons of Confederate Veterans, Ridgeland, SC. Frampton Plantation is part of the Lowcountry Tourism Commission. Call 800.528.6870 or click on http://www.southcarolinalowcountry.com for more information.
Read about the inaugural reenactment of the Battle of Pocotaligo here.