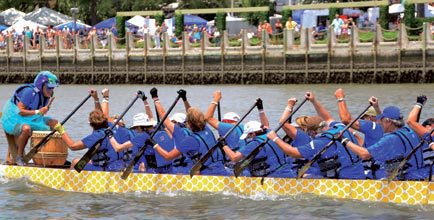 Story & Photos by Mark Shaffer
Water Festival historians should make special note of Saturday July 26th as the day the Dragons laid claim to the most exciting, emotional and vivid daylight event of the festival.
While Dragon Boat Race Day debuted last year, the 2014 edition was bigger, better and louder in every way, offering the crowds along the seawall a full day of action, fun, thrills, spectacle and more than a few tears. By day's end there was no doubt that 2015 will continue the trend as the Dragon Boaters continue to raise money for local cancer patients and survivors.
Dragon Boat Beaufort was born out of the 2012 Beaufort International Film Festival following a
screening of Liz Oakley's award winning documentary, "Awaken The Dragon." The film follows a group of cancer survivors who form a competitive Dragon Boat racing team just up the coast in Charleston. Clare Taylor and Mary Ann Thomas, survivors themselves, practically formed the organization during the film's end credits and DBB caught fire.
For more on this year's event, including race results visit www.dragonboat-raceday.com. To find out how to get involved go to www.dragonboatbeaufort.org. Congratulations to all who took part, and "paddles up for cancer survivors."
2014 DRAGONBOAT RACE DAY RESULTS
DIVISION A
1 Fire Breathers, Charleston (fastest overall) 1:00.39
2 Organized Chaos, Charlotte 1:01.45
3 HairForce One, Lime Lite Salon (fastest locals) 1:04.46
DIVISION B
1 Dragon Boat Charleston-Team Rock On 1:05.52
2 Riverview Rocks,Riverview Charter School 1:07.03
3 Kinghorn for the Survivor-Oars, Beaufort 1:08.27
DIVISION C
1 Torture Chamber, Beaufort Chamber 1:04.03
2 Bauer Strong, Friends of Jimmy Bauer 1:04.25
3 Dragon Boat Charleston-Team Open Cooler 1:05.70
DIVISION D
1 Saltwater Slayers, Jacksonville 1:08.03
2 Rotary Strokers, Sea Island Rotary 1:14.41
3 DragonLink, Century Link 1:14.51
CANCER TEAM DIVISION
1 Dragon Boat Charleston-Team Rock On 1:05.52
2 Dragon Boat Charleston-Team Open Cooler 1:05.70
3 Dragon Boat Charleston-Team Sara-Dipity 1:06.50
AWARDS
Individual Fundraiser – Corinne Woodman $1,950
Team Fundraiser – Swamp Dragons $8,335
Best Drummer Costume – Dancing Dragons
Drummer Highest Fundraiser – Rotary Strokers
Best Team Spirit – Ride the Tide, Leadership Beaufort
Best Decorated Tent – Swamp Dragons
Best T-Shirt – Saltwater Slayers, Jacksonville
SOME IMAGES OF THE DAY