MARK SHAFFER explores the "alternate reality" of Beaufort's innovative arts center "Every artist was first an amateur."
– Ralph Waldo Emerson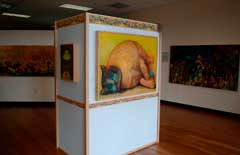 It happens a lot. Passersby lured by the life-sized cow and mermaid sentinels, push open the doors of ARTworks and pass Alice-like into an alternate reality. Outside, Beaufort Town Center sprawls across an inland sea of parking, retail stores, grocers, restaurants, bars, and accommodations of every sort, but through the glass lies another world – a world where tone, color, texture and light meet whimsy and passion to eventually form a business plan. ARTworks. The name implies much, but what it means most is the advent of a new and innovative approach – a template, if you will – for the future of the arts in Beaufort County. And in that future, art is a going concern.
Fact: A 2008 economic impact study commissioned by the ACBC and the Beaufort Regional Chamber of Commerce indicated that the total economic impact of the arts in Beaufort County totaled $213,200,000 that year. The study was conducted by Georgia Southern University.
A year ago I had my first look at the new home of the Arts Council of Beaufort County. ACBC Executive Director, J.W. Rone's baritone echoed off the bare walls of the vast, empty retail space in Beaufort Town Center, just a couple of doors down from BiLo. Grand plans were taking shape, massive fundraising and renovation projects loomed ahead, but Rone's excitement was infectious and his optimism was properly cautious in a "been there, done that" kind of way. The old 2400 square foot facility near Pigeon Point was bursting at the seams and the ACBC was in dire need of new digs. A report that the Council was considering a move to Port Royal prompted a new offer from developer Dick Stewart of 303 Associates, who also happened to be the Council's landlord.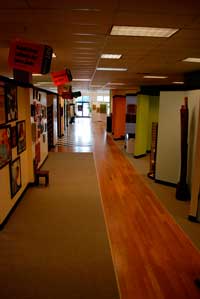 "He made us an offer we couldn't refuse," says Rone. But unlike that famous line from The Godfather, no guns were held to heads. In fact, according to Rone, Stewart had challenged the ACBC to expand its presence in every conceivable way, to "build to capacity." Twelve thousand square feet is a lot of capacity.
"We were also being challenged by the State Arts Commission," says Rone, "to look at the arts as an entrepreneurial activity and how to work with real estate, government and developers to make the arts an important part of 'quality of life' in the community." In other words, the very concept of the role the arts play in the Lowcountry was about to radically change. Buzz phrases like "quality of life" began to mingle with "fiscal responsibility," not something with which any art community has ever been synonymous.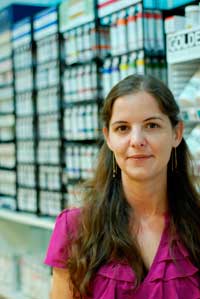 Things moved quickly. The ACBC took possession of the space in August of last year, presented the first gallery show in October and celebrated ARTworks' grand opening that November. "In that time we did about sixty thousand dollars worth of renovations for about sixteen thousand dollars," says Rone. Thanks largely to a dedicated group of volunteers the twelve thousand square foot vacuum of former retail space was miraculously transformed into something completely different – a brand new model for what was to come. In an analogy for the times, this entire process is a little like Hyundai buying out GM, retooling factories, redesigning cars, regaining consumer confidence and turning a profit in less than a year – sort of.
"I continue to be blown away."
That's the frank assessment of ACBC Board President, artist and gallery owner, Deanna Bowdish. "One of the most exciting things about ARTworks is the community outreach," she says. "The range of people that we're reaching via our own events or through other experiences or events going on in that space." And there is always something going on with countless workshops and classes across a broad spectrum of interests and skills. A recent sampling of hands-on classes included digital photography, batik, sculpting, hammered metal jewelry, watercolors and belly dancing. Programs designed for children like AFTERschool and ARTblast are wildly popular and continue to exceed expectations. The facility's intimate ninety-seat theater has already gained a reputation as a venue for community events, top-flight entertainment and experimental productions. In spite of tough times the turnout for all these things remains impressive. "In this tight economy not everybody can go out to dinner or see a show," explains Bowdish. "But people are willing to pay for the experience of broadening their own knowledge and their own sense of creativity and well-being."
Fact: Beaufort ranks number twelve on American Style magazine's annual "Top 25 Best Art Destinations Guide" in the Small Cities category just behind Sarasota, Florida and just ahead of Chapel Hill, North Carolina.
At the very core of the ARTworks concept are the artists in residence, a microcosmic sampling of area talent. Most are collected in a row of colorful studios just off the main gallery and just as open to the public. It's a little like a zoo (ARTzoo?) but without bars and moats. This is the heartbeat of ARTworks – the whole point of The Big Idea – and the thing that makes the biggest impression on most first time visitors: meeting the artists and seeing them at work in their natural environment.
"The cool thing is to watch the process," says Rone. "These are working artists' studios." Although the initial focus is not on retail, work can be purchased directly form the artists when they're around. The key word being "around." Some work day jobs and hit the studio in their "off" hours with the 24/7 access afforded by the ACBC. "On any given day you might see our jeweler, Peggy Carvell, at work at her bench creating custom jewelry and repairing fine jewelry," Rone says. "And you will almost always find Pat Wilcox, our fiber artist, working at any one of her amazing skills as a sculptor and designer."
"I've been here since the beginning," says Wilcox. She's busy coaxing a face out of clay, surrounded by previous creations – delicately detailed figurines of various sizes clad in remarkably intricate Lilliputian garments she's designed, cut and sewn. "I've learned a lot from the other artists," she says. "We've shared a lot of ideas and techniques. It's kind of like finding a sorority where everybody gets a long and is supportive of everyone else. We just have fun with it. There's a lot of energy and artists feed off energy."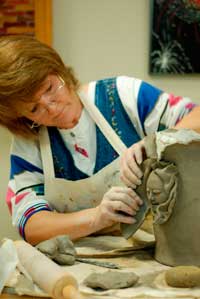 Like her ARTworks colleagues, Wilcox is also heavily involved in the classroom experience which she (and others) view not just as the key to building appreciation and awareness of the arts, but also to building business, particularly in challenging times.
Mixed media artist, Carol Kamm, is still moving into the space she'll share with husband, Frank, a well-known local oil painter. "It's been so exciting. It's very nurturing," she says. And a far cry from space the Kamm's once rented above Bay Street. "It had no heat, no air. I don't think anybody had been in the place since the thirties." The Kamms soon found themselves priced out by spiking rents amid a development boom. Urged by ACBC Development Director Jenny Rone (J.W.'s wife and management partner) to apply for the vacant studio, the Kamms are eager to get back to work. "It really could make a difference in our life," she explains. "With the economy going the way it is, you don't know what's going to happen and this is a chance for us to develop and grow into something that could help support us."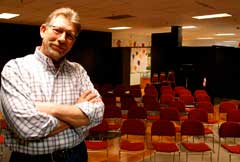 "It's all part of the idea of a local arts incubator," explains J.W. Rone. The concept is simple enough: mentor, encourage and advise artists on how to be successful outside of the studio – to cultivate a growing, sustainable and viable arts economy in which the term "starving artist" is rendered all but an irrelevant cliché. One aspect of this is the critique group Bowdish oversees twice a month. "In our community we have a lot of artists who started later in life, who don't necessarily have the educational background but have that natural ability. What they don't have is that art school training," she explains. She brings her own experience as both artist and dealer to these sessions for a frank exchange aimed at providing "that other set of eyes."
Jennifer Kassing-Bradley applies that other set of eyes to the work of a student just across from the Kamm's studio. A graduate of the Savannah College of Art and Design, she leases space within ARTworks for her Coastal Art Supply, the area's only purveyor of fine art supplies. "We are really excited that we have a place for locals to come and buy art supplies," she says. "Even with this economy a lot of local artists have come out to support us." The shelves of her shop next to the ACBC offices are chockfull of row upon row of paints, brushes, sketchbooks, canvas, chalks & charcoals – virtually anything an artist of any level of expertise would need.
Kassing-Bradley, who has undergraduate and graduate degrees in painting, also teaches art at The Technical College of the Lowcountry. "None of the students had a place to buy art supplies locally," she explains. "They were all going to Charleston or Savannah. A place to buy fine art supplies was desperately needed in the county." And Kassing-Bradley's gone a step further making sure to stock materials that can't be found in either Charleston or Savannah, another piece of the incubator in place.
Kassing-Bradley teaches a "drop in" watercolor class each Tuesday evening. Today she's holding a private lesson in a different medium. "I'm working on an acrylic abstract and Professor Bradley's kindly showing me the path to take," says Kris Koslosky. Koslosky, who sells architectural products for a living, took watercolor classes under Kassing-Bradley at TCL. He sees the ARTworks experience as "a great foundation on a number of spectrums."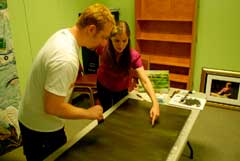 Building on this foundation – this arts hub – in such a dismal economy requires a new frugality and careful planning, something both Rone and Bowdish credit to ACBC treasurer Jack Russell. Under the retired CPA's careful guidance, the ACBC began to adopt a more aggressive fiscal plan long before the economy went south. "Tax support was diminishing, grants were disappearing," Rone explains. "We began planning for this two years ago. 'Frugality' is the new watchword."
"We need to make sure we are able to sustain, maintain and continue to grow," says Bowdish. "Because we are so fiscally responsible with our budget we are able to reach out to the entire community. It blows my mind what we are achieving and accomplishing on such small funds."
Education. Incubation. Outreach. These things don't just stop at the ARTworks door. On the other side of that glass the Arts Council of Beaufort County is committed to a roster of projects simply too long and involved to print for want of space. As for the facility itself, the neighbors are beginning to notice. A few doors down Bay Street Music – which is ironically not on Bay Street – provides the sound for everything the Arts Council does. "They do everything from the Street Music on Paris Avenue in Port Royal to the things here in ARTworks," says Jenny Rone. She also says the ACBC is working with the nearby Quality Inn on special lodging packages for a series of planned Master Classes aimed at bringing in participants from outside the county for three day sessions. And Town Center's iconic Irish pub, Rosie O'Grady's, will share booking with a hot new swing band out of Asheville, The Space Heaters, during their first Beaufort experience (see the accompanying Life Behind Bars column for details).
Kris Koslosky's lesson continues under the watchful eye of his teacher. He's slowly building the base for whatever this piece will be. A local woman – a passerby – stops and watches and asks what he's doing. His teacher takes the moment to sum things up.
"I had really been missing that energy of artists coming together since I left SCAD's graduate studios," say Kassing-Bradley, "and I really appreciate this space because we have a lot of working artists. We can sit down and talk about our ideas together and all of a sudden there's that intellectual stimulation involving art and theory of art that I was lacking before. It's real important that artists have a place where they can come and talk about art with other artists."
Our visitor is a little mesmerized. It's the first time she's seen the process up close. "This is amazing," she says, "just amazing." She pauses and looks around. "And I had no idea this was here."
Spread the word.
ARTworks is located at 2127 Boundary Street in the heart of Beaufort Town Center. Find out what's happening at ARTworks and how you can get involved at www.beaufortcountyarts.com or phone 843.379.2787. Mark Shaffer's email is backyardtourist@gmail.com.