Mark Shaffer ponders Mrs. Parker, Miss Warrene, and Barbecue Culture at Palm Key.
Part Two: "You can't rush good"

Palm Key is an award-winning nature-based retreat on the tidal marshes of the Broad River. The colony of picturesque cottages and meeting facilities was founded by Judy and Emil Rigg more than two decades ago and is also home to The Institute at Palm Key, a separate education-based entity. To read Part One of our profile, visit www.lcweekly.com
Meat, Fire, Eat
This may come off as a wildly hyperbolic, possibly sexist generalization, but I'm willing to bet real money that about nine out of ten guys who couldn't find their own kitchens with night goggles and a GPS could still char a passable steak given a slab of raw meat, a pack of matches and a sharp stick. This is part of our genetic code, a misty kill-cook-eat muscle memory from a time when the embryo of civilization gestated 'round the cookfire, and meat was what's for dinner. Any meal that found you eating instead of being eaten was a good one. This is not to say that women are missing the BBQ Gene (as it came to be known), it's simply recessive…more or less.
Culturally speaking, this phenomenon manifests itself on a global scale in a kind Culinary Darwinism. It's like that lake in Africa with something on the order of eight hundred species of cichlid. All evolved from a single species. As a species we have evolved many forms of marrying meat to flame around the globe, separated by oceans and eons, under extreme and diverse conditions. And when it is no longer a matter of survival, we elevate it to an art form, to a culture all its own. Meat on fire is among the basic things all of mankind shares as a common point in our anthropological heritage, even if some members of the species no longer choose the way of the carnivore.
Carnivorous Ways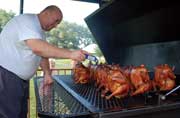 In the South few topics apart from religion and politics are capable of igniting such incendiary passions as barbecue. "It's football, God and barbecue," admits J.T. "Tim" Handy. He's the "J.T." in J.T.'s BBQ of Summerville, land of coaching legend John McKissick's Green Wave and a place where barbecue, like football, is practically religion. Handy has come to Palm Key as the keynote speaker for an Elderhostel program dedicated to revealing the culinary mystique of Barbecue in the Lowcountry. Twenty-eight people from as far away as Seattle, WA and Carmel, California have converged beneath the live oaks on the edge of the salt marsh to learn both theory and practice of terms like "low and slow," "dry rub" and "beer butt chicken." I'm keen to learn the last one myself.
Tim, a former North Charleston police officer, is a rising star on the burgeoning pro barbecue scene. That's right, pro barbecue. It is – forgive me – the hot new thing, kind of like NASCAR, complete with custom vehicles, plenty of smoke, flame, sponsor logos and sweaty men in uniforms, only a whole lot slower.
"I had a little motorcycle accident and ended up with several rods in my legs," Tim says nonchalantly, "so I got an early retirement and now I just travel the [professional barbecue] circuit cooking barbecue full time."
"So, what you're saying is that you don't miss police work?"
He laughs, "Not at all. Fifteen long years, it sure was."
Tim found his passion slowly hissing on the grill via several Fraternal Order of Police fundraisers. "I entered the first contest down in Charleston kind of on a lark 'cause I enjoyed cooking ribs. And like everybody, you always think yours are the best on the block. We entered 'em and got thoroughly beat." That was far from the end.
He "got hooked on the camaraderie" and found out the "prize money wasn't bad, either." Once he started winning, he never looked back. He's the 2008 SC Master Barbecue Champ with an impressive string of five consecutive Whole Hog titles under his belt, and a real threat to cook up a national title for South Carolina.
Today, Tim's taught backyard basics and ribs 101, and along with event organizer, Ron Toole, led the group in a prepping tonight's main course. The evening's meal features a national barbecue phenomenon (not Bobby Flay) called "beer butt chicken" and a special guest appearance by the dish's inventor, a famous TV chef (still not Bobby Flay).
Rick Browne, host of the PBS series Barbecue America is on his way to Charleston to shoot a show, when somehow word reaches him through the piggy pipeline (it's a 'cue thing) of the program at Palm Key. Why, I can practically hear the tires squealing all the way from the Charlotte airport. Besides, why waste time in a state with only one kind of sauce and a proportionate skill level in major college football? Really? It's a fact that every Southern state (Texas and South Florida, excluded) lays claim to its own indigenous style of 'cue except South Carolina. We claim four.
"It's the only state with four distinct varieties," Tim tells me. He's fired up the massive cooker on the rear end of The Beast, his custom-built twenty-four foot competition trailer and work in progress. "That makes judging more difficult in competition. Not like anyplace else." And competition is serious. Consider this: The Beast was built from the ground up, by a firm that used to build race car frames. These days all of that accumulated skill and knowledge goes to fabricating custom grills, many for the teams queuing up (sorry) for the gastronomic answer to NASCAR.
Dozens of plump chickens have marinated long hours in a rub of savory salt and spices. Cans of beer are popped and inserted into the cavity, the chickens set standing upright, balanced on the can. The idea is to steam the chicken from the inside, keeping it moist and tender, while sealing the juices in a crispy, spicy skin and providing fodder for any number of jokes/humorous comment during the insertion/removal of the beer ("you're not gonna throw that away, are ya?").
The Art of Flame
James Beard once wrote "Grilling, broiling, barbecuing – whatever you want to call it – is an art, not just a matter of building a pyre and throwing on a piece of meat as a sacrifice to the gods of the stomach." During the days my wife, Susan, and I spend absorbing and being absorbed by Palm Key, the theme of art is a constant. People speak of art as an essential thing, a healing force – a gift or skill we may possess and master yet consider ordinary. Judy's brother, Ron, clearly agrees with Mr. Beard. "You can't rush good," he says. Well, yeah.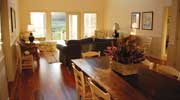 This program is Ron's baby and so far it's a prodigy. The average group for an Elderhostel program usually runs about a dozen, mostly couples. "This one hit the limit at twenty-seven," he explains, "and we made an exception for twenty-eight." Most of the CueSapiens are retired married couples. But a few women like Kathie, a former airline executive from Seattle, have come to immerse themselves in an unknown culture. And the indigenous cuisine of a place is always key to understanding its people. She tells me the Lowcountry is unlike anything she encountered in thirty years of flying around the world, splashing about in the bigger bowl of cichlids. The emphasis here – the main attraction – for Kathie and the others is the barbecue, but they'll savor Frogmore Stew, as well as the history behind it. Palm Key may be a world away from the Northwest, but that sense of Something Bigger is a powerful draw. "It's what life should be like," says Kathie, "respect for the environment – so important. That's what I see here."
Rick Browne is a big hit with the crowd, a bonus prize, if you will. They all gather 'round The Beast as Rick, Tim and Ron unveil the beer can-infused poultry. The smoke disperses revealing row after row of perfectly bronze, upright chickens lined up in formation on the massive grill top. Amid all the "oohs" and "ahs" someone quips, "looks like that terra cotta army, you know, in China." And they do, only without heads.
The Terra Cotta Chicken (as it came to be known) is among the best I've ever had.
After dinner Rick spends the evening with most of the group over at cottage fifty-one answering questions, swapping recipes and autographing his cookbook. We make plans for an interview the next morning before he and his crew head to the Holy City but some sort of scheduling snafu torpedoes the plan. Next time, though. I have a feeling he'll be back at Palm Key. I'm also guessing his cameraman, a tall skinny young guy, is doomed to pack on about thirty pounds in this gig, unless he's got the metabolism of a rabid shrew.
I leave them to it and head back to cottage forty-four. There's a full moon this evening and we've got front row seats on the river.

The Moon and Mrs. Parker

The day had been hot. The kind of hot that inspired the creation of air conditioning, modern refrigeration, the inflatable kiddie pool and any number of Tennessee Williams plays. This was the stifling, claustrophobic simmer worthy of Blanche DuBois or Brick Pollitt. And it reminds me – oddly enough – of Neil Simon. As his autobiographical alter ego disembarks a World War II troop train in Biloxi Blues, Eugene Morris Jerome of Brooklyn proclaims "Man it's hot. It's like Africa hot. Tarzan couldn't take this kind of hot."
Indeed, we're a mile from the sun – for now. Fall is out there. The signs are unavoidable, even to such a reluctant guest as summer. I can smell it. This morning it was practically palpable as we paddled out into the freshening tide of the Broad River with moonset to starboard, sunrise to port, a cool sweet breeze fleeing the onset of the day, whispering conspiracies of coming change in flight.
Now, it is the moon's turn. Why is it, I wonder, that so many cultures attach the masculine to the sun and the feminine to the moon? How is it that the sun comes to symbolize war, aggression and power when Sister Moon inspires the sensual? The second story porch of cottage forty-four is the perfect place to ponder such things between the turn of a simple, eternal celestial routine.
An iridescent glow builds beyond the Broad River, a pale backlight silhouettes the savannah and the furls of Spanish moss dripping from the gnarled oaks, limp and still as sorrow. All is still. The moon arrives like Dorothy Parker at the Algonquin Round Table, suddenly outshining everything else around, dazzling in her pallid brilliance. She rises quickly turning a bright buttery yellow, the perfect match for a deep, ironic indigo sky and the shimmering train she trails on the water.
Miss Warrene and a change of season
"I've lost my glass."
I'm standing in the kitchen of the main dining hall watching Ron put the finishing touches on his peach cobbler. The room's a hive of activity as guests help out with the preparations.
"I seem to have lost my glass," repeats Miss Warrene.
I neither know nor care if "Miss" is indeed the proper title; it just fits. Miss Warrene is what Flannnery O'Connor would have called "colorful," and I think she's a peach. She's immaculate, yet casually attired with matching personality. She spots her "glass" – an insulated mug – atop a pantry shelf.
"Ah there it is! Well," she says, raising the mug, "it's five o'clock somewhere. Cheers!"
Miss Warrene, late of Tampa, grew up in Memphis, a town famous for Elvis, Beale Street jazz, barbecue and an odd ritual involving ducks at the Peabody Hotel.
"I used to go to Leonard's [Pit Barbecue] when I was a girl. I just loved it. My father used to take me." She sips at her beverage with a wistful sigh. "Of course, it's not as good now."
Not only is Miss Warrene living proof that Southerners still abide in South Florida, she's a bona fide barbecue fiend, even totes around her own sauce – her friend, John's secret recipe. John once co-owned a barbecue joint in St. Louis called Noah's Ark, complete with "a real ark and real live animals." While I ponder the irony, Ron's son, Brent recalls visiting the place as a child. It's a tiny little barbecue world, and yet, all things change.
"He let his brother buy him out in '75. It went downhill pretty quick after that," says Miss Warrene. "Oh well."
Tonight's meat is off the grill and Miss Warrene wanders off bearing a liter bottle of sauce to port, beverage to starboard. Outside, a breeze stirs the moss. Storm clouds mass in the east, towers of billowing grey sails like an approaching armada. Fall is coming.