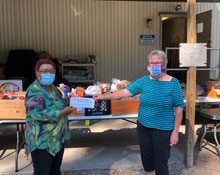 Normally all proceeds from the All Saints Garden Tour (ASGT) are distributed to charities in late summer or early fall once the numbers are finalized. In spite of cancelling the May 2020 Garden Tour, the ASGT Board was delighted that they were still able to continue the practice this year, though at a reduced level.  
The contributions to the six charities were made possible thanks to the generosity of the ASGT advertisers, early ticket purchasers, and donations from All Saints parishioners and friends.  
Twenty-four sponsors who would have had ads in our ticket booklet contributed their ad monies totaling $5425 to the charities. These businesses were Ace Hardware, All Saints Episcopal Church, Bruno Landscape & Nursery, Carolyn's Landscaping, Critter Management, Discount Fabrics, Enliten Salon, Episcopal Church of SC, Four Corners Fine Art & Framing, Green Thumb Nursery & Landscapes, Gum Tree Nursery, Snell & Assoc., Hilton Head Wine & Spirits , Island Quilters, Island Time Jewelers, It's Greek to Me, Jones Brothers Tree Surgeons, Kelca Counters, Plantation Station, Charles Sampson (Charter One), Dr. Robert Savarese, DMD, Seabrook of Hilton Head, Wild Birds Unlimited, 100+ Women Who Care and Women's Financial Network . 
Fifteen individuals who purchased their tickets early contributed $700 of their ticket money to the charities. Donations from parishioners and friends of All Saints contributed another $4900.
Thanks to the generosity of many businesses and individuals, the ASGT Board made a contribution of $1870 to Family Promise of Beaufort Co., Hilton Head Island Safe Harbour, The Hunger Coalition of the Low Country (HHI Backpack Buddies), Antioch Educational Center (Jasper Co. Backpack Buddies), Crossroads Community Support Services (BackPack Buddies of Bluffton), St.Stephens UMC Outreach Foodbank. 
While the Board were disappointed that we were not able to contribute at the normal level, responses from the charities who are most in need now were heartwarming.  In several cases these unanticipated funds were extremely important for they filled an immediate unmet, pressing need.  One recipient's thank you note stated they wanted to "show how important what you thought was a small donation actually was."
Above: Nancy Renner (right) presents a check to Helen Schuler, Director of The St. Stephens United Methodist Church Outreach Food Bank in Ridgeland, SC.