Tribute Towers honoring America's soldiers lost during the War On Terror come to Waterfront Park.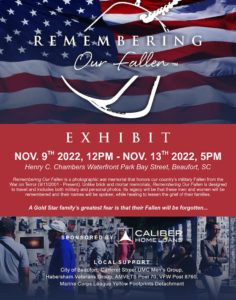 A very emotional exhibit, Remembering Our Fallen, will soon be displayed in Beaufort to remind Americans of the ultimate sacrifice made by those who died from wounds suffered in Iraq and Afghanistan while wearing our country's uniform.
The memorial includes 34 Tribute Towers with military and personal photos of over 5000 of our nation's military Fallen from 9/11/2001 to 8/30/2021. More than 90 are South Carolinians. The memorial was unveiled nationally at the steps of the Lincoln Memorial in Washington, D.C. in September, 2017. It has been on display at the Reagan Library, Marine Corps Museum, Pentagon, numerous colleges and universities, and at various sites throughout the U.S.
This memorial also recognizes servicemen and women who died in training accidents and stateside attacks. Those who suffered the invisible wounds of Post-Traumatic Stress and succumbed to suicide are also included to recognize the tragedy of PTS.
Remembering Our Fallen Tribute Towers will be on display at Henry C. Chambers Waterfront Park,  Bay Street, Beaufort, S.C. Wed. Nov 9, 2022 12pm – Sun., Nov 13, 2022, 5pm.
This appearance is sponsored by Caliber Home Loans.
A Gold Star Family's greatest fear is that their loved one will be forgotten. Visit this memorial and help to reassure them that this will not happen. Speak the names of the Fallen, and reflect on the tremendous cost paid for our freedom.