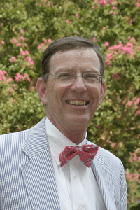 University of South Carolina History professor, best-selling author and ETV Radio all-star, Dr. Walter Edgar, will be the highlight of USCB's Golden Jubilee Community Celebration on Friday, March 5 at 11:00am. Edgar will be on hand to speak to the community on the theme of education in the South Carolina and particularly the Lowcountry. The event will be held Friday, March 5, on USCB's Bluffton Campus in the Helen and Brantley Harvey Plaza. It is free and open to the public.
Regarding his address, Dr. Edgar notes, "One of the major themes of my remarks will be the importance of higher education to the Beaufort community over time—from the founding of Beaufort College through the establishment of a small USC – to today's four-year campus. This importance is underscored by the support the community has given (to USCB)."
During an academic career spanning more than three decades, Dr. Edgar has written or edited more than a dozen books on the American South and South Carolina, according to his website. Additionally, he has contributed numerous essays and reviews to professional and popular publications, presented professional papers in this country and in Europe; and delivered hundreds of talks to school, civic, and community groups. And while all of that may be widely-known by his fans and students, perhaps not everyone knows the academician is a talented squash player and certified barbecue judge. As of this publication, USCB does not offer courses certifying barbecue judges. But it does sound like a very southern certification worth earning. Maybe in the university's next fifty years…
Since 2000, Edgar has been the jovial host of two popular weekly programs heard statewide on South Carolina ETV-Radio: "Walter Edgar's Journal," a look at contemporary events in context and "Southern Read," his reading of some of the best of contemporary Southern fiction.
USCB's Community Celebration with Walter Edgar is part of a year-long calendar of events planned in recognition of the school's fifty years of service providing higher education in the Lowcountry. Although the Historic Beaufort campus has an illustrious history reaching all the way back to 1795, it was in 1959 that the campus became a regional branch of the USC system.
In addition to planning free events for the public, like the Community Celebration with Walter Edgar, USCB is hoping residents of Beaufort and the surrounding areas with ties to the school will log on to the University's Golden Jubilee website and share old pictures and memories they may have of days gone by around campus. If you have a memory or photo to share, head to http://www.uscb.edu/50/ and click "Share Your Memories".