Madeleine Pollitzer lived life with vitatlity.
My daughters, Abbie and Julia, and their cousin, Madeleine, sleep right now after a long day yesterday saying goodbye to their beloved great-grandmother, Madeleine Paula vonBernuth Pollitzer. I'm certain Madeleine is looking at them from Heaven, smiling contagiously as she always did, and saying, "I am so blessed to know my great-grands!"
Well Madeleine, they are blessed to have known you. You energized a spirit like no one I've ever met and tenaciously lived life with no regrets, minimal complaints and modest means. You figured out how to make it work when the world told you that you couldn't. You, dear Madeleine, are my hero. And I'm pretty certain there are more Beaufortonians out there who feel the same way.
Madeleine's story begins with wealth and distinction. While working as the Assistant to the Dean of Students at Yale University, madeleine's father, William "Bill" Steinway vonBernuth, met Alma Baribault, a librarian. Bill, a graduate of the Engineering School at Yale University, and Alma were astute parents, actively encouraging their daughters to pursue worldly ambitions. They wanted to live on the East Coast, as close to New York City as possible, so that their daughters could experience sophistication. And the Steinway family, from New York, adored their granddaughters, Madeleine and Suzanne, and their French-speaking, dignified mother, Alma, who was from New Haven, CT.
Madeleine and her sister, Suzanne, attended Warrenton Country Day School in Warrenton, VA, where French was spoken outside of the classrooms. The school also taught riding, and was where Madeleine first developed her love of horses. Warrenton employed a groom, who paid special attention to Madeleine's horse, and she loved it. While Madeleine's sister, Sue, was more of an elegant, poised rider, Madeleine admitted she was more daring and adventurous.
Another love of Madeleine's was dance. After attending Rye Country Day School in Mamarenek, NY, Madeleine took the train every day into New York City to take master classes with George Balanchine, co-founder and ballet master at New York City Ballet. Balanchine, a Russian immigrant, is regarded as the foremost contemporary choreographer in the world of ballet; so she learned from the best.
It was then when Madeleine's entrepreneurial spirit began. While living in Mamarenek and taking ballet herself, Madeleine taught eight young girls the foundations of ballet. Madeleine quickly grew fond of teaching dance and choreographing. Her mother even helped by sewing
costumes for the girls' yearly recitals, and Madeleine studied her techniques.
Madeleine was accomplished, yet eager to learn more. Already, as a teenager, Madeleine spoke French, competitively rode horses, was professionally trained as a ballerina and, without thought or intent, became a skillful and creative seamstress.
One night, a friend called Madeleine to accompany her to a dinner dance at the Larchmont Hotel, where twelve midshipmen were eager to meet elegant, young ladies. She wore a haltered crepe dress made of braided strands, and one could only assume she looked stunning. Madeleine preferred tall men, so she scanned the room and spotted Navy Lt. Richard "Dick" Pollitzer immediately. He was handsome and charming and in Navy Officer's Training School. Given Madeleine's impressive resume of refined talents and her remarkable presence, Dick was equally attracted.
Madeleine vonBernuth drove into Beaufort in the early 40's, on the arm of Dick Pollitzer. Henry Chambers recalls her splendid arrival at the Pollitzer home on Port Republic Street in a convertible and described her as, "tall and beautiful with long dark hair and a flashing smile."
Madeleine and Dick were married on January 31, 1942 in a grand ceremony in New York City and later called Beaufort home. They lived in the Hundred Pines area and also Alberghottie Creek and had three children, Richard Guerard "Ricky" Pollitzer, Jr., Suzanne Meta "Suzy" Pollitzer and William Stratton "Stratty" Pollitzer.
While Dick was stationed in the Pacific, Madeleine stayed in Beaufort with the children. She was great friends with Harriett Keyserling and Elizabeth "Biz" Campbell, both from the North. They encouraged Madeleine to start a dance school in Beaufort, under heavy protest by the extended Pollitzer family. In those days, women did not work, much less begin their own businesses. It was considered an insult to the man of the house. But Madeleine saw it as more of an opportunity to impart her talents to the little girls in Beaufort, rather than an undertaking to make money.
So she did it, and came to the first lesson in an evening gown. The young girls were introduced to cultured dance and grace, and they respected Ms. Madeleine as a sophisticated teacher. The school was held in two locations, on Duke Street and the old Sea Island Hotel. It was a huge success.
Janet Mark recently told me, "She was the best dance teacher a young girl in Beaufort could ever ask for. We all just loved her so much."
After Dick Pollitzer died in 1973, Madeleine continued to run the school. She and the children lived on The Old Point, and her mother built a smaller home behind the house.
Additionally, Madeleine ran Tidalholm, a winter inn for special Northern guests, located next door to her home on Laurens Street. This is where she developed her passion for cooking, and her recipe collection began.
She later worked for Walt and Edie Rodgers as the restaurant manager at Royal Pines Country Club. Then, for nine years, she was the Manager at Okatee Hunt Club, where ladies were served breakfast in bed and the gentlemen ate in the dining room prior to their hunt. She prepared their lunches in picnic baskets, and upon their return, she cooked formal dinners for the visiting couples.
She continued to pursue her hobby of horseback riding. Her horse, Tidalholm, nicknamed "Rocky," was her pride and joy. She started the Beaufort Saddle and Bridle Club, and she and Rocky went to shows every weekend.
Madeleine also enjoyed golf and frequently made trips to the NC Mountains and the Georgia Sea Islands to play with friends. She continued this through her eighties, when she resorted to the game of bridge. Active outings with golfing buddies turned into passive lunches with bridge partners. Both were ways to spend time with her friends, whom she adored. Beth Kennedy, Harriett Keyserling, Biz Campbell, Martha Tucker and Marguerite Broz were just a few of her cronies. What an amazing group of women!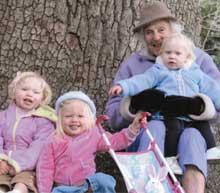 In the 70's, Madeleine began her catering career with her assistant, Mary Linnen. "Big Mary," as she called her and her daughter, Mary Louise helped Madeleine with cocktail parties, receptions and dinner parties. The business earned a colloquial reference as Beaufort's "Back Door Catering." Her recipe collection included Ella Simmon's pickled shrimp, Oysters Rockefeller with a Pollitzer twist, her Apple Danish that served as Beaufort's welcome gift to out of towners and her celebrated ham biscuits.
Once, Heather Winch's friends from Chicago tasted the ham biscuits and insisted they get a carton delivered for the Holidays. Heather explained, "I would if I could, but these things are so sought-after and popular in Beaufort, I'll be lucky to get even one package over the Holidays." That's just how popular these delicacies were!
She made the apple Danishes and ham biscuits and sold them on the honor system. She left packages in the fridge on the back porch, and customers (friends) left payment. Charles Aimar, Jr. explained that, recently, Madeleine was upset that someone stole from her after all these years of using the effective system. She had to put a lock on the payment box. Madeleine said to Charles, "I'm pretty sure I know who did it, but I'll never say. They know what they did wrong." Of course, she didn't tattle. That wouldn't have been tasteful. Charles said, "She pronounced her disappointment, but would never divulge her suspicions. That's because she was a lady."
She made ham biscuits until the last three weeks of her life. In fact, a note left on the fridge indicated she was too weak to make them anymore and apologized for the inconvenience.
That was Madeleine Pollitzer, always wanting to give, rarely accepting favors and never condoning hand-outs. She passed away Tuesday, October 30 in her home, where she wanted to die.
A reception was held on The Green at the Old Point, where Beaufortonians gathered and remembered Madeleine. They came together and brought food in exactly the setting that Madeleine would have wanted, on a picture perfect day. I can't imagine a better tribute than that of food, and boy did it flow in from such a variety of folk, from Old Beaufort to new, from young to aging, from black to white, all from people who adored Madeleine.
And now, tears flow. I think about Madeleine's life, what she accomplished, where she's been, who she's taught and the impression she's left on so many people in this town.
Several weeks ago, John Trask III told me he wanted to visit some older people in Beaufort, those he admired and respected, those he deemed true Beaufortonians. He visited her home at 5:45pm, just fifteen minutes prior to Madeleine's toddy time. She insisted he stay long enough for her to finish her preferred bourbon and water. He did and thoroughly enjoyed her old stories of how it used to be and the differences of how it is now. When he acknowledged her accomplishments, she scoffed the way she always did when she was delivered a compliment.
For 92 years, Madeleine set goals and attained them. For over fifty years, she raised a family by herself and still managed to enjoy her life and continue her hobbies. Later in life, she demanded proper social etiquette for the esteemed parties she catered in Beaufort, and she wanted to share her sophistication without arrogance. When she did it, she did it with class, whatever "it" was.
Several generations had the pleasure of knowing Madeleine, even the youngest of them. When my friends began to have babies, Madeleine was knitting sweaters, hats and booties on a daily basis in her comfortable chair as she loyally watched her favorite TV show, Law and Order. She hand delivered Tency Lynn's sweater, and her mother, Wendi will cherish it forever, always so impressed that Madeleine would remember her young daughter.
She even had a neighborhood full of canine friends. Madeleine was known for leaving biscuits and treats on her fence for all the dogs in the Old Point. Magoo, Rio, Dickens, Edgar, Buster, Rollo, Jezebel and many more will forever remember the spot on the corner of Hancock and Short as their favorite stop on daily walks, as will their loyal owners. In fact Heather Winch, Pat Dudley and Patty Kennedy are determined to keep the Mason jar full so that the dogs can still enjoy their most desired resting spot.
I'm so thankful that my daughters knew Madeleine so well. Often, along with their cousins, Stratton, Madeleine and Charlie, Great-Grandma invited them over to make cookies and learn recipes. While visiting, the great-grand's learned about her travels, her love of the color purple, her hobbies, and her perseverance. Now, Abbie (9), dreams of attending Juilliard School of Dance and trains locally with Lowcountry School of the Performing Arts. Julia (8) dances as well and also has a love of horses as sincere as Madeleine's. She begins riding lessons at Bray's Island this month.
Madeleine became her great grandchildren's hero sans vanity and conceit. The merit of her life will always motivate these children, and that is her greatest accomplishment.
Madeleine Paula vonBernuth Pollitzer never asked for help. She did what she had to do for her family and still sustained her active and social lifestyle. She worked hard, enjoyed life and laughed out loud. She is my inspiration.
I love you dear Madeleine, and I will always celebrate your vitality. It is a privilege to share your name.
Madeleine Pollitzer is survived by her three children, Ricky Pollitzer and his wife Anne, Suzy Pollitzer, Stratty Pollitzer and his girlfriend Barbara Greco. Also surviving are her five grandsons, Christiaan Pollitzer and his wife Harriett, Ide Pollitzer and his wife Kim, Stratty Pollitzer and his partner Scott, Richard Pollitzer III and his wife Amy and Chuck Pollitzer and his wife Maureen; seven great-grandchildren, Stratton, Madeleine, Abbie, Julia, Charlie, Ben and Sarah and several step grandchildren and step great-grandchildren; her sister, Suzanne Nelson, niece Michele Nelson and her grand niece, Lecian Gardner; and a great-grandson who should be here any day, Edward Richard Pollitzer.
Author's note: This tribute was written based on a collected biography from Anne Pollitzer.