Beaufort Memorial Hospital Foundation is gearing up once again for the annual Valentine's Ball, to take place on February 7, 2009. The popular community event will be celebrating its twentieth anniversary, so this year's theme – "The Roaring Twenties" – is a charming fit!
The co-chairs for the 2009 Valentine Ball will be Dr. and Mrs. Lonny Nunamaker and Mr. and Mrs. Malcolm Goodridge. In celebration of the 65th anniversary of the hospital, the Ball will be held under an elaborate tent in Kate Gleason Park.
Over 500 people are expected to attend this black tie fundraising event to benefit Women's Services. Each guest will dine at an elegant dinner party in a private residence in Beaufort before convening for dancing and dessert.
"The Ball truly brings the community together. There are over 100 volunteers that make this well known affair a huge success," says Brenda Molony, Valentine Ball Coordinator.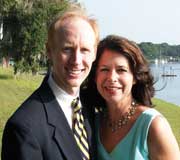 Jacob "Lonny" Nunamaker is a Cardiologist with Lowcountry Medical Group. He is the current director of the Cardiac Catheterization Laboratory at Beaufort Memorial Hospital's Cochran Heart Center. Since moving to Beaufort from Charleston in 2000, he and his wife, Bari, have been active in the community and the hospital foundation. Bari has served on numerous committees for the Ball.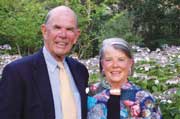 Malcolm and Susan Goodridge moved from the New York City area fourteen years ago and immediately involved themselves in the community. They have reached out to many different organization and causes.
Susan is a past member of both the BMH Foundation and Boys and Girls Club Boards. Malcolm presently chairs Historic Beaufort Foundation and also serves presently on the Board of BMH Foundation. They have four children and four grandchildren. Susan and Malcolm are pleased to be co-chairing the Valentine Ball, knowing the proceeds will make a difference in the life of our community.