On Monday, October 6, Music Director Mary Woodmansee Green will open the 27th season of the Hilton Head Symphony Orchestra with a gala featuring the year's theme, "Music by the Masters."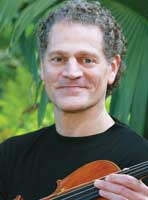 Violist Miles Hoffman will join HHSO in Alan Shulman's Theme and Variations for Viola and Orchestra and Bach's Brandenburg Concerto No. 3. Tchaikovsky's Symphony No.4 in F Minor and Verdi's Overture to "La Forza del Destino" will complete the concert. This first performance in the 2008-2009 Master Series will take place at 8 pm at Hilton Head's First Presbyterian Church.
"Our 27th season has a new look," said Green in announcing the concerts. "This year we will focus on music by the Masters, presenting major pieces by Bach, Beethoven, Brahms, Sibelius, Stravinsky, and Tchaikovsky. There will also be a month-long festival of Mozart and a 200th birthday tribute to Felix Mendelssohn. In addition to our guest soloists, HHSO principal players will be featured in several of the performances. Each concert has its own personality and sense of occasion."
Miles Hoffman is violist and artistic director of the American Chamber Players with whom he has recorded masterworks for a series of compact discs produced by the Library of Congress. He is dean of the Petrie School of Music at Converse College in Spartanburg, SC, and author of The NPR Classical Music Companion; he joined NPR's Morning Edition in 2002. He presents children's programs, classes and master classes in schools and universities around the U.S. when traveling as a soloist and on tours with the American Chamber Players.
Alan Shulman's lush Theme and Variations, to be played by Hoffman, was described at its first performance as "the hit of the concert. Toscanini was there and loved it." (Shulman was one of the original members of the conductor's NBC Symphony.) The Theme and Variations for Viola and Orchestra was his first mature work and has become an integral part of the solo repertoire.
J. S. Bach's Brandenburg Concerti show the composer at his most cheerful, inventive, and melodious. Bach probably chose them carefully to show his skill and versatility as a composer. The Third Concerto is scored for a homogenous instrumental group of three violins, three violas, and three cellos, along with the usual basso continuo.
Tchaikovsky's Fourth Symphony was completed and first performed in 1878. Its first performance was not well received, but a newspaper critic reacted to the second performance as "the pure creation of an artful master possessing an entire palette of luxuriant musical colors." The work begins and ends with a brass fanfare which, according to the composer, signified fate—"that fatal force that prevents our striving for happiness to succeed."
Verdi's Overture to "La Forza del Destino" will open the concert. The story of familial revenge amid hidden identities has become one of his most popular dramas.
Concert tickets are $20, $30, and $40. Call the Hilton Head Orchestra Box Office at (843) 842-2055 to purchase tickets, or log on to the orchestra website at www.hhsolive.org. American Express, Master Card and Visa are accepted. . Program Notes are posted on the website prior to each concert.