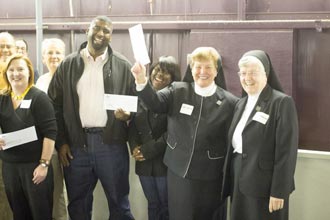 The Beaufort Fund of Coastal Community Foundation was proud to award over $600,000 in grants to local non-profits at its annual reception last month. Celebrating its 16th grantmaking cycle this year, the Fund continues to grow, helping Beaufort, Colleton, Hampton, and Jasper counties look forward to an even brighter future.
The Beaufort Fund is one of approximately 640 grantmaking funds managed by Coastal Community Foundation of South Carolina. Established by generous anonymous donors in 1997, The Beaufort Fund provides support to charitable programs serving Beaufort, Colleton, Hampton, and Jasper Counties. Including the 2014 grants, over $6 million has been awarded to dozens of deserving organizations.
Congratulations to the 2014 recipients:
ABLE – Disabilities Foundation of Beaufort County
ACCESS Network
AccessHealth Lowcountry
Alzheimer's Family Services of Greater Beaufort
American Red Cross
AMIKids Beaufort
Arts Council of Beaufort County/ART Works
Beaufort County First Steps
Beaufort County Open Land Trust
Beaufort Women's Center
Bluffton – Jasper Volunteers in Medicine
Born to Read
Camp Wildwood
CAPA
Center for Heirs' Property Preservation
Circle of Hope Ministries
CODA
Colleton Center
Colleton County First Steps
Colleton County Memorial Library
COSY
Crossroads Community Support Services
Family Promise of Beaufort County
Franciscan Center
Friends of Caroline Hospice
Friends of the Spanish Moss Trail
Girl Scouts of Eastern SC
Good Neighbor Clinic
Hampton County First Steps
Hampton County Literacy Council
Hampton Friends of the Arts
HELP of Beaufort
Hope Haven
Jacksonboro Community Center
Jasper County Hunger Free Zone
Junior Achievement of SC
Literacy Volunteers of the Lowcountry
Little Red Dog Foundation
Lowcountry Food Bank
Lowcountry Habitat for Humanity
Lowcountry Legal Volunteers
Lowcountry Open Land Trust
Meals on Wheels – Bluffton/Hilton Head
Med-I-Assist
Memory Matters
NAMI Beaufort County
Neighborhood Outreach Connection
Nemours Wildlife Foundation
New Destiny Center
Port Royal Sound Foundation
Ronald McDonald Dental Mobile
SC Governor's School for Science and Math Foundation
Second Helpings
Senior Services of Beaufort County
Sheldon Township
South Carolina Artisans Center
South Carolina Environmental Law Project
South Carolina Youth Advocate Program
Technical College of the Lowcountry Foundation
Thumbs Up
Under One Roof
USCB Center for the Arts
Volunteers in Medicine Clinic
YMCA of Beaufort County
Established in 1974, Coastal Community Foundation is a public grant making foundation fostering philanthropy for the lasting good of the community in Beaufort, Berkeley, Charleston, Colleton, Dorchester, Georgetown, Hampton, and Jasper Counties. Thousands of families, businesses, individuals and organizations have built more than 640 individual funds and endowments at the Foundation to benefit specific charities and/or broad areas of community life – education, basic human needs, conservation and preservation, arts, health and neighborhood/community development. In its 38-year history, Coastal Community Foundation has awarded more than $100 million in grants.
Last year, Foundation funds generated over $11.98 million for charitable programming, community projects, educational initiatives and scholarships and Foundation assets topped $147 million. To learn more, go to: www.coastalcommunityfoundation.org.