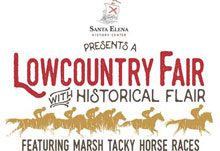 What could be more fun than an old-fashioned country fair, filled to the brim with historical flair, held at a beautiful, local plantation?
With the arrival of crisp fall air, the Santa Elena Foundation is hosting the first annual Lowcountry Fair on Saturday, November 18 from 10am to 4pm at Cotton Hall Plantation, off Highway 17 in Northern Beaufort County.
The fun-filled Saturday is headlined by Marsh Tacky Horse Races, providing an exciting show for all who attend. The Carolina Marsh Tacky Association showcases this unique breed, originally introduced by the Spanish explorers of the 16th century. The Marsh Tacky is the SC State Heritage Horse and one of the most endangered breeds in the world. Before they race in the afternoon, these beautiful horses will be on display in fun show demonstrations. Be sure to bring your chairs!
The Lowcountry Fair will also showcase multiple living history re-enactments from the Colonial era Men of Menendez to Revolutionary and Civil War re-enactors and more, performing throughout the day, along with weapons demonstrations. For children, petting zoo, pony rides, and sugar cane mill tours will bring delight. On stage, a variety of live performances -€" from The Chilly Willy Band to flamenco dancing demonstrations – will fill the afternoon. Broadcasting by the County Channel and use of a Jumbotron display will keep fair-goers from missing any of the action on stage, throughout the fairgrounds, or on the racecourse. All of the activities and festive entertainment are included in the admission price for the day.
Come hungry for a special lunch and explore the local palate as many have throughout history. The finest local food will be for sale from restaurant partners Eat Local Beaufort (Plum'€™s, Saltus, Hearth), Q on Bay, Lady'€™s Island Oysters and Sea Eagle Market.'  For dessert, the food truck '€œIt'€™s Only Fair'€ will sell fair-themed goodies. Beer, wine, and general refreshments will also be available for purchase.
One of the most significant events of the day will be a presentation by Count Alvaro Armada Barcaiztegui, a descendent of Pedro Menendez de Aviles, the founder of Santa Elena in 1566 and Governor of La Florida until 1574. Arriving from Spain to attend the Lowcountry Fair, the Count will bestow the Foundation with an original 16th century medal and a letter signed by Pedro Menendez, dated in Santa Elena in 1571.
"Our Board and Volunteers wanted to give the community an event unlike any other – to commemorate our history and celebrate our local culture -€" and that'€™s just what the Lowcountry Fair with Historical Flair will bring. Of course, none of this could be accomplished without the support of our local community," remarked Megan Meyer, Executive Director of the Santa Elena History Center.
Special thanks Joe and Allison Harden who generously offered use of Cotton Hall Plantation and Ameris Bank, Gold Sponsor. These other community-minded businesses and individuals have also made this a stand-out event as Silver and Bronze sponsors: Beaufort Memorial Hospital, Dude Magazine, Grayco, Lowcountry Real Estate, Sheldon Plantation, Southern Palmetto Landscaping, TD Bank, Visible Displays, Adams Outdoor Advertising, Creative Interiors, Compass Rose Travel, Cuthbert House Inn, Spirit of Old Beaufort, Tacaron Trading, Eat Sleep Play Beaufort, Printology, Robinson Grant & Co, as well as Andy and Laura Beall, Greg and Sarah Dyson, Dr. and Mrs. Larry Rowland, Russ and Sandy Dimke.
Tickets are available for purchase online (www.santa-elena.org/lowcountry-fair) and at the event admission gate. If purchased in advance, bring confirmation of your tickets to the gate for entry. Prices are: $20/adult and $10/child (5-17), $50 for families, and $40 for active duty military families (show ID). Patron tickets, which include seating for lunch and finish-line seating for the races, are available for $100. Event sponsorships are also still available starting at $500.
To visit the website for Santa Elena'€™s Lowcountry Fair, visit http://santa-elena.org/lowcountry-fair.To learn more about the SC Marsh Tacky Association, visit http://marshtacky.info/mt/
The Santa Elena Foundation is a nonprofit organization based in Beaufort County, South Carolina.' The mission of the Santa Elena Foundation is to discover, preserve, and share the untold story of America'€™s first – and lost – century through the rise and fall of Santa Elena.