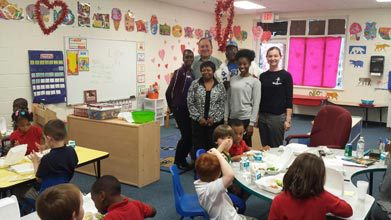 The YMCA of Beaufort County is offering an afterschool meal program to provide children with additional nutrition and learning opportunities needed to be healthy and succeed in school.
As part of a national partnership between YMCA of the USA and the Walmart Foundation, the program will provide activities to help improve academic skills in subjects like reading, math and arts. The program will also make a healthy meal available, sponsored by Penn Center, to kids who may otherwise be at risk of hunger when the school day ends.
According to the USDA, nearly 50 million Americans – including more than 16 million children and teens under age 18 – live with food insecurity. Through its afterschool program and a grant from the Walmart Foundation, the Y will serve more children through the U.S. Department of Agriculture (USDA)'s Child and Adult Care Food Program (CACFP), which feeds school-aged children during the week, on weekends and during school vacations.
"Some students, particularly those who receive free or reduced-cost breakfast and lunch, may not know where their next meal will come from when the school day ends," said Kaylin Garst, operations director, YMCA of Beaufort County. "At the YMCA of Beaufort County, we are committed to keeping kids nourished all year long. Thanks to the Walmart Foundation and Penn Center, our Y will be able to do more to address this issue."
Penn Center plays a vital role in the program's success. Without their involvement, the program likely would not be possible, as all meals are made on site at Penn Center and delivered to the YMCA.
Penn Center executive director Michael Campi commented, "We are pleased to have the opportunity to serve our area children nutritious afternoon meals. We enjoy and value our close, ongoing relationship with the YMCA. This new partnership was really just an extension from our collegial activities from the summer." Combining play with academic enrichment, YMCA afterschool programs promote creativity, a love for learning, social and emotional development and character building, while complimenting lessons learned during the school day. Program participants also have the opportunity to participate in rock wall climbing, swimming, reading programs with therapy dogs, Christian education, and more, on a weekly basis.
As a leading nonprofit committed to healthy living, the Y is also working to improve the nutritional value of all meals and snacks served in early child care and afterschool settings. The YMCA of Beaufort County has committed to standards to ensure children eat the healthy foods and get adequate amounts of physical activity.
To learn more, contact the YMCA of Beaufort County at 843-522-9622 or visit www.ymcabeaufortcounty.com