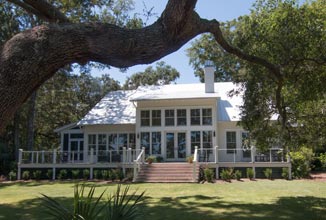 Homes for the Holidays will softly shimmer on Distant Island.
Homes along the hushed waterfront community of Distant Island will sparkle for Beaufort's Homes for the Holidays 14th Annual Tour, Saturday and Sunday, November 22 and 23 benefitting St. Peter's Catholic School tuition assistance fund.  The weekend event is Beaufort's only annual holiday tour.
     As still as a natural preserve and just minutes from the new Publix on Lady's Island, Distant is a boater's dream.  Homes with deepwater views share community docks, indoor and outdoor boat storage and launch, tennis courts, and social pavilion.
     Six private homes will display the talented design team of Sweet Bay on Bay, Scout on Bay, Nuances in Port Royal, Cheryl Smith Interiors, GrayCo, and FWD's Newtique.  Nature enthusiasts and those who just love holiday finery will be most impressed, as the surroundings are serene and the interiors run the gamut in style.  Often, an air of whimsy prevails; for instance, a canoe hangs in the great room of one of these beautiful homes.
     Tickets are $25 and may be purchased at various businesses in downtown Beaufort, through participating designers, and on the campus of St. Peter's as well as on site the days of the tour.  Friday evening The Maxx rocks St. Peter's with a themed gala "A Night Under the Stars."  Enjoy dancing, silent auction, and star-studded decor and catering by Southern Graces.  Tickets for the gala are $75 per person and may be purchased by calling 522-6510.  All proceeds go to St. Peter's Catholic School's tuition assistance fund, which has been helping families afford a faith-based education for their children for the past twelve years.