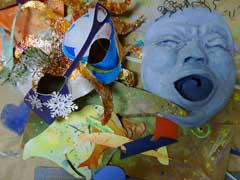 On Hilton Head . . .
Gather your "krewe" and head to the Mardi Gras Party at the Country Club of Hilton Head on Friday, February 28, 2014, at 6:30 p.m. Laissez les bons temps rouler!
The event, which will benefit The National Alliance on Mental Illness of Beaufort County (NAMI), will include live music by Lavon Stevens and Louise Spencer, an elegant four-course dinner, prize for best costume, silent auction and more.
Limited seating is available. Tickets are $75 ($35 tax-deductible), and include dinner, beer & wine, music & dancing. Enjoy an evening of Mardi Gras fun and reserve your tickets today by calling (843)681-2200 or by email at NAMI@hargray.com.
NAMI Beaufort County is a non-profit organization dedicated to improving the lives of people with mental illness and their families through programs of education, support, and advocacy and the promotion of recovery and dignity.
For additional information on how you can sponsor or participate in any of NAMI's programs or events, please contact our local office at (843) 681-2200 or visit our website at www.NAMIBeaufortCounty.com.
And in Beaufort…
On March 1st, the ARTworks annual Mardi Gras Gala will roll into Beaufort with much joyous celebration. The event will take place from 7 to 11pm in the Carolina Room of the Dataw Island Club on Lady's Island. An annual event that's not to be missed, the gala will feature live music by the band Promise. Partygoers can expect to groove the night away to their mix of soul, funk, R & B, and beach music favorites. Guests are also expected to dress in Mardi Gras appropriate evening wear, including masks, beads, feathers, sequins, and bright colors. The event also includes a silent auction, a cash bar, a meal of jambalaya and other well-known New Orleans dishes, and various Mardi Gras themed festivities.
Tickets are $75/per person and can be purchased via the "Buy Tickets" section of the ARTworks website: www.beaufortcountyarts.com/buy.htm or by calling 843-379-2787.
Proceeds from this fundraiser support the mission of the Arts Council of Beaufort, Port Royal and the Sea Island (aka ARTworks) to encourage, advance, and promote the arts by nurturing arts organizations, educators, and artists for the benefit of the community and the school district.