The history of African American troops in the Civil war kicks off HBF's 300th anniversary series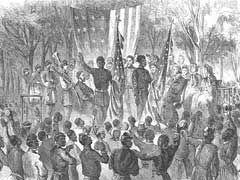 Historic Beaufort Foundation will focus its 2011 lecture series on topics directly related to Beaufort's history beginning January 24 with "African Americans in the Civil War" by Joseph McGill, Jr., a program officer with the National Trust for Historic Preservation and Civil War reenactor.
Beaufort was the site of the first slave regiment mustered into the service of the United States during the Civil War, the First South Carolina Volunteers, by Gen. Isaac Saxton, commander of Union forces in Beaufort. Just a year after the Union occupation, Saxton called on abolitionist Thomas Wentworth Higginson, to command the troops. The neighborhood which developed behind the National Cemetery on Boundary Street after the war was named Higginsonville in his honor.
McGill's program, sponsored in part by The Humanities Council SC, is an overview of the service of the 180,000 African Americans who served in the Union army and Navy. Prior to Saxton's action, some free blacks were mustered in New Orleans and blacks were being recruited in Kansas. On January 19, 1863, Higginson wrote, "Today, for the first time, I marched the whole regiment through Beaufort and back, the first appearance of such a novelty on any stage."
McGill, a graduate of South Carolina State College, previously worked on St. Helena Island at the Penn Center. He is the founder of "I" 54th Massachusetts Reenactment Regiment based in Charleston and is frequently seen on television and in programs related to African Americans in the Civil War.
Open to HBF members and non-members, the monthly lecture series features a wine and hors d'oeuvres reception, 5:30 p.m. – 6 p.m. Programs are 6 p.m. – 7 p.m. followed by audience questions and are held the third Monday of each month.
A three-course dinner at Saltus River Grill is offered at $19 per person for attendees at the lecture. Admission to the lecture is $15/$25 per member/member couple respectively, and $20/$30 per non-member/non-member couple respectively. Seating is limited; call 379-3331 to make reservations. Call Saltus River Grill directly to make dining reservations.