Pursuit of The Beaufort Garden Club's past seventy-five year history has not been a "trivial" one!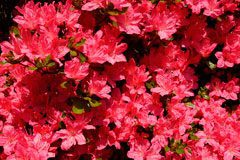 At times I felt like Lewis Carroll's "Mad Hatter" dashing hither and yon, trying to uncover bits and pieces of information from the mid-1930's forward, not found in old club scrapbooks or yearbooks. Did these women indulged in a few "Alice in Wonderland" garden parties and tea parties? You bet! Digging deeper, though, I discovered these were minor pleasantries compared to the heavy-duty projects these "gardening gals" had in store for their community! Their mission: "BEAUTIFYING BEAUFORT!" In less than a year the club was totally "activated" and members were ready to roll up their sleeves and get to work! Our town has never been the same since!
Maybe it crossed your mind … maybe it didn't. Have you ever wondered why there are so many beautiful azaleas throughout Beaufort? Some of the glorious specimens that catch our eye in the spring time, are huge blasts of color that look like they've been here forever! Well in this case, "forever" was 1935!
One of the garden club's first ambitious "beautification projects" was introducing azaleas to Beaufort! In 1935, the first azaleas were planted on city property, around government buildings and schools. The women themselves began the planting … and from there the town continued adding more and more azaleas. Local business establishments also latched on to the new trend.
This was the beginning of an "azalea fad," with azaleas being planted everywhere throughout our Beaufort community! Instantly, red, pink, and white azalea bushes were even "popping up" in front and backyards throughout our residential neighborhoods!
Beaufortonians were so pleased with the "colorful" results. Overnight, "civic pride" became alive and kicking … and "community spirit" was in the air! So, next spring when you're driving around town and you spy an incredibly beautiful azalea hedge in full bloom … think, "Thank you, Beaufort Garden Club, for your 1935 azalea inspiration!"
This article was contributed by Carol Boone and is part of a series honoring the 75th anniversary of the Beaufort Garden Club. Look for more in future issues of The Lowcountry Weekly.