Lila Meeks conducts a delightful – and delightfully candid! – interview with the new Artistic Director of the USCB Festival Series.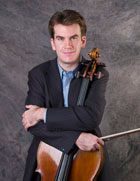 Last April's final concert of our 30th season turned out to be huge. We celebrated the USCB Festival Series' 30 years, Charles Wadsworth's 80 years and, alas, his retirement as the Artistic Director of the Series. There were sparklers, cake, official recognitions and, as always, incredible music played by some of the world's finest musicians. But perhaps the most significant memory of the evening was that the crowd was spilling into the aisles.
Clearly people from this region, from Savannah and from around the state, wanted to say thank you to Charles for his many years of bringing extraordinary performances to our stage. Mr. Chamber Music, as he has been called, worked his magic one last time with a brilliant choice of compositions and artists, and this time he did it to a full house…over four hundred people caught up in the music of the masters—caught up in chamber music, no less.
The Friends of the Festival group who have been supporting these concerts were heartened by the audience's enthusiasm and are hoping it will bring them back for the 31st season, which begins November 1. Obviously there will be something, someone, missing on opening night, but the good news is that Mr. Wadsworth has left us in the very capable, experienced young hands of cellist Edward Arron.
Mr. Arron has been assisting Mr. Wadsworth for the past two seasons as Associate Artistic Director, and Lowcountry chamber music fans have come to appreciate his thoughtful introductions of program pieces and composers. As the spotlight prepares to shine squarely on him, this seems a perfect moment to get to know him better.
Lila: How does someone 7 years old choose the cello? Do they make baby cellos for short legs?
Ed: I grew up in a musical family. My father is a professional violist – he just retired three years ago after playing for 20 years at the Metropolitan Opera – and my mother was a pianist and cellist, who eventually became an arts administrator. From my earliest memories, chamber music was played in my home, and I remember wanting desperately to play that big instrument in the corner, which turned out to be the cello. At the age of seven, I began on a half-size cello, but they make them even smaller than that!
Lila: Tell us about leaving Ohio and coming to New York at age 10.
Ed: When I was ten, my mother, who was then the manager of the Cincinnati Symphony, was appointed Executive Director of Carnegie Hall. She and my father packed up the family, and we moved to New York. It turned out to be incredible timing because I was at an impressionable age where being exposed to the countless world-class musicians who passed through New York had a great effect on me. I attended concerts at Carnegie Hall and throughout the city as often as I possibly could, and I took in absolutely the greatest music making that one could find. I was constantly inspired by what I heard, and I was also able to get excellent musical training in New York. I studied with Peter Wiley, who was the cellist of the Beaux Arts Trio and later of the Guarneri Quartet until I went to Juilliard for my college years.
Lila: Launching your career with Vivaldi and Yo-Yo Ma seems rather fantastical. Did you win a lottery? Are y'all related?
Ed: Funny enough, I got to know Yo-Yo when I was a little kid tagging along with my mother at Carnegie Hall. He was always so kind to me and seemed to have a genuine interest in my development as a cellist. He has always remembered (and teases me every time I see him!) that I was wearing a pair of red suspenders when I first met him at the age of ten. So twelve years after that first meeting, I was invited by the Caramoor International Music Festival, where I now curate a chamber music series, to join Yo-Yo on stage for the Vivaldi Concerto for Two Cellos and Orchestra. Needless to say, it was a great thrill to be on stage with a hero of mine, but what I remember more than anything is how generous and kind he was to me.
Lila: How does someone 25 years old convince the powers-that-be at the Metropolitan Museum of Art that you know enough, not only to play, but also to arrange and direct a musical series? Now at the ripe old age of 32 with 6 years as the Metropolitan's chamber series artistic director under your belt, can you tell us a few things you have learned?
Ed: I made my New York recital debut at the Metropolitan Museum in November of 2000. But long before that, I attended as many of the spectacular chamber music concerts that took place there as I could. The program director was pleased to have such a young chamber music lover in the audience, and we became good friends. As my career began to take shape, she invited me to make my debut there, and three years later she asked me if I would create a resident ensemble at the museum to do a series of concerts. I don't know where the time has gone, but we are now beginning our seventh season of the Metropolitan Museum Artists in Concert series and it has been a very exciting venture. It is certainly an honor to be able to curate a series and perform in such a venerable institution.
Lila: Can you tell us a little about your approach to artistic directing?
Ed: Chamber music has been an absolute passion of mine since I was a very young child. There are countless masterpieces and rarely performed treasures in the literature, and I get the greatest pleasure out of creating programs and bringing those treasures to the audience. Not unlike putting together certain ingredients in cuisine or colors and textures in a painting, assembling programs is an art. I enjoy creating a context and bringing the audience on a journey for the time that we are together. I try very hard to bring variety and also to create combinations that are illuminating. And like the legendary Charles Wadsworth, I like to talk to the audience and share a little bit of what I know about the music, the composers and my fellow artists.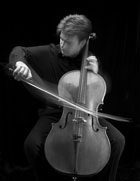 Lila: About selecting and combining the artists?
Ed: The thing that I enjoy most about chamber music is that I am able have my own solo voice, but that I am constantly sharing in a dialogue with others. Chamber music is a collaboration, and it has led me to many close friendships over the years and continues to introduce me to new friends all the time. I have had the good fortune of meeting and working with some of the greatest players of my generation, and many of them have been nice enough to accept my invitations to perform with the various series that I curate. Good chamber musicians know how to get along with one another, and they know when to lead and when to defer. I think a good artistic director can help to bring exactly the right personalities together to create exciting performances and pleasurable experiences for the artists and the audience.
Lila: I knew you had an eye for talent the first time I heard pianist Jeewon Park perform. Can you tell us how you met, how you caught her eye, how it is to be married to someone with so much talent?
Ed: Thank you for your kind words. In the summer of 2000, I played at a music festival in Spain, where I met and performed with Jeewon's piano professor from Seoul, Korea. He asked me if I would like to play a recital in Korea with his favorite student, and not having any idea what I was getting myself into, I agreed. It turned out to be a good decision! Jeewon and I met in 2001, I immediately fell in love with her music making and was completely smitten by her beauty and sense of humor. Six years later, we married, and we still play concerts together every chance we get. Perhaps I am biased, but she is truly one of the finest musicians I know. Charles Wadsworth has become one of her biggest fans, so she will be joining us onstage in Beaufort in February when Charles returns.
Lila: We look forward to Jeewon, Charles and February. Can you tell us something more about your plans for the upcoming season?
Ed: I have had the privilege of working alongside Charles for the past two concert seasons, here in Beaufort and also for several other concert series up and down the East Coast. In my dozen or so performances on the USCB Festival Series, Beaufort has become something of a musical home to me. I always love to come back to visit with and perform for my Beaufort friends. More than anything, I plan to continue in the great tradition that Charles began here, bringing good friends, both old and new, to perform masterpieces, both old and new, from the glorious chamber music literature. My hope is that each program will take on a life of its own and that we can all have a lot of fun while we're at it.
Lila: Those plans sound just right and exciting for those of us who look forward to the 5 Sunday afternoons each season, but I don't think we can conclude this interview without mentioning the living legend, the icon, whose shoes you will be stepping into. Does following Mr. Wadsworth fill you with pride and hope or something more like fear and trepidation?
Ed: No doubt, his are big shoes to fill. Charles has done more than just about anyone to put chamber music on the map and to build an audience of chamber music lovers worldwide. He has been nothing but generous and gracious every step of the way in passing the torch to me, and I hope to do him proud. No one could ever replace the legendary Charles Wadsworth, but thankfully chamber music is never just about one person. My role will be to bring together great musicians and great pieces of music and let everyone else steal the show. Of course, Charles will continue to coach me on my southern drawl, but I'm not certain I'll ever get that just right….