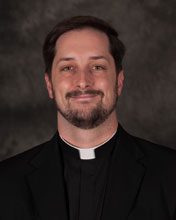 St. Peter's Catholic Church on Lady's Island has a new pastor: Reverend Andrew Trapp, one of the youngest priests in South Carolina and known for his appearances on FOX as the "poker-playing priest."
                  Father Andrew, as he is known by his parishioners, is a native of Aiken, South Carolina. He first started thinking about the priesthood while in fifth grade, and applied to the seminary as he was attending Clemson University. He was ordained in July 2007 and spent his first year as a priest serving in Bluffton at St. Gregory the Great. He has since served in Myrtle Beach and Columbia.
                  Father Andrew is known for his down-to-earth preaching style and his enthusiasm
for sharing Christ with children, teens, and their families. He made national news in 2009 when he was accepted as a contestant on the FOX gameshow, "PokerStars Million Dollar Challenge." There he beat celebrities and poker professionals to win $100,000 for his church, and he was the runner-up in the final championship episode. He saw this as an opportunity to show people that priests are normal people who can have fun and enjoy hobbies.
                  The people of St. Peter's are excited to welcome Father Andrew as their new shepherd. Father Andrew is also assigned as the new chaplain of nearby John Paul II school, helping lead the students in their walk with Christ. You can read more about Father Andrew on his website, saintfactory.com.