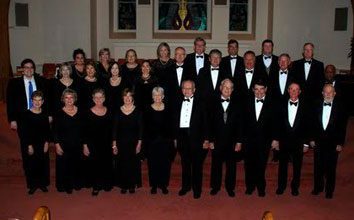 On Sunday, March 26 at 7 pm, the Sea Island Chamber Singers, with orchestra and soloists, will present a Lenten Concert at Sea Island Presbyterian Church. The program will include Seven Last Words by Michael John Trotta.
Trotta is fast becoming one of today's outstanding young composers. This new work features what is called Christ's seven last words on the Cross. Through creative writing for choir, orchestra, and soloists, the Crucifixion is dramatically brought to life. Soloists include K. Leigh Campbell, Martha Harvey, Laura McAlhaney, and Mike Partain. The orchestra will also perform "Adagio for Strings" by Samuel Barber.
 
            The Chamber Singers are made up of 32 auditioned voices.  Some of the singers belong to the Sea Island Church. Many of them are from other churches and the Beaufort community.  Frost started this group 7 years ago to fill a need in the community for choral singing. With a select group, he is able to concentrate on more technical issues of vocal technique, sound, and musical interpretation.  
            As Minister of Music, Frost oversees a full music ministry, which consists of children and adult choirs, a handbell choir, and a series of concerts and music programs. Frost is a graduate of Westminster Choir College of Rider University, Princeton, New Jersey, where he received both the Bachelor and Master of Music degrees in Church Music. His Conducting studies were with Dr. Joseph Flummerfelt, former Head of Choral Studies at the College, Director of the Westminster Choir, and Musical Director of the Spoleto Festival in Charleston before his retirement.
            The church is located at 81 Lady's Island Drive, Beaufort.  The public is invited to attend. An offering will be received.  For more information, contact Mr. Frost at 843-525-0696 or cfrost@seaislandpresbyterian.org