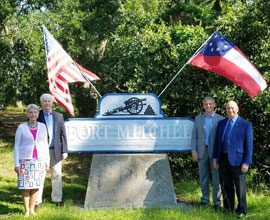 In a major victory for historic preservation on Hilton Head Island, Fort Mitchel has at long last been added to the 1,400 South Carolina sites on the National Register of Historic Places. Authorized by the National Historic Preservation Act of 1966, the National Park Service's National Register of Historic Places is part of a national program to coordinate and support public and private efforts to identify, evaluate, and protect America's historic and archeological resources.
"€œThis designation will be extremely helpful in preserving and telling the story of this fascinating site,"€ said Linda Piekut, Executive Director of the Heritage Library. The Heritage Library owns and maintains the Fort Mitchel site, offering regular educational tours. "€œIt not only eases the process of applying for grants, it validates years of hard work on the part of our volunteers."€
One such volunteer was Dr. Barry Riordan, who was tasked with filing the massive amount of paperwork that goes along with application for admission into the NRHP.
"€œThis is such a marvelous distinction for a historic site, the National Park Service does its utmost to ensure that each place is worthy of inclusion. Because of this, the application process is formidable,"€ said Dr. Riordan. "€œFormidable enough that just getting the paperwork in order has been a major hurdle for several years."€
The application was first approved by The South Carolina Historic Preservation Office in May of this year before being submitted to the National Park Service.
Fort Mitchel was built not long after Union troops captured Hilton Head Island in 1861, and served in defense against Confederate raids until it was decommissioned in 1868. The remains of Fort Mitchel were rediscovered in 1972 when construction on a nearby restaurant unearthed a few of its structures. The restaurant was named Old Fort Pub in its honor and the land was deeded to the Hilton Head Island Historical Society shortly after. The Heritage Library now maintains the park surrounding the fort, conducting regular tours.
To learn more visit www.heritagelib.org.
About the Heritage Library:
Presenting classes, lectures and tours, The Heritage Library is a non-profit library offering services in ancestry research and documenting the history of Hilton Head Island from the earliest discovery of the Island by Captain William Hilton to the time of the Civil War and Reconstruction to the development years of Charles Fraser to present day. The Heritage Library owns two historic sites, Ft. Mitchel in Hilton Head Plantation and the Historic Zion Cemetery & Baynard Mausoleum on the corner of William Hilton Parkway & Mathews Drive.