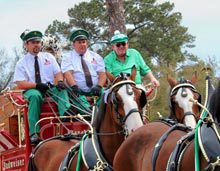 USCB Chancellor Jane Upshaw and retired Palmetto Electric Cooperative CEO Tom Upshaw will be Co-Grand Marshals for the 32
nd
Annual Hilton Head Island St. Patrick's Day Parade on Sunday, March 15
th
at 3 pm on Pope Avenue.
Although the Upshaws reside on the mainland side of the bridge, they are no strangers to the Hilton Head Island St. Patrick's Day Parade. Both recall the inaugural event in 1983, and Tom used to drive Palmetto Electric's "Linny the Lineman" golf cart on Parade Day. "We'd go and our grandson would ride with Tom," said Jane. "It's such a great family event."
"What really pleases us about this is that we get to follow Neil Love who was a good friend of ours," Tom added, referring to 2014 Grand Marshal Dr. G. Neil Love who passed away last October.
The 32nd Annual Hilton Head Island St. Patrick's Day Parade presented by iSelectMD will feature its usual collection of colorful floats and marching groups from local businesses and non-profits, dignitaries, eight high school and college marching bands, the Parris Island Marine Band, and four pipe and drum bands from as far away as Raleigh, N.C. Other special guests include First Responders from the New York City Fire Department and Sudden'ly Irish, an Irish step/clogging team from Starmakers Dance Company in Spartanburg, S.C. Sudden'ly Irish have been featured performers at the Macy's Thanksgiving Day Parade. "Plus we've got everybody's favorite, the Budweiser Clydesdales, coming back too," said Parade Committee Co-Chair Kim Capin. "Obviously we're excited about that because they make a magnificent addition to an already wonderful, family-friendly celebration of our Hilton Head Island community. So be sure to get your green on, grab some beads and come out on March 15!"
The Parade will follow its usual route, beginning at the south end of Pope Ave. near Coligny Circle and marching north to Office Park Road – site of the reviewing stand – where it will make a left turn and proceed to its end in front of Park Plaza and The Courtyard Building.