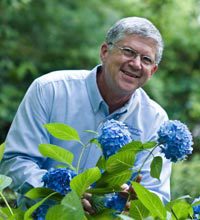 Garden guru Walter Reeves heads to Beaufort.
Ever puzzled over a diseased flower or a shrub with holes in the leaves? How can you figure out what's afflicting your plants without being a plant pathologist or an entomologist? The Lowcountry Master Gardener's Association is bringing the most respected garden guru in the South to Beaufort to help you solve those gardening mysteries. Atlanta garden expert Walter Reeves will teach you how to look for patterns in the plant damage you see. This will help you know whether a bug, a disease or something else has caused the problem. Walter will conduct a plant clinic after the lecture, so bring your weeds, insects or plant damage for Walter to inspect and lend his expertise "While You Wait!"
The author of nine books about gardening, Walter also hosts the TV show "Your Southern Garden" aired on public television. You can learn more about him at his website: http://www.walterreeves.com/

Walter Reeves will appear in the Auditorium at the Technical College of the Lowcountry in Beaufort, 921 Ribaut Road, on Thursday, March 26th at 1 pm. General admission is $10.