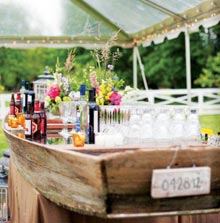 HBF's Lafayette Soiree Sails Into Spring 
On Saturday, March 28
at 6:30 pm, the grounds of Scott Sonoc and Marsha Williams' historic George Moss Stoney House (c.1823) in the Old Point will become a lively cocktail and fireworks fete to celebrate the Marquis de Lafayette's famed 1825 visit to Beaufort. Themed "Sailing Into Spring," the Historic Beaufort Foundation's 45
th
annual Lafayette Soiree is planned to be a nautically elegant event that features the homeowners' formal French garden and riverside setting.
Guests will enjoy Southern regional fare and drinks from downtown Beaufort restaurants and noteworthy regional sponsors like Beaufort Bread Company, Boundary Street Café, Breakwater Restaurant and Bar, Lady's Island Oysters, Sea Eagle Market, Saltus River Grill, Southern Spice Catering, Spring Island Club, Sweetgrass Restaurant and Bar at Dataw, and Maker's Mark.
The silent auction features uncommon regional, national and global opportunities not to be missed. The Party concludes with Atlanta's renowned CEO Show Band.
2015 Lafayette Soiree Chair Melanie McCaffree is supported by co-chairs Laura Dukes, Lanier Laney and Terry Sweeny.
"It's an honor to be chairing this event that's become such a fixture of the annual Beaufort Calendar," says McCaffree. "The grounds of this year's historic home are beautiful and the riverside location is going to be spectacular for the fireworks we have planned!"
Historic Beaufort Foundation celebrates its 50th anniversary this year. The organization has been instrumental in not only restoring (hands-on and financially) scores of historic buildings, but also spearheading National Park Service designation for 300 acres of Beaufort's downtown and registering 500 sites in a National Historic Landmark District. It's thanks to the Historic Beaufort Foundation that Beaufort retains three centuries of historic architecture today.
Tickets to the Lafayette Soiree are $125 per person and are available by calling the Foundation at 843-379-3331 or via the website at www.historicbeaufort.org. Funds raised by the event support the Foundation's mission.