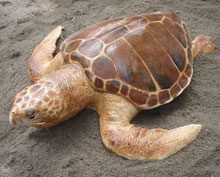 The Friends of Hunting Island Sea Turtle Conservation Project invites all area children to participate in the FREE Sea Turtle Survival Challenge on Saturday, January 16 at the playground near the public marina on Dataw Island. Held in conjunction with the Habitat for Humanity 2016 Resolution Run/Walk 5K, the Kids' Sea Turtle Survival Challenge will be a fun and educational event for kids of all ages.
                  "Caretta" the sea turtle mascot will be on hand to welcome participants and cheer them on, as they make their way through an exciting and entertaining obstacle course that will teach them about the challenges that sea turtle hatchlings face from the time that they hatch until they reach the Sargasso Sea. Kids will also learn some ways they can help the sea turtles survive.
                  Prizes are guaranteed to all children who pre-register for the event before January 13. On-site registration will be held at 8:45 AM, and the event begins at 9:00 AM. To pre-register, please email turtlesurvivalchallenge@gmail.com and provide the name and age of each child who will be participating, the name(s) of the parent(s), and an email address. When you arrive at the Dataw gate, just say you're there for the Kids' Sea Turtle Survival Challenge.