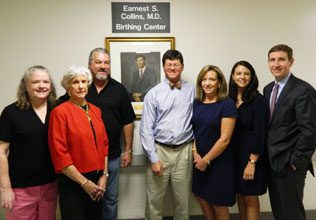 All of the proceeds from the Beaufort Memorial Hospital Foundation's 2016 Valentine Ball will go towards the renovation and expansion of the Collins Birthing Center, named for Beaufort's first and much-admired obstetrician Dr. Earnest S. Collins who passed away in 2002. Dr. Collins graduated from medical school at the University of North Carolina at Chapel Hill and was the first gynecologist in the county and the only one between Charleston and Savannah when he joined the BMH Medical Staff in 1971.  He retired in 1992, and the hospital's birthing center was named after him when it opened in 1994.
Always supportive of the Foundation's efforts, Dr. Collins' family has pitched in full-steam this year to help raise the much-needed funds for this project.  For the first time ever in Valentine Ball history, three generations of one family will co-host a pre-ball dinner party as Sue, Brad and Cindy, and Allison and Ben team up together to prepare for what is sure to be a lovely evening.  And not to be outdone, Alan is co-hosting the first-ever pre-ball dinner party for singles (and pairs of singles!)  of all ages.
"The dinner parties are the highlight of the ball," said Dr. Collins' daughter-in-law Cindy, who has hosted several over the years. "You get to socialize with folks that you might not otherwise meet, and you're helping to raise much-needed funds for the hospital."
The dinner parties have been the hallmark feature of the Valentine Ball since its inception 27 years ago.  Each guest who purchases a ticket to the Ball is personally invited to attend a pre-ball cocktail hour and dinner party held in some of Beaufort's loveliest homes and historic venues.  The dinner parties are hosted by volunteers who create unique and wonderful experiences all their own.  Guests are randomly assigned to the dinner parties, bringing together people from all ages and diverse backgrounds to delight in old connections and new-found friends. After dinner, everyone moves on to the Ball for an evening of dancing, silent auctions, and tiers of elaborate desserts.  And the conversation is ready-made as all the talk is of who went to which pre-Ball party, who they met there and what made it such a perfectly happy evening.
The 27th Annual Valentine Ball will be held on Saturday, February 6th. Tickets start at $150 per person (including the pre-ball dinner party) and include several levels of contributions. For more information or to purchase tickets, please visit ValentineBall.org or call (843) 522-5774.
Pictured in Beaufort Memorial's Collins Birthing Center from left to right: Susan, Sue, Alan, Dr. Brad and Cindy Collins and Allison and Ben Coppage