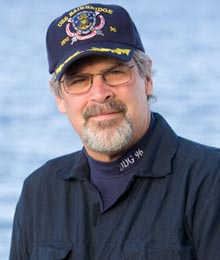 Captain Richard Phillips was held hostage by Simali pirates for five days, then freed by Navy SEAL snipers.
Sea Captain Richard Phillips of the Maersk Alabama was held captive for 5 days by Somali pirates, until U.S. Navy SEAL snipers completed a high seas rescue, killing his captors and ending the tumultuous standoff. Acting with the President's authorization and in the belief that hostage, Capt. Richard Phillips, was in imminent danger of being killed by captors armed with pistols and AK-47s, snipers opened fire and killed the three captors.
It took three expert precise shots by snipers using night-vision scopes at dusk to kill the pirates. Within minutes, rescuers slid down ropes to climb aboard the lifeboat then untied Captain Phillips.
Captain Phillips will tell his story that made headline news for days in 2009. A top rated and sought after speaker in the country, Phillips is considered a national hero, yet his engaging, down to earth manner suggests he sees himself as nothing of the sort.
IF YOU GO
When: Saturday, March 3, 2012 10:00 A.M. – 11:30 A.M.
Where: Hilton Head High School, Visual & Performing Arts Center, 70 Wilborn Road, Hilton Head Island, SC.
Tickets: All seats are $25.00, Available by calling the OLLI office at 843-208-8247.
OLLI is a university-affiliated, not-for-credit, program that has been in existence in the Lowcountry for over 20 years, and currently serves more than 1,300 members.
For more information, visit us as www.uscb.edu or call the OLLI offices at 843-208-8247.