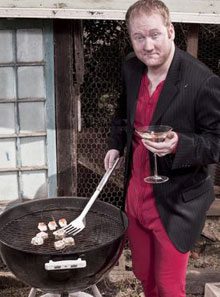 "That thing gotta Hemi?"  
Sound familiar? It's from the popular Dodge ad campaign. And it's Jon Reep, the red-headed hillbilly known to millions as the "Hemi guy," who leans out of a beat-up car and utters the now famous line.
Great News! The "Hemi guy" will be performing his hilarious stand-up comedy at the USCB Center for the Arts on Friday, January 29 at 7:30 pm.
Maybe you've seen Jon as the winner of Season 5 on NBC's "Last Comic Standing," Comedy Central's "Premium Blend," the half-hour special "Comedy Central Presents: Jon Reep" or his own special "Jon Reep: Metro Jethro." If not, maybe you've seen him on TBS's "Pit Stop Comedy," NBC's "Late Friday," or the ABC Sitcom "Rodney." As an actor, Jon has played the pot-smoking farmer "Raymus" in the movie "Harold and Kumar Escape from Guantanamo Bay," and the dim-witted cop Gerald Bob in ABC's "Rodney." He also played a goodwill worker in Disney Channel's "Good Luck Charlie." Most recently, Jon can be seen as Jed Forney in "Eastbound and Down" and was the host of SPEED TV's "R U Faster than a Redneck." He can next be seen in the Steven Quale film "Into the Storm" starring Richard Armitage and Matt Walsh.
But nothing's like seeing Jon Reep live, doing his Metro Jethro routine. Don't miss your chance to get up close and personal with the "Hemi guy!"
Beaufort's tap dancing divas, The Beaufortettes, will open the show.   Tickets are on sale now: Adult Tickets $25, Senior Tickets $20 & Student Tickets $15. Tickets may be purchased online at www.USCBCenterForTheArts.com, by phone 843-521-4145 or in person at the Center for the Arts, 805 Carteret Street, Beaufort SC 29902.