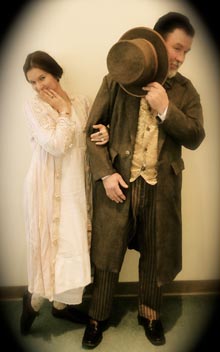 Celebrated author and beguiling historic reenator Kim Poovey will open a door to the opulent past, as she recreates the enchanting "corsets to crinolines" female dressing rituals of the Victorian age, at a lavish and delicious Tea Party.   The event, a fundraiser to benefit the Beaufort History Museum, is planned for 2:00 pm on Tuesday, May 12, at the Dataw Island Club Carolina Room.
            Doors will open at 1:30 pm for a live music and cash bar reception followed by seating for the Tea and Performance at 2:00 pm. Tickets are $30 for BHM members and $35 for non-members. A table of 10 may be purchased for $300. For tickets call Katherine at 843-277-1443. For more information visit www.beauforthistorymusem.com .
            "We anticipate that the Victorian Tea Party will be a really special afternoon, helping us to support the Museum and to raise awareness for our upcoming Spring Exhibit, " said Katherine Lang, past President and member of the Board of Directors.   "Kim Poovey is very talented, the menu for the Tea is delicious and the setting at Dataw is spectacular so we expect a successful event. "
             Lang said the Museum's Spring Exhibit, titled "What They Wore. Fashion and Finery of the Victorian and Edwardian Eras," will run May 3 – 31. It will offer a fascinating presentation of period dress including undergarments, clothing, hats, jewelry and accessories. The Museum is located in The Arsenal at 713 Craven St in Beaufort's historic district.
            The Beaufort History Museum has evolved to focus specifically on the history of the Beaufort District. It strives to manage and display artifacts and documents held by the City of Beaufort, telling the compelling stories of this area from the early 16th Century until modern times. The BHM hours of operation are 9:00 AM – 5:00 pm Monday-Saturday and Noon – 5 pm on Sunday.
Above: Kim Poovey with her husband Darryl