Southern Living Magazine, the Habersha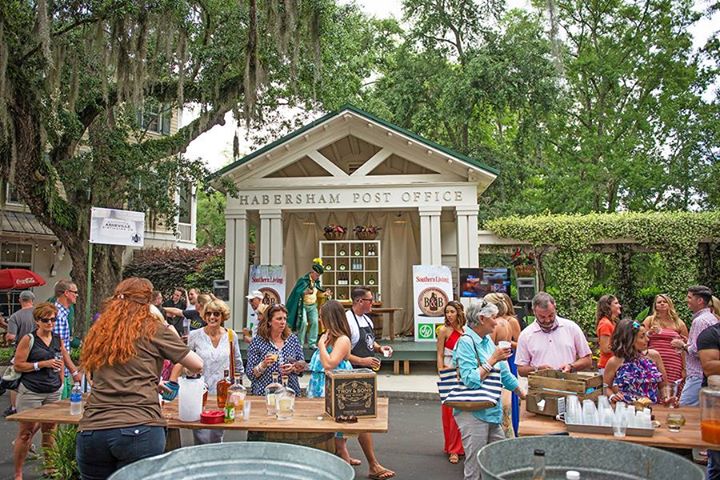 m Marketplace, and Plum Productions are excited to announce the return of Bottles & Barrels: A Weekend of Inspired Tastes to be held April 8-9, 2016. This unique event spotlights select fine wines, craft brews and farm-to- table dishes.
A Southern Living Inspired Event, Bottles & Barrels kicks off Friday, April 8th with ticketed breakout wine dinners in private homes throughout the Habersham neighborhood. Guests will sit down to a professionally prepared meal by an esteemed Lowcountry chef, complete with hand selected wine pairings by vineyard representatives in attendance for the event. Enjoy conversation with new friends, a talented chef and wine experts. The Friday Winemaker's Dinner tickets may be purchased in advance for $100/person.
The Grand Tasting portion happens Saturday, April 9th in the Habersham Marketplace from 2 :00 to 6 :00 p.m. Bottles & Barrels features a menu with over 40 varietals to taste, including local rum, vodka and moonshine. Tasting tickets can be purchased in advance for $30 each , as well as onsite during the event. All of the offerings will be available for purchase at the Tacarón pop-up wine shop!
Throughout the event, there will be activities occurring in the Marketplace including cooking demonstrations with Southern Living's Test Kitchen Director Chef Robby Melvin, a full array of culinary centric purveyors from around the southeast for shopping, an architectural walk with Southern Living Architect Eric Moser all set to the backdrop of live music on the main stage from The HiFi Band. Stroll, taste, learn, and try! Awards will be bestowed to participating purveyors; whatever your preferred varietal or brew, you're sure to find a new favorite to take home.
We invite you to come celebrate authentic southern experiences in the Habersham Marketplace the heart and soul of the award winning coastal town of Habersham in Beaufort recently named Southern Living's "Community of the Year." Full event details and tickets can be purchased on the event website: www.bottlesbarrels.com. The event is hosted by the Habersham Marketplace and is produced by Plum Productions.
Habersham Marketplace is located at 13 Market Street in Beaufort, located off of Joe Frazier Road via Broad River Blvd. For more information, visit www.habershammarketplace.com
Southern Living celebrates it's 50th Anniversary in 2016 and the essence of life in the South covering the best in Southern food, home, garden and travel. Reaching more than 16 million people each month, Southern Living connects consumers to the region's rich culture through a variety of print, digital, mobile, tablet and event platforms. Discover more about Southern Living Inspired Communities by visiting http://www.southernlivinginspiredcommunities.com