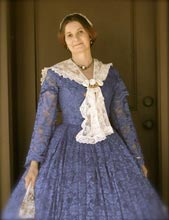 Fashion and Finery of the Victorian and Edwardian Eras on display at the Beaufort History Museum
A Victorian gentleman's frock coat, a collapsible top hat and an elegant Edwardian tennis outfit. An opulent jet-beaded mantel and fine bespoke jewelry. An exquisite lace wedding gown and veil, a sumptuous multicolored silk dress and a romantic handkerchief linen nightgown. These are just a few of the fascinating items of Victorian and Edwardian era clothing, jewelry and accessories that comprise the Spring Exhibit at the Beaufort History Museum (BHM).
            The exhibit will run from May 3 – 31 in the Museum's Exhibit Hall on the second floor of The Arsenal, located at 713 Craven St. in Beaufort's historic district. The public is invited to attend two exciting events that will be held to launch the Spring Exhibit and to help raise funds to support future efforts.
            On Sunday, May 3 from 1 – 4 pm the Museum will welcome visitors to the Spring Exhibit opening with a reception in The Arsenal's courtyard featuring refreshments, live music, and strolling greeters in period costume. A Victorian Tea Party titled "The Intimate Secrets of a Victorian Woman," featuring acclaimed re-enactor Kim Poovey displaying the corsets to crinolines dressing rituals of the Victorian period, will take place Tuesday, May 12 from 2-4 pm at Dataw Island Club. Information on both events is posted at www.beauforthistorymuseum.com
In addition to the many fine artifacts in the Museum's collection, local residents have loaned an interesting array of period clothing and accessories to the Spring Exhibit.   "We are so grateful to Kim Poovey and Stuart Heath, both of whom have extensive collections. Stuart's cherished family heirloom clothing and a very special locket are amazingly well preserved and fabulous representations of the Victorian and Edwardian periods," said BHM President Anna Schaffer.
"With her extensive knowledge of this segment of American history, Kim has been invaluable in cataloguing and identifying the significance of the featured pieces, and she has contributed many beautiful treasures from her private collection."
             The Beaufort History Museum has evolved to focus specifically on the deep and rich history of the Beaufort District, which originally included Jasper County as well.    It strives to manage and display artifacts and documents held by the City of Beaufort, telling the compelling stories of this area from the early 16th Century until modern times. Through community engagement, children's programs, educational opportunities and social events the Museum provides many services to visitors and local residents. To contact the Museum call843.379.3079 or info@beaufortschistorymuseum.com.