The relocated, redesigned Breakwater Restaurant & Bar sets a new, sophisticated tone for downtown Beaufort.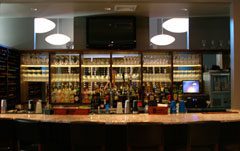 "Sexy," "modern," and "glamorous" are not terms you normally expect to hear applied to charming, sedate Historic Beaufort, but you're hearing them a lot these days as Carteret Street continues its transformation. And you're going to hear even more of those words now that Breakwater Restaurant & Bar has reopened at 203 Carteret. Its sensuous two-story curves and dramatic lighting have set a whole new sophisticated tone for the town.
"That was my goal," says interior designer Carol Waters. "I wanted people to feel like they had 'gone out on the town' – visually speaking – when they walked in the door. I overheard one of the young waitresses tell someone that she couldn't wait for her night off; she was going to put on a little black dress and bring her husband here for dinner." I knew I had accomplished my goal; that young people would love this bar and that my contemporaries would love the luxurious comfort of all the seating."
What strikes one right upon entering is the long white leather banquette and matching white leather armchairs along one side of the bar. 'South Beach' now has nothing on this small South Carolina town when it comes to great design.
"I designed the lighting to be as flattering as possible for women in both the bar and restaurant," says Carol. "Because if you're going out on a date with your husband or boyfriend, let's face it, you want to look great!"
Carol also has a 'thing' about restaurants that are so noisy you can't hear your dinner companions. "It drives me crazy," she says. "That's why we put a tremendous amount of thought and planning in designing the way sound works in the restaurant. The banquettes are designed with additional padding and height, to reflect sound. We measured restaurant banquettes from New York City, Atlanta, and Seattle to get it right."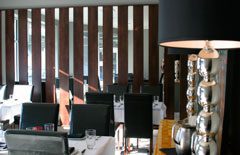 A state of the art sound system was also of particular concern for Chef Gary Lang and Chef Beth Shaw, who are jazz and music lovers.
"We ended up with one of the best systems on the market," says Carol. "It has separate sensors and controls for all three dining areas that can adjust to the particular volume in the room. You hear it, but it's not overpowering."
The mid-century George Nelson bubble lamps suspended from the ceiling set a beautiful modern tone in the restaurant and bar area. "Lighting for me is the signature of everything I do," says Carol "It affects the entire ambience of a room and your experience in it."
Carol is also know for her color selections, and the walls are a rich grey. "We used three different tones of grey in the restaurant, if you'll notice. A light grey for the ceiling, a medium warm grey for the walls and a dark grey for all the insets. I find it brings a lot of visual interest to modern architecture to do multiple shades of the same color, and skin tones look great against those warm grey walls."
Carol selected Joel Newman of the firm Thomas & Danzinger as the architect. "Joel is known for his contemporary design. I worked with him on a project at Spring Island. I love his use of space. He did an amazing job." The stunning curved, temperature-controlled, glassed-in wine cellar – it forms one wall of the bar – was Joel's idea.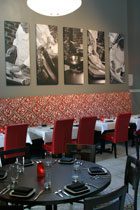 "We use as much local sourced produce and seafood in the restaurant as we can," says Chef Beth Shaw. "So we wanted to use local design talent for the building too." To that end, Carol is a Beaufortonian, as is the architect, and the builder Steve Patterson. And the team brought the project together in record time. "It was under five months from the signing of the lease, to the designing, to the completion," says Carol. Project manager (and working Superintendent) Buddy Barre had a lot to do with keeping things moving, working nearly nonstop, seven days a week in the final weeks, to get the project finished. "Steve and Buddy were just amazing in pulling off a project of this size in such a short amount of time," adds Carol.
Carol also raves about the cabinet work of David Yoakum, who did the bar, several tables and an entire mirrored wall in the private dining room. "He's just awesome," she says. "Love him!" She also mentions Juliet Filbey Harvey at Cregger Co. "who did all those high style fixtures in the bathrooms. Everything has automatic sensors and is very green and sanitary. She's always my 'go-to' plumber girl for everything," laughs Carol. Carol also found Rachel O'Neal, who did the large, beautiful photographs in the dining room.
Restaurant Manager and co-owner Donna Lang says, "It was a real pleasure working with Carol. She took our vision and made it into a reality… beyond our reality!" A joyous Donna motions around the dining room, and continues, "We trusted her, and it looks phenomenal! The whole look, from the lighting to the fabrics to everything."
Adds Carol, "I'm at a place in my life and my career where I can say to a client, 'I can help you do this. I can get you where you need to be'. I want them to feel that the finished product looks just like them, not me. I want to help create 'their look,' 'their desires'. I am so happy for Gary, Donna, and Beth. They have worked so hard. It was a pleasure to give them something that really showcases what they do."
Breakwater Restaurant & Bar 843-379-0052 www.breakwaterSC.com
Carol Waters Interiors can be reached at: 843-524-2329
Joel Newman architect: 843-524-6361
Steve Patterson Construction: 843-466-0051
Buddy Barre, Project Manager: 757-748-0357
David Yoakum Cabinet maker 843-321-3497
Juliet Filbey Harvey, Plumbing Fixtures 843-247-7598
Jeff Myers, Beaufort Alarm and Sound System 843-524-2628
Rachel O'Neal Photography 843-252-3959