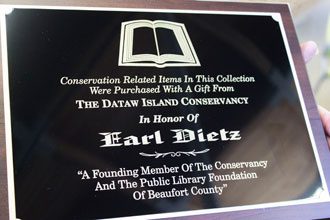 The Beaufort County Library St. Helena Branch recently announced the formation of the Earl Dietz Environmental Library collection. A donation from the Dataw Island Conservancy is being used to launch the collection and also included a scholarship for one of the librarians to attend the Master Naturalist certification training.
The collection is named in honor of Earl Dietz, a long-time community volunteer and leader. Residing on Dataw Island until just last month before moving to be closer to family, Dietz has spent much of his last 20 years volunteering in our local schools, the library, and with myriad environmentally-focused groups.
Ray McBride, Beaufort County Public Library Director, unveiled a plaque in Dietz' honor yesterday that will be on display at the St. Helena Library in honor of his service.
Fellow community volunteer John Colgan explained that the Earl Dietz Environmental Library and training of a Master Naturalist are important investments in the future of our children, grandchildren, and community.
"It is important for kids to learn about the environment and how to best protect it for the
future,"€ Colgan said. "The library is a great neighbor. They serve a lot of children, serving as a haven for many latchkey kids. It's a safe environment where they can spend time continuing to learn. The resources we have here are tremendous – including a photo shop and a 3-D printer. It's a tremendous facility – very modern, and nicely appointed to also preserve the area's Gullah heritage. We believe that this additional resource will complement the rest of the library's programs nicely."€
And, it seems that the Library Foundation Board agrees. The Board voted to not only match the Dataw Island Conservancy's donation used to start the collection, but said that they will also match donations made to the Earl Dietz Environmental Library from the community at large.
"I want to thank the Public Library Foundation and the Dataw Island Conservancy for establishing the Environmental Library Section at the St. Helena Library in my honor" Dietz said. "€œI am not only pleased and humbled by this, but appreciate that it really honors the organizations and associated people that I met and worked with during my years of participation. I was fortunate to have the involvement and dedication of so many volunteers to participate with me."€
Dietz explained, "I gave my time and effort because I strongly believed in the organizations, and still do. There is great satisfaction in giving, and in seeing people benefit from the organizations with which I was associated."€
About Dr. Earl Dietz:
Dietz began his local voluntarism in 1998 when he began tutoring math and science at St. Helena Elementary School. He also served Adopt-A-School of Beaufort County, which serves St. Helena Elementary students and staff with volunteers and support. Here he served as both a volunteer and Treasurer. In 1997, he was appointed to the Beaufort County Solid Waste and Recycling Board where he continued to serve as chairman until 2014.
Dietz was also a founding member of The Marsh Association (TMA) in 1999, where he also served as chairman until 2014. (TMA is an organization that represents 15 private communities in matters that impact on them at the local, state and federal level.) From 2001 until 2005, he represented TMA before the Beaufort County Storm Water Management Board to assure that his neighbors on Dataw Island and surrounding communities were treated fairly as new regulations were being formed.
In 2005, Dietz participated in the formation of the Public Library Foundation of Beaufort County (PLFB), and was elected president and served in this capacity until 2016. (The purpose of PLFB is to establish a million-dollar endowment that will provide funds for the Beaufort County Libraries, supporting such initiatives as tax-free contributions for specific library programs and the Endowment.)
Dietz was appointed in 2012 to the Dataw Island Conservancy board and elected vice president.