Mark Shaffer (The Backyard Tourist) gets his Autumn on…
Normal 0 0 1 2050 11686 Lowcountry Weekly 97 23 14351 10.2006 0 0 0
Change is a measure of time, and in the autumn, time seems speeded up. What was is not and never again will be; what is is change.
– Edwin Way Teale
Fall has always been my favorite season in the South. I believe this is because it's the one season that always seems to make us wait, like a loveable but eccentric aunt perpetually late for Sunday dinner.  And yet, once across the threshold her tardiness is instantly forgiven and forgotten so delightful is her company and the seasonal gifts she bears. Southerners appreciate Fall all the more for her cool respite from Summer – in keeping with the metaphor – that other type of relative, the one who constantly overstays her welcome.  And here in the Lowcountry, Summer always overstays her welcome, hanging out way past the autumnal equinox. Like Blanche DuBois, she just seems to linger on as we all wonder en mass, "will this ever end?"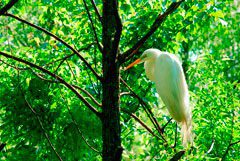 Then one morning the sky is changed. Summer's languid haze is gone, replaced with a shade of blue not imagined for months and months. The sun is brighter, there's a detectable nip in the air and the scent of the marsh at low tide is less pungent and somehow stirring, even sweet. In the high country and the midlands, leaves are already changed by the time our savannahs of spartina grass begin to transform from a palette of brilliant greens to a blend of ochre, cinnamon, gold and brown.   
Even the local wildlife notes the change. Our indigenous state bird, (the scientifically named Mosquito Giganticus) and its close relative, known affectionately to locals as the "No See-um" (Gnatus Vampirus) have begun their annual migration back to ancestral breeding grounds in hell. Once again it is safe to indulge in outdoor activities without fear of being sucked dry like a cheap Spanish wine sack. There is much to see and do in this Lowcountry fall. Let's get to it.
We see ghosts
Since this is the Halloween issue, we're naturally a bit preoccupied with the supernatural. The Lowcountry is practically synonymous with ghostly goings-on. One of the most famous is the Land's End Light which has been spooking locals and tourists alike for decades. Take highway 21 out to St. Helena Island, hang a right on Land's End Road in the heart of Frogmore, drive a few miles past the Penn Center until the road is long and straight, pull over and wait if you dare. There are no less than five local legends connected to this glowing phantasm that seems to move in a brilliant oval about a dozen feet above the road.  Some believe it to be the spirit of either a decapitated confederate or union soldier searching for his head. Others believe the light is the ghost of a distraught slave literally sold down the river, eternally searching for the wife from whom he was separated. This is no benign beam. Should the light shine in your direction it would be unwise to give chase. At least two people have perished in the attempt.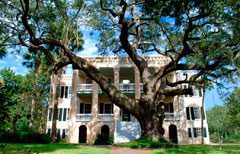 Historic Beaufort has its share of haunts – and I don't mean the bars. The Old Point is said to be particularly lousy with ghosts. One of the most famous is said to be the spirit of a 16th century Huguenot dwarf known as Monsieur Gauche. He is known for tapping out coded messages and leaving red handprints on windows. In an apparent attempt to prove the rude French stereotype from beyond the grave his reply to a guest's request to reveal himself was "I do not show myself to fools." Telle est la mort, apparently.
Evelene, with The Spirit of Old Beaufort (www.thespiritofoldbeaufort.com), has guided tours of these haunted oak-canopied byways for a decade and a half. "I haven't seen any ghosts," she tells us, "but I have seen some really scary live people." Her "Whispers From the Grave" tour is a 90-minute, half-mile walk by lamplight through guaranteed goose bump territory with your guide in period costume. Call for more information and reservations at 843-525-0459. The Exchange Club of Beaufort has been raising funds for CAPA with a famous series of Ghost Tours for the past 17 years. According to a club source, "ghostly visions have been known to appear on past tours," which take place both by carriage and on foot. These tours only run through October. Call 843-524-4678 for reservations.
Get out
If you'd rather not tempt the supernatural, there are plenty of less terrifying tours to enjoy on a crisp autumn day in the Lowcountry. In downtown Beaufort most of the tours are headquartered in or near the marina at Bay and Charles. Climb aboard one of the famous horse-drawn Southurn Rose Buggies (www.southurnrose.com) for a narrated carriage ride through more than four centuries of local history. Or get a different perspective from the river aboard Captain Dick's 30 passenger Prince of Tides. Large pods of bottle-nosed dolphin are regular sights. Phone 843-524-4422 for tour times and reservations or information on booking a private group excursion.
Fall is an ideal time to get out on the water under your own power and Kim and David at Beaufort Kayak Tours (www.beaufortkayaktours.com) offer a wide variety of options for experienced and novice paddlers alike. Both are certified Master Naturalists and City of Beaufort History Tour Guides. "This time of year we really emphasize the ACE basin tour," says David. ACE is an acronym for the estuarine system created by the Ashepoo, Combahee and Edisto Rivers. There is perhaps no more spectacular view of the very season itself in the Lowcountry than by floating among giant cypress trees through ancient rice plantations with snowy egrets stalking the tall grasses and the national symbol circling overhead. "There are a lot of bald eagles up there right now," says David. The ACE Basin is a nesting ground for the region's resurgent raptor population. David counted nine birds on a recent paddle.
BKT offers both a 2 hour and 4 hour ACE Basin excursion, the latter covers 9 miles of unspoiled Lowcountry wetlands. Here the true fall colors of the region come together: crystalline blue skies and golden grasses mirrored on smooth black water. Get all the details by calling 843-525-0810.
While a good camera is a must for some of these tours, it is an absolute essential if you're booking time with one of the region's most acclaimed wildlife photographers. And, yes, you can. Eric Horan's images have appeared in Time, Newsweek and The New York Times (to name but a few) as well as the prestigious cover of Smithsonian – oh, and a little publication we like to call The Lowcountry Weekly. With two decades of experience capturing the unique natural world of the Lowcountry there are few better qualified to lead a photo safari. Also a Master Naturalist, Horan tailors each outing to suit both the season and the shooters. This time of year he focuses on capturing the spectacular clash of colors through the waterways, marshes and Sea Islands. This is also a prime time to photograph dolphins, deer and tremendous flocks of migratory waterfowl.  I've had the privelage to venture out in the field with Mr. Horan and count myself fortunate to have had the experience. Don't take my word for it. Envy his eye online at www.horanphoto.com or call 843-524-3037 for the particulars.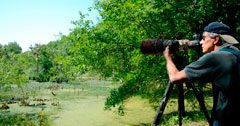 There's no easier or more popular access to some of the most amazing scenery in the Lowcountry than Hunting Island State Park. Just 16 miles from downtown Beaufort, more than a million visitors flock to the park's famous beach each year. The good news is that most of them come in the summer, leaving the pristine beach mostly to the locals this time of year. The park is currently celebrating its 75th anniversary while the iconic lighthouse marks it's 150th year. Among the many things that make Hunting Island such a special place is the opportunity to actually witness the endless clash of sea and land. Just a few steps from the lighthouse the maritime forest literally falls into the Atlantic Ocean littering the beach with "bones" of oak, pine and palmetto felled by the ceaseless gnawing of the sea. This part of the beach is impassable, even dangerous during high tide, but a sunrise at low tide with the right weather is nothing short of awe-inspiring and not to be missed by anyone with a camera. An extra $2 to climb to the top of the lighthouse is highly recommended. On a clear day the perspective is always astounding, even to those most used to seeing it.
The park also features a popular campground and perhaps the most sought after cabins in the state park system, as well as a marsh boardwalk and a fishing pier stretching 1120 feet into the center of Fripp Inlet. But according to Park Manager Jeff Atkins HHI has a largely undiscovered treasure. "Our trail system is top-notch," he says. "With the ease of accessibility, layout and design, we have a fantastic trail system." Most of this is due to recent improvements and a whole lot of volunteer man-hours. "You can ride bikes on it, push baby strollers, folks with disabilities have much better access," says Atkins. "It's just a real unique experience to go and disappear in the woods right on the beach."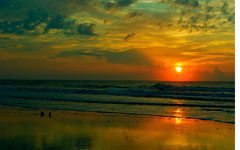 On the south end of Beaufort County, a half-mile west of Hilton Head Island just off Highway 278 between the bridges is another, lesser-known natural jewel. The Pinckney Island National Wildlife Refuge is actually a 4000 acre clutch of islands, Pinckney being the largest. The property was once the plantation of Major General Charles Cotesworth Pinckney, a prominent political figure in early 19th century South Carolina politics. Little evidence remains of Pinckney's wealth, influence or his stately home. Like hundreds of other antebellum Lowcountry baronies, time and nature have reclaimed these fleeting things. Almost 70 percent of the refuge is marsh and tidal creek with large concentrations of ibis, herons, and egrets. Whitetail deer roam fallow fields and dolphins are common sights in the creeks and inlets. Some of the refuge's freshwater ponds are consider among the top birding spots in the coastal southeast. On the very cusp of the urban chaos that sprawls from Hilton Head, Pinckney Island NWR is a serene natural wonder by land or by water.  Under management of the U.S. Fish and Wildlife Service, information on the refuge is characteristically scarce. 
If you're among the growing number of Lowcountry visitors who prefer horseback to kayak we suggest a couple of options on opposite sides of the Broad River. South of the Broad, Lawton Stables in the Sea Pines Plantation on Hilton Head (www.lawtonstableshhi.com) offers a wide range of equestrian services including lessons, boarding, training and even a petting farm for the kiddies. But the real attractions for visiting equestrians are the trail rides through more than 600 acres of the Sea Pines Forest Preserve. Lawton bills this as "the chance to meander through the lush acres of the Preserve on horseback to really get a feel for the true untouched Lowcountry." Lawton also offers carriage and pony rides. Phone the stables at 843-671-2586 for directions.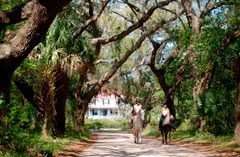 North of the Broad, there is simply not a more congenial spot for horsing around than Camelot Farms Equestrian Center (www.camelotfarmshorses.com). Located in the mossy-covered wilds of Saint Helena Island, owners Anne and Mark Kennedy specialize in breeding the rare Rocky Mountain Horse. Their 60 acre ranch is home to the Rocky Mountain Horse Association's 3 Year Old International Champion, Camelot's Cocoa Confection. In addition to all the usual horse-related services, Camelot's rides include a trip down the canopied Avenue of Oaks toward Coffin Point Plantation. The two hour ride eventually winds around to a thin slip of beach on Saint Helena Sound. Finding Camelot can be  appropriately tricky the first time out. Best to call for directions and availability at 843- 838-3938.
      There are far too many things to do on a crisp autumn afternoon or evening to cram into this space. Indeed, I've barely scratched the surface. There seems to be a festival of some sort every other day – sometimes twice a day – all neatly listed in the back of this publication along with copious music, art and entertainment options. But there is one last place I would highly recommend. The Old Sheldon Church, formerly known as the Prince William Parish Church, is a stoic testament in brick and mortar to the two most tumultuous periods in American history. The church was originally funded and organized by the wealthy and influential landowner, William Bull, in the mid 18th century. His Newberry Plantation was an easy carriage ride to the columned sanctuary's first service in 1757. A little more than a decade later it would burn in the first fires of the American Revolution. The walls, like the land, remained sound and Sheldon was rebuilt by 1826. Just shy of a half century later the old church was once more a casualty of our national struggles. In January of 1865, troops under the command of General William Tecumseh Sherman set the church ablaze. Just as before the walls refused to fall, but the church was never repaired. It stands now as it stood then: an elegant, ruined reminder of the price paid first for democracy and then for freedom.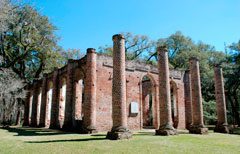 From Beaufort take US 21 North, bear left at the intersection of US 17 at Gardens Corner. Sheldon Church Road is the first right and the ruins are well marked just two miles down the scenic byway. 
Soon local oysters will be back on the menu at restaurants, raw bars and backyard roasts all across the Lowcountry signaling the true turn of the season and the promise of winter's swift approach. We best get busy.
Mark Shaffer's email is backyardtourist@gmail.com.