Though I've never attended, I've heard and seen a lot. My first exposure to the annual Harlem Renaissance Gala was when Carol Tuynman, one of the originators of the event and an ACBC boardmember, got her hair marcelled to complete her outfit. Later, Melba Cooper, who is a guiding light of arts integration in the schools, mentioned to me, "Lisa, the Harlem Renaissance is a wonderful, joyous event. I was on the committee for five years, and I met lifetime friends in the African American community that I would have never met without it." Now that I work for ACBC, Harlem Renaissance gets a lot of attention from us staffers because it's such a significant fundraiser, and I've also overheard some fascinating remarks about a Josephine Baker acolyte from last year. For the Billy & the Duke-themed 2008 event, I've worked closely with the 30-member committee put together by co-chairs Claudette Humphrey, Marie Lewis, and Ethel Denmark in order to fill the four hour gala at the Parris Island Lyceum with glamour and enlightening cultural perspectives. In preparation for finally attending, I'd like to share what I've learned, so maybe I won't be the only new skirt attempting the Lindy Hop: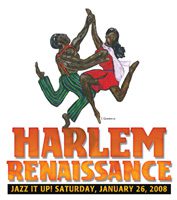 Brice Cooper, longtime Harlem Renaissance committee member, knows how to set the scene: "Black and Silver is the theme. The twelve piece orchestra has bandboxes, which is awesome. In front of the stage, which is tall, we'll have larger than life images of musicians from the Cotton Club era, and projected stage left and right, we'll have Ellington shorts, very hip, like Stormy Weather with Lena Horne and Cab Calloway. It's the time, it's the scene, it's all o'that. Scoop lights with blue gels will be throughout, making all the black & white action icey. The disco ball will flash over the band onto the dance floor. The tables will be double-clothed and marked with shooting silver centerpieces studded with definitive images from the Jazz era."
The Swingtime Orchestra will be gratifyingly heavy on the brass and the dance floor will be filled: According to Jon Miller, trombonist, and leader of the orchestra, there's going to be layers of saxophones, trombones, and trumpets to re-create the compositions of Billy Strayhorn and Duke Ellington. "Harlem Renaissance is a real opportunity for us to perform. We've played Harlem Renaissance in the past, and I'm looking forward to it because I like the event itself, and I'm very dedicated to big band jazz. It's a cool get-together with dinner dancing.
Why horns are so important, and how to step onto that dance floor: Jan Spencer lead vocals, explains, "You'll want to dance when you hear the music. I performed at the very first Harlem Renaissace, and have missed attending only one. It's so exciting and wonderful to see everyone, it's a great cross section of the community. "Don't Get Around Much Any More" is a favorite of mine, I love singing it, love what the horns do in the music around the melody. That interplay is so fun to be a part of."
The Cotton Club era ambience of the 1930s Harlem Renaissance is hot, hot, hot: Committee member Gloria Cartwright advises that the style is "laid back, brassy, and bold!" Brice Cooper has plans for a great outfit, "I will be wearing something so off the charts fabulous that I won't be able to look in the mirror because it will freak me out. Maybe something with monkey fur, which seems to have been popular then." And Jan Spencer noted that "This is the moment to get out your sharpest threads, I love it for that, because we don't get a lot of chances to dress up in the Lowcountry."
The original Harlem Renaissance isn't the only art scene in town: Especially when this gala is emceed by ACBC Executive Director JW Rone and community heritage scholar Anita Singleton-Prather. James Denmark's emerging artist exhibition will "act as an introduction to Beaufort County's new art community." Those pieces will be for sale, and ACBC Board President Deanna is assembling a significant silent auction too. "Through the generosity of the major collectors, we have acquired several amazing pieces, spanning genre, time, and medium— such as an orginial James Denrmak, Congolese masks, and an 1890s portrait-photograph of an African American musician. The auction will be accessible to all, with many price points."
The Harlem Renaissance Gala is a community event sponsored by Beaufort Jasper Comprehensive Health Services: last year, Angela Gabriel-Walton, who's worked for BJCHS for eight years, performed a reading of Zora Neale Hurston's work. "She's my favorite author, and the original Harlem Renaissance has always be an intrigue to me." BJCHS's continued sponsorship of the Harlem Renaissance Gala is because "It's a community effort, and BJCHS is all about community."
Billy & The Duke: Harlem Renaissance 2008 is Saturday, January 26th, 2008, 7 to 11pm. Advance tickets only: celebrity seating for 8- $560; reserved table for 8- $400; single tickets- $50 & $70. For more information call 843-379-ARTS and visit www.beaufortcountyarts.com