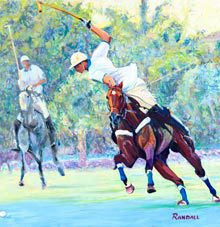 The 19
th
annual Polo for Charity event, sponsored by the Rotary Club of Okatie, will be held Sunday, Oct. 14 at the historic Rose Hill Plantation, Bluffton.
Come out and experience Bluffton's biggest picnic. The gates open at noon, and the match begins at 2 p.m. Bring your friends and family to this exciting, fast-paced match and engage in one of the best people watching and socializing opportunities of the fall.
Attendees have the option to reserve patron sites or sit in general admission, but regardless, pack a picnic and be prepared to tailgate in style. Guests are encouraged to get creative with their decorations and menu, which can range from a backyard cookout with burgers and hot dogs to Lowcountry style with shrimp and grits. Awards are given out for best picnic on both sides of the field, so have fun with it.
Barbara McFadden, Okatie Rotary Club member and one of the organizers of the event, says polo has been part of her fondest Lowcountry memories since she began visiting Hilton Head Island in the mid-1980s.
"It brings together our Lowcountry love of being outdoors with friends in a relaxed and casual atmosphere, our traditions of hospitality and gracious living…and the horses for the kids," McFadden says.
Polo is often called the "sport of kings" so why not embrace your inner royalty and make a statement with your wardrobe – and don't forget the hat. A hat contest takes place each year with fabulous prizes awarded, so start the search now for that perfect accessory to top the outfit.
But remember to also be practical in your wardrobe choices, including dressing appropriately for the weather, and make sure your shoes are made for stomping. Perhaps the most widely known polo tradition is the ceremonial stomping of the divots. This tradition not only serves a practical purpose of replacing the mounds of dirt (divots) torn up by the horses' hooves, but gives spectators a chance to mingle and socialize.
This year's event poster and program feature the striking, original painting, "Polo," created by Bluffton artist David Randall especially for this event. This painting captures the athletic partnership between the horse and rider as they march down the field. It will be on display and available for sale at the event with Randall available to sign your poster or print. A silent auction featuring gift certificates from many local merchants will also be held.
Event proceeds benefit the University of South Carolina-Beaufort Nursing Scholarships, Heroes on Horseback, the Okatie Rotary Scholarship fund for Bluffton High Seniors with a preference for those majoring in health related fields, and the Happy Feet Project for shoes for second and third graders enrolled in Okatie schools.
Patron slots, gourmet picnics, tents and sponsorships are available. Tickets are $15 per person at the gate on the day of the match. Tickets are $10 per person in advance and available at BB&T bank locations and Markel's. Children under 12 are admitted free. For details, email rotarypolo@hotmail.com, call Barbara McFadden at 843-298-3055 or Julie Seymour at 843-384-8010. Also, check us out on Facebook.