Mark Shaffer sat down to talk about Hunting Island State Park
Mark Shaffer: "What makes Hunting Island so special, so unique?"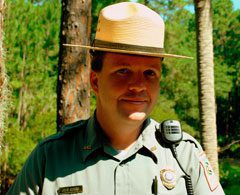 Jeff Atkins: Basically, because it's a relatively undeveloped barrier island you get to see it in more or less its natural state. [Visitors] can go out on the beach and see a mile of undeveloped shoreline as opposed to other [developed] resort areas. Here you can actually see a natural forest right up to the edge [of the beach]. Hunting Island with its high rate of erosion leads to a different style beach than most. There are usually trees constantly on the beach.

M.S. "Right. Part of the beach is called "The Bone Yard" because of so many downed trees."
J.A. "Exactly. And that's what makes it so special – that's not a typical beach. A typical beach habitat has beach sand, then a series of dunes, then small vegetation and brush areas, and then work your way up to the maritime forest. Since this is a transitional barrier island with a high rate of erosion, you generally have beach and maritime forest. Other parts of the island are a little more typical with dunes and so on. But Hunting Island is relatively undeveloped and has a unique character with the erosion and Bone Yard Beach."
M.S. "Let's talk about erosion, it's a natural process particularly for barrier islands such as this. Where do you draw the line between what happens naturally and what doesn't?"
J.A. "As a state park we have to work to manage a sustainable environment that still allows for public use. Hunting Island is the primary beach access for northern Beaufort County and a lot of neighboring counties. So with that [in mind] we have to work with managing a natural environment while allowing for the public use of the park. That's how the beach re-nourishments have taken place – a lot of people want to be sure they have a beach. So the re-nourishments have been about maintaining a stable place to go to the beach while protecting historic infrastructure like the Lighthouse. But they're not a "fix" for erosion, they're part of a maintenance process designed to slow erosion – a beach management program."
M.S. "Hunting Island is one of the busiest parks in the state."
J.A. "Between us, and Myrtle Beach State Park we usually run neck and neck. We typically average between 1.2 and 1.3 million visitors a year."

M.S. "How do you deal with that volume of people in such a small area?"
J.A. "The park was actually well designed for sector management. The north end of the island has a 200 site campground with a camp store, in the middle of the island you have two separate beach access points for most day use visitors – so we spread them out in that vicinity – along with the historic Lighthouse. The south end of the island was devoted to cabins. So this allows us to spread those folks out over about four miles so [the park's] not so congested."
M.S. "What sort of staff manages all that?
J.A. "We have 18 fulltime employees with the state of South Carolina and we typically have around 30 non-permanent positions that fluctuate with the seasons."
M.S. "Let's backtrack to those beloved cabins. Cabin road is washed out and that area's been hit hard with erosion."
J.A. "Right now there are no plans to rebuild the road. We just can't find a place to do it. We're exercising a planned retreat from that area. As facilities are lost to erosion we're taking them down and removing them because the erosion is so tough in that area it's basically futile to keep things there. That's the best long-term plan for the time being."
M.S. "The cabins are such a massively popular feature of this park, is there any chance they'll be relocated?"
J.A. "It's possible. We don't have a definite plan for those cabins to go anywhere at this point. But anything's possible."

M.S. "How important are the people who make up The Friends of Hunting Island to the park?"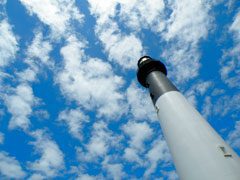 J.A. "One of the great benefits to the park – with its strong base of visitation as well as its key beach access – is that the community cares a lot about Hunting Island. They have a big sense of ownership and with that comes a sense of pride in their park.
The origins of [the organization] began with the turtle program back in 1990, the official Friends of Hunting Island was established in 1993. Out of [the turtle program] interest grew in other parts of the park, like the Lighthouse. They've played a huge part in enhancing that compound through all sorts of projects. We painted the lighthouse this year and the entire cost of painting the exterior came from a F.O.H.I. donation. We just acquired a grant to re-do the exhibits inside and they're helping us out with that. The trail system – we've just worked with them to get $200,000 in grants to make them more user-friendly and accessible. They've helped us remodel the education center and build a classroom. They're just really involved in a lot of ways."
M.S. "Sounds like they're an essential piece of the system."
J.A. "Oh yeah, very essential. If the park staff were doing this stuff alone it would take a lot longer to get done."

M.S. "And more money in tight times."
J.A. "Right. I would dare say we'd be hard pressed to see the trail system we just got done this past year. It would have been more complicated to get the Lighthouse painted, particularly at this time before it [became more costly]. Hunting Island is definitely unique in that it has one of the biggest and most active of the "friends" groups. They make things happen that might not happen without them."
M.S. "When people think "Hunting Island" they think "beach" or "fishing pier." What's the park's best-kept secret?"
J.A. "Our trail system with the [improvements] made this year is top-notch. With the ease of accessibility, layout and design, we have a fantastic trail system. You can ride bikes on it, push baby strollers, folks with disabilities have much better access. It's just a real unique experience to go and disappear in the woods right on the beach. The Lagoon is also a great experience."

M.S. "You're preparing for a big celebration coming up October 17th."
J.A. "Right. That's the 150th [anniversary] for the Lighthouse. Folks don't know this but the [current] lighthouse is actually the second lighthouse in its third location. The original was a 90 foot brick tower built in 1859 out in St. Helena Sound, destroyed in 1862 by the Confederate Army. In 1875 the current lighthouse was erected about a mile and a quarter northeast of here, but even then they [planned] for the erosion. It can be dismantled – one of only two, Hunting Island and Cape Canaveral – can be dismantled and moved inland. So in 1889 that's what they did, they took it down and put it back up in its current location.
The celebration's not focused solely on the lighthouse. There's only so much you can do across a weekend. We're going to have a whole variety of outdoor activities going on including the grand ceremony on that Sunday afternoon to commemorate the new exhibits we're opening and essentially celebrate the whole maritime history of Hunting Island and the lighthouse."
Get more information on the Lighthouse celebration and Hunting Island online at www.huntingisland.com and www.friendsofhuntingisland.org .
Mark Shaffer's email is backyardtourist@gmail.com