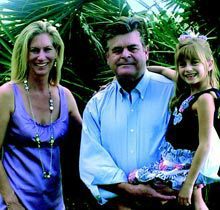 Beaufort couple creates website that will revolutionize online shopping
I'm always intrigued by the myriad of stories of how people got to Beaufort. It's a relatively small town, full of more vibrant personalities than any town I've ever known. Sometimes I think it's a pre-requisite to be labeled as Type-A in order to claim Beaufort as home. We come from all walks of life, each with our own captivating narrative of yesteryear. But, when we begin to talk about our histories elsewhere, we all end up in a place that we collectively agree is "Over the Rainbow…" Beaufort, SC. Sometimes it's a fairy tale. Most times it's not.
And then you meet those people who make you realize that dreams really can come true, like Jim and Pennie Mead.
The couple from Las Vegas came into town quietly, but have the potential to leave a giant footprint, both on the elite list of Beaufort's prominent legacies and on the universal map of innovative, e-commerce enterprise.
Jim and Pennie Mead have created a website that will revolutionize the way consumers shop. It's called MakeYourDealNow.com. Similar to a very popular online travel website, this site allows a browser to shop and negotiate prices immediately with its proprietary, "Name My Price."
Their story involves the fundamentals of capitalism and free enterprise, personal tragedy, hard work and persistence and the divine introduction of a family across the Atlantic, culturally distinct but equally dedicated to the Mead's core values.
This is their story.
How the Journey Began
In 1995 Jim sold his manufacturing plant of concrete products that he built from the ground up at age 32. Prior to that, from the age of 22, he maintained the helm of a family manufacturing business that his grandfather, Fred Jerome Mead, started in 1908 with his invention of the concrete burial vault. Inherently, Jim had a knack for innovation. After years of running the businesses from their New Jersey headquarters, and going through a divorce, Jim was eager to try something different and decided to sell his business and move with his 7 year old daughter, Sidney, to where he spent his summers growing up, Cape Cod. From there he began his journey to develop ideas for a new company.
While renovating an old Cape home built in the 1850's, Jim began to foster an interest in the Internet. After decades of manufacturing a finished product from brick and mortar operations, he was conceptualizing a business plan that could sell products online… what we now refer to as e-commerce. The only problem was that he couldn't visualize the right product.
Jim's friend, owner of the Black Cat in Hyannis, MA, where Jim would eat nightly while his home renovations continued, introduced Jim to the love (and business partner) of his life, Pennie Martell. In 1996, Pennie was singing at the Black Cat with her ex-husband. They were a pop duo, untouched professionally by the divorce, who sang all over the country.   In fact, they were local celebrities on Cape Cod and also performed from Boston to New York to Las Vegas to Florida, headlining at many popular clubs and corporate events.
When the future Meads met, Pennie was also involved in helping to nationally expand a Nevada based distributor of water and air purification systems at a time when trends were shifting to green and clean.
"Aha!"
The new duo developed an Internet-based business called PuriTec, which launched in 1997. They worked from an 8'x10' office in the Cape house and began their innovative e-commerce career.
During that time, the Internet was slowly gaining momentum. Consumers were beginning to understand its allure and convenience, but still conservative about making purchases online. Virtual terminals gradually became more user friendly and secure; but, in 1997, the Internet was still somewhat alien to the mainstream shopper.
So Jim and Pennie supplemented their virtual company with a more tangible non-Internet marketing strategy. They approached the general manager of a local Sheraton Hotel. They initiated the concept of a "Breathe & Bathe Free" upgrade. Essentially, guests opted to pay more for a room that provided cleaner air and a shower that dispensed chlorine free water. The response was great. So they, the Meads, decided to upgrade too.
They got a test trial with The Pierre Hotel in Midtown Manhattan, a Four Seasons luxury Five-Star hotel, most notably one of the premier properties in the country. Again, the response was positive. So they took their clean air concept to The Four Seasons at Mandalay Bay in Las Vegas. They too liked the idea and upgraded all smoking floors.
They even got the attention of the MGM Grand, where the Sr. VP of Operations was considering an investment to upgrade all of their smoking guestrooms. They shipped 50 units to the loading dock as a test pilot program. When the units arrived, they were denied delivery. As it turned out, the Sr. VP was let go and all of his negotiations were rescinded. It was a tough break, but it didn't deter the Meads from succeeding in Las Vegas.
During the initial promotions with various Las Vegas hotels, they found themselves regularly commuting from Cape Cod to Vegas marketing their products at all the relevant trade shows. They even received an award at a Cigar trade show for Best in Show, thanks to a creative and sexy life-sized cut-out that Jim concocted to lure people into their booth. It's probably best to defer inquiring minds to Jim about his award-winning photo.
As they were testing their hotel program and growing their Internet business, Pennie convinced Jim to move to Las Vegas. After all, there were more hotel rooms in Las Vegas than New York City and Chicago combined!
They focused on Vegas, while trying to nurture the slow-developing Internet business. They had lots going on, but little to show for it yet. The dot.com bubble bust didn't help, and monetarily, they were struggling trying to develop and promote their Internet business. Still, they were professionally striving with The Four Seasons properties in Las Vegas, New York, Philadelphia, Palm Beach, Bangkok and elsewhere, one hotel at a time.
They were down to the nitty gritty in 2001, having sold two properties on Cape Cod and now renting in Vegas. And they were tired. They devoted more time, energy and dwindling funds to the website, as they were determined to see it succeed.
Pennie began to research Yahoo and Google advertising. That's when she discovered an emerging advertising technique called "pay per click," an Internet advertising model used to direct traffic to websites, where advertisers pay when the ad is clicked bringing visitors into their websites.
She had $1800 available on her credit card. So she took a risk, and it paid off. Literally overnight, their business skyrocketed! The Meads found themselves (sometimes still in their underwear) fielding online inquiries and sales from all over the United States from 4am – 9pm, 7 days a week.
That was 2002. They put the company on cruise control, keeping it manageable and employing only a few people. Finally, they were able to enjoy life, travel and appreciate their marriage for the first time in a long time.
Meanwhile, PuriTec was positioning itself globally. The e-commerce business sold air purification systems for hospital projects in Dubai and outfitted thousands of hotel rooms on the Island of Guam. They provided water filtration systems worldwide. During the SARS epidemic, their business helped develop and promote a technologically advanced air purification system using ultraviolet light that compelled even The Four Seasons in Bangkok to quickly spread the word about PuriTec to their competitors. The epidemic put a strain on the tourism industry, and businesses united to pull visitors back to Bangkok. PuriTec's business subsequently expanded in this region.
Everything was going as planned. Life was good, and finally Jim saw his dream coming true.
Tragedy Strikes
In 2005, Pennie became pregnant. While delivering, Pennie suffered respiratory arrest. She was hemorrhaging. She was "Code Blue!" She came very close to losing her life delivering the love of her life, Marin. That wasn't the end. Due to complications, Pennie had 4 subsequent surgeries over the course of the next year and a half, three scheduled, one emergency, involving another critical life-threatening experience. During the final scheduled surgery in July 2007, in the same hospital in Las Vegas, Jim's mother suffered a massive stroke and died. Then in August of 2007, a construction crane out of control ran into the Mead's PuriTec business office and all occupants had to be emergency evacuated from the unstable and unsafe building. This caused disruption in their lives and business. Then in September 2007, Jim's first wife and mother to his oldest daughter, Sidney, died suddenly from a brain aneurysm at age 49. Jim had to console Sidney, age 16 at the time, and they traveled that night on a red eye flight to Florida to be with the family and plan the funeral. Pennie and Marin, 21 months at the time, joined them the next day. Chaos trumped any sign of normality.
The emotional distress of tragedy consumed their lives for over a year. Then Jim and Pennie realized they were survivors. Pennie looked at Jim one day and said, "We don't give up."
Always humble people, they now added thankful grace every day for the simple opportunity to be alive. Through nurtured upbringing and positive surroundings, the Meads were appreciative of all the people that helped shape their lives. Now, they wanted to enjoy what mattered most… each other, friends and family.
How the Meads arrived in Beaufort
Jim and Pennie sold PuriTec in June of 2008 for a comfortable sum and decided to travel with Marin to visit family and friends around the country. After a 35th reunion at Jim's alma mater, Tabor Academy in Marion, MA, Jim and Pennie realized they wanted to move back to the East Coast. They wanted to move to a community that would be a great place to raise a family.
Jim's cousin, Suzanne Thomas, lives on Hilton Head. They stayed for two weeks and were interested in moving to the Lowcountry. One day in July, they decided to visit Charleston. En route back to Hilton Head, they stopped through Beaufort. It was opening day of the Water Festival 2010, the 55th annual celebrated festival that defines Beaufort's personality. They were hooked on Beaufort. And little did they know then, Beaufort would be hooked on them.
They thought to themselves, "Wow, what a beautiful town. Let's settle in and enjoy the small town quaintness and southern hospitality." By late August, 2010 the Meads were settled in Beaufort.
Then they met Chilton Grace Simmons. I can say this, because Chilton and I are friends, "Chilton knows everybody!" By Christmas they had nearly 60 people at their house for a Christmas party.
Pennie laughs, "I think I know maybe two people from living in Las Vegas. Chilton introduced us to everyone in Beaufort, and we couldn't be happier."
And that's Beaufort. We all know it well. We (Hilton Head and Bluffton included) are probably the most hospitable bunch in the Southeast!
Jim explains, "People know how to live here!"
The Next Internet Sensation
The last few years were relaxing for Jim and Pennie, but they were eager to start something new again. Jim envisioned another e-commerce business, but something that was cutting edge… the next Internet sensation. He and Pennie started a conversation about a website that would deliver negotiating leverage for the consumer. They weren't interested in bid wars or penny auctions. Nor were they interested in selling overstock or discontinued items. They wanted a website that was engaging and yielded instant gratification for the shopper.
They thought, "Why not develop a website where shoppers can shop for hundreds of thousands of brand new, brand name products and be able to bargain the price online in real time and get an instant deal on the spot."
Bingo! The development for MakeYourDealNow.com had begun.
Two IT teams in the U.S. and one in Madagascar began writing custom code, the technology behind the unique shopping and checkout experience. In a matter of months, the site developed into a tangible website that the Meads could begin to manipulate into their desired end product with design critique, user friendly suggestions and more marketing strategies that would ultimately define their website.
The website was beta tested, and the site just wasn't fast enough to handle the number of products on the website and the anticipated traffic. So, Jim and Pennie realized they needed to bring on board senior experienced code writers in ColdFusion, or CFML, the language from which their website was developed. ColdFusion is the name of a commercial rapid web application development platform designed to make it easier to connect simple HTML pages to a database.
The IT team in Madagascar had been a big asset to the company, but was not enough to take it to the next level; and the U.S. teams they were using were expensive, slow-producing, and inexperienced for a website of this magnitude. So, Jim posted the job on an international online outsourcing service provider, not telling Pennie that he'd done so that day. That Sunday morning when they awoke, Pennie remembers saying a prayer for the right help to complete this project quickly and competently. They'd spent the better part of a year developing the site, and they were at a standstill. Jim says to Pennie, "Come look at this."
A Virtual Meeting of the Minds
They both looked at the resume from Sarah Kahn on Jim's computer screen. It was a match. It was a perfect match.
Sarah and her husband, Harris, live in London. Harris is a senior code writer, who will eventually, with the help of their team, write thousands of lines of custom code for the Mead's website. Sarah works on the back ends of websites, organizing and directing every component of service functionalities and design.
Sarah saw the posting on the online website Jim used seeking help, a site she now admits she rarely used for reasons of inconsistency and rare need for ColdFusion, the development language in which Harris and their team were both fluent.
She recalls taking her children, Aayan (9), Maha (6) and Ibrahim (2) to a friend's birthday party and seeing the email from Pennie. She loved the details of the website. They conducted a Skype interview in late February of this year. On March 8, Sarah and Harris joined the MakeYourDealNow.com team, largely based on mutual instincts, trust and faith.
About Sarah Kahn
Sarah's company normally builds custom websites from scratch. And neither she, nor her husband, believe in picking up on other peoples' website work. Jim and Pennie's website was 60-70% complete, so this was a project that was new to both of the Kahns. But they were willing to give it a shot, simply because they believed in the website. And Sarah has the ability to bring the whole package together, a business manager of sorts, while she relies on Harris' skills.
A lot of the design work and front end was complete; however, a spreadsheet of issues relating to bug fixes piled up, and the task list on the back end side of the work grew fast. Building on a foundation that is not yours is always hard to do. Imagine if you're an electrician trying to wire a home with the sheet rock already nailed in place. Do you tear the sheet rock down and start over? Or do you use trial and error to determine alternative methods of wiring the home? Whichever is the most cost effective, right? In this case, it was to keep the foundation and move forward, though it became difficult and time consuming. What was initially supposed to be 1 to 2 hours per week became a full time job for Sarah.
And she is a perfectionist, like Pennie. They have a similar work ethic. Pennie and Sarah stay calm in most situations, and are always communicating via email or Skype, considerate of the five hour time difference. And they also have a maternal connection that both describe as "indescribable."
Pennie adds, "Meeting Sarah was serendipitous. We are so fortunate and blessed to have found her. It was meant to be."
Originally from London, Sarah was sent to Pakistan when she was ten and attended government-funded schools. While she lived in what we Americans consider poverty, she also excelled in school amidst daily struggles. For five years, she was persistent at learning, no matter the adversity. When she returned to London at sixteen, she was learning on an 8th grade level. Despite this, she did very well in school, graduated from high school, and instead of going to college, she went straight to work, more determined to succeed than any of her peers.
And her resolve speaks for itself. What should have been a two year project with MakeYourDeal.com took Sarah five months. The website went live on July 5th of this year.
About MakeYourDealNow.com
The number one priority for the Meads was to make the site user friendly. After tens of thousands of products now added, the site is fast, functions well and maintains the edge that Jim once envisioned.
Jim smiles and agrees with Pennie, "It's about as ready as it can be."
The site is straightforward and secure, easy to navigate and very welcoming to the consumer. Best of all, MakeYourDealNow.com, where you can "Name the Price" on thousands of factory-direct products for your home, your children, pets and everyday life, offers the most legitimate deals on the market. Forget registering with daily deal sites and waiting to be emailed random deals, this site lets you make a deal immediately, for any product you can imagine! And hundreds to thousands of new products are being uploaded every week so it is constantly growing and evolving.
International Appeal & Bargaining
Eastern and European cultures learn from an early age that negotiating price is part of the shopping experience routine. Americans tend to politely agree on any advertised price, simply because it's labeled with a dollar amount. What if manufacturers agreed on a non-advertised price to which the public is oblivious? Wouldn't it be fun to negotiate that price online, without ever talking to a salesperson? That's exactly the service this site offers. Finally, East meets West on capitalism and the art of bargaining for the best deal.
And want even more? Let's say it's Christmas or Hanukkah. You have a $500 budget to spend on the kiddos. You fill your virtual shopping cart up with all the things that little Johnny and Suzy want. You can name one price for the entire cart. Immediately, the website accepts or denies. The site calculates price differences of all products in order to give you the best possible value. It's called "Bulk Price."
Brilliant.
There is so much to the website that you can only appreciate through your own navigation. Give it a shot. Got a birthday approaching and want to develop a wish list? Go to the site! Got the perfect idea for a home decorating project on a budget? Go to the site! Want to encourage your children to shop responsibly? Go to the site! Want to buy that special someone the perfect gift? Go to the site! Want to pamper yourself with a little extra? Go to the site!
Future Plans for the Meads
Jim and Pennie Mead have found a home in the Lowcountry. More than anything, they want to see their e-commerce business develop and grow, right here in Beaufort. They've made great strides in developing the site. Now, they must market it.
The Meads are in negotiations with several celebrities to help promote the website in addition to implementing a complete and aggressive marketing plan both in print and online.
The Mead's still have the Madagascar team that assists with spreadsheet uploads and database management.
And they eagerly want Sarah and Harris Kahn and family to move to the States as they further develop and maintain the website.
The Kahn's currently live in East London, in close proximity to the 2012 Summer Olympic Games. Sarah describes it as congested, with small houses, narrow roads and crowded schools. She loves the U.S. for its open spaces and education. When she first visited in 2006, she says, "I should have applied for citizenship then."
It takes six to eight years for acceptance of citizenship when family sponsors you. Sarah and Harris are four years in, thanks to Harris' family living in Virginia who immigrated from Pakistan fifteen years ago.
Pennie resonates with Sarah's desire to live here, "She has proven her dedication, her skills, her passion, her commitment. We have a great working relationship, and I want her here yesterday!"
I got to meet Sarah and her middle daughter, Maha (6) when she was recently here for a visit. Maha had never seen the beach. They went to Hunting Island State Park, where Maha boogie boarded in the waves, collected sea shells and frolicked in the sand, amidst the warm ocean breeze.
Sarah and Pennie then realized, Maha will soon have a home in the United States. And maybe it will be right here in Beaufort.
A company built from dreams, desire and will reside along the same salt marsh that we all call home. Congratulations to the Meads and sincere wishes for a continued rising tide of success. It is, in fact, the ebb and flow of life that dictates our destinies.