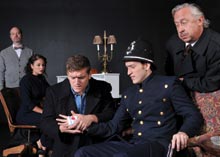 Agatha Christie, Britain's grande dame of mystery, would have celebrated her 122nd birthday in September and the Arts Center on Hilton Head is celebrating by bringing her classic whodunit The Unexpected Guest to the stage in October.
More than 4 billion of Christie's twisty mystery novels have been sold. She's only outsold by the Bible and Shakespeare. Not bad company.
Christie, who began her career in mystery writing in the 1920's, still resonates with readers today. According to the Guinness Book of World Records, Christie is the best-selling writer-of-books of all time, with only the collective corporate works of Walt Disney surpassing her. Her books have been translated into at least 103 languages and according to her publisher you can read a different title every month for seven years. Christie remains popular on the TV screen too, with Miss Marple and Hercule Poirot returning to PBS Masterpiece Theater in 2013.
Almost all of Agatha Christie's works are whodunits, focusing on the British middle and upper classes. The detective usually stumbles across the murder or is called upon by an old acquaintance, who is somehow involved. Gradually, the detective interrogates each suspect, examines the scene of the crime and makes a note of each clue, so audiences can have the chance of solving the mystery themselves.
Finally, the detective organizes a meeting of all the suspects and slowly denounces the guilty party, exposing several unrelated secrets along the way. The murders are often extremely ingenious, involving some convoluted piece of deception.
The Unexpected Guest is a Christie classic. The play opened in London's West End in 1958. The play begins on a foggy English night when Michael Starkwedder enters the home of the Warwicks. He finds the dead body of Richard Warwick and Warwick's wife holding a gun. Despite the murderer being obvious, Starkwedder does not believe she killed him. Is she guilty? Is she protecting someone? Audiences will be holding on for the twists and "unexpected" turns.
Agatha Christie's The Unexpected Guest is presented for three weeks on the Arts Center of Coastal Carolina's stage from October 2nd through the 21st. Tickets may be purchased at the Arts Center box office, online at www.artshhi.com or by calling 843-842-ARTS.
The Arts Center of Coastal Carolina is a non-profit performing arts organization. In addition to a 350-seat main-stage theater that programs an annual theater series – producing professional Equity musicals and plays – the organization presents performing artists, oversees two art galleries and conducts regional arts educational programs, as well as produces free community outreach festivals.