A playful winter scene is in the works for this year's Beaufort Homes for the Holidays annual gala, Friday evening, November 16 in St. Peter's Walsh Palmetto Room.  The ball kicks off the weekend home tour at Islands of Beaufort.  Wintery white, beguiling and jumping with the jazz and dance sounds of Deas Guys, the gala's theme is a Snow Ball sure to belie any conventional predilections as event planner Ashley Rhodes and Granville catering of Charleston work their creative winter magic.
During dance breaks, guests can view the original art, trips and excursions, themed dinner parties and jewelry that are part of the night's silent auction, while enjoying specialty drinks, open bar and elaborate dessert station.  Tickets are $75 per person and may be purchased by calling 522-6510.
Saturday and Sunday's tour showcases seven private homes professionally decorated for the holidays by local interior and floral designers in the tranquil, traditional neighborhood that is Islands of Beaufort.  The stately clubhouse will be open for refreshments as guests tour each of the neighborhood's three diverse islands.  Tree-lined streets with
bike-friendly cul-de-sacs center the neighborhood while grand homes in gated Deer Island and raised residences with marsh views on Cotton Island reside around it.  The Lowcountry's natural setting gives it its' allure.
Homes and the designers participating have never been so diverse in the events's eleven years. Designers new to the tour bring hip, jaw-dropping ideas with edgy surprises.  Funky tablescapes, garden vignettes, and international influences are all part of the mix by local designers Marjorie
Gray and Maleia Everidge of Grayco, Laura Tucker of Laura Tucker Designs, Kathryn Stevens-
Ellis of Terra Cotta Design and Provisions, Sally Hendricks of Outrageous Floral, designers Cheryl Smith and Judy Trombino of Cheryl Lynn Smith Interior Design, Jean Kendall, and the design team of Maggie Enstrom, Phyllis C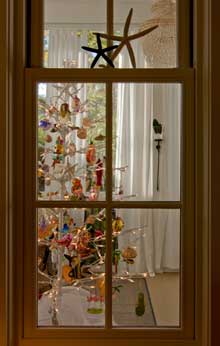 hamides, Julie Terry and Amy Lang of Sweet Bay.  These creative minds generously donate their time and talent making the event so stellar.
Tickets Saturday, November 17, 11-3 or Sunday, November 18, 12-3 are $25 and may be purchased at the following locations prior to the tour.  Visitors' Center, Grayco, Laura Tucker Designs, Sweet Bay, Tideland Realty, The Chocolate Tree, Discount Fabric, and at the tour site the days of the tour. Proceeds go to St. Peter's Catholic School Tuition Assistance Fund, which lowers tuition costs for nearly half of school families attending St. Peter's. Visit www.islandsofbeaufortSC.com for further details and directions to Islands of Beaufort.
Behold Beaufort's first Snow Ball and delight in touring stylish homes of distinction trimmed in
finery by Beaufort's best.