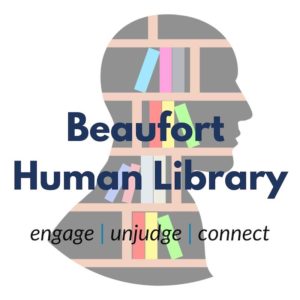 The second edition of the Beaufort Human Library will be held as a free public event on the afternoon of Sunday, November 13, hosted in partnership between the Technical College of the Lowcountry, the Pat Conroy Literary Center, Beaufort County Library, the Storybook Shoppe, Diversity Awareness Youth Literacy Organization, and community organizers and volunteers.
We've all heard the old adage "you can't judge a book by its cover." A human library is an opportunity to check out a person instead of a book and hear a story that may change your ideas about unexplored stereotypes that we all carry. Look for additional details to be posted this fall.
The planning committee is now recruiting individuals who have experienced stereotypes, prejudices, etc. and are willing to share their stories as "books" for the Beaufort Human Library project. Interested? Learn more and apply by September 7 to be a "book" at https://forms.gle/W4jGZU3FMJtPDMs58 or through the Beaufort Human Library's Facebook page at https://www.facebook.com/beauforthumanlibrary.